Netflix launched a free plan in Kenya in September 2021 that allows people to enjoy Netflix ad-free on Android mobile phones. The free plan does not require any payment information and allows users to watch many of Netflix's most popular series and films, as well as enjoy personalized recommendations, parental controls, and profiles (including kids).
Yes, there is a catch in that, your catalog is limited and there are titles that are locked behind a paid subscription so if you like what you see, you must then upgrade to one of Netflix's paid plans.
Advertisement - Continue reading below
---
Related:
---
It's been a blissful two years since that was rolled out by Netflix and unfortunately for many Kenyans, this perk is going away at the end of this month. In an email sent out to Netflix users on the Free plan, the streaming service burst the bubble that many (yours truly included) have been enjoying.
"Hi Netflix member, we're writing to let you know about an upcoming change to your membership. On November 1st, 2023, the Free plan will no longer be available and your membership will end."

Netflix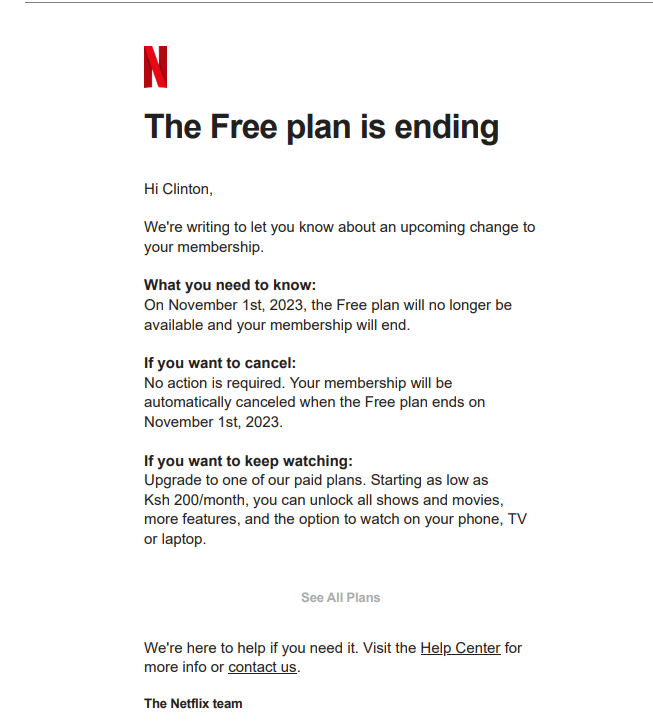 Come November 1st, Kenyans will need a subscription to access content on the platform.
Netflix Prices in Kenya
The subscription packages in Kenya range from Ksh. 200 for a mobile-only plan to Ksh 1,100 a month for the Premium tier that supports 4K+HDR. This is a lot less than what subscribers in other markets pay.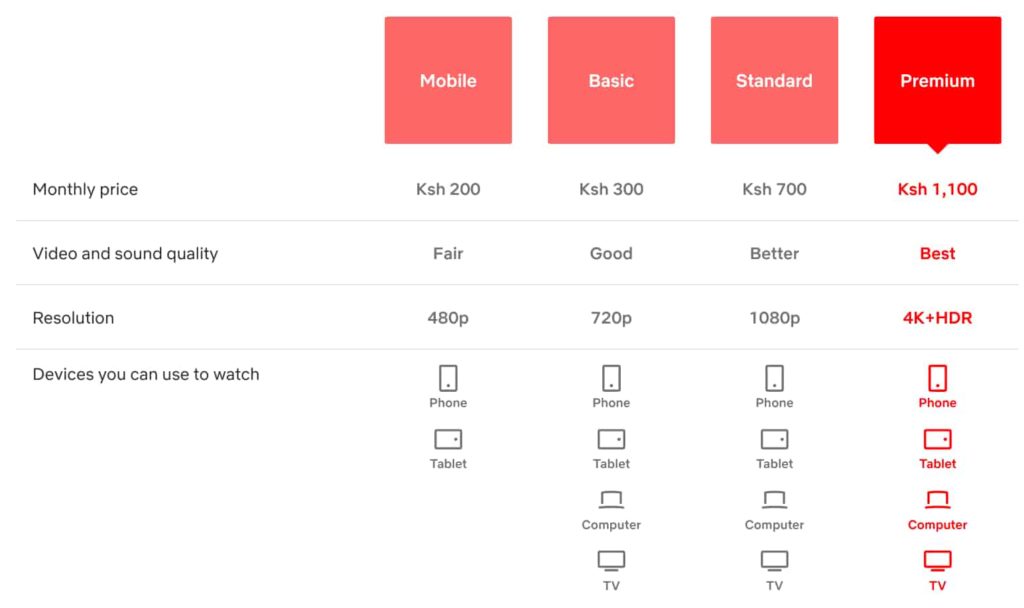 Mobile: 200 KES / month
Basic: 300 KES / month
Standard: 700 KES / month
Premium: 1,100 KES / month
---
Related:
Advertisement - Continue reading below
---
Netflix has been on the offensive, cracking down on password sharing and other methods that users have been taking advantage of to get content on the platform at a lower fee. This is presumably a way to secure their revenue stream.
Times are tough, even for large conglomerates so it only makes sense that they stop giving out freebies. With these lower prices, it will be interesting to see just how many people will subscribe from the Free tier, becoming Netflix customers.