Unlimited Internet is not unlimited. Puzzling? Yeah, it is very perplexing. You just splashed out a chunk of your money and bought an unlimited Internet bundle from your favorite Internet Service Provider. You are thinking about doing a lot with this. Maybe catching up with your favorite shows on Netflix or streaming a lot of video content, downloading torrents, and a lot more. I mean, it's unlimited internet.
However, what you get when you buy unlimited Internet is an always on connection to the internet. Always on means that your device can remain connected to the internet always. There is no limit to the connection time for the duration of your subscription.
Advertisement - Continue reading below
Related: Buying mobile data: Unlimited but slower internet package or faster internet on data bundles
What is Fair Use Policy (FUP)
The Internet is like shared space and consequently, how you use it may affect other Internet users. This is where Fair Use Policy (FUP) comes into play. Fair Use Policy is a means to monitor and control international bandwidth capacity to give all users fair access to the available capacity.
The Fair Use Policy ensures that this international bandwidth capacity is not used excessively by some while others suffer on their account. Still thinking of downloading a lot of stuff and using so much bandwidth?
Well, all internet service providers that offer unlimited internet have FUPs in place. They may vary from one ISP to another but they all aim to create a suitable environment for all internet users.
With FUP, ISPs may throttle connection speeds for users who have downloaded an excessive volume of international data in one day's use. This is to ensure that others who have not downloaded their fair share of international data on that day are not affected by the bandwidth gluttons. Also, they may reduce connection speeds heavy peak hours.
The common actions that may cause excessive bandwidth feasting include plentiful bulk transfer of files and other high-capacity traffic using hypertext transfer protocol (HTTP), file transfer protocol (FTP), video streaming, peer-to peer applications etc.
Advertisement - Continue reading below
Related: The terribly sad state of unlimited internet in Uganda
How does Fair Use Policy Work?
ISPs have tools to monitor and control international bandwidth capacity with the intention of giving all customers fair access to the international bandwidth capacity. They set up preordained standards that every customer must work within while using their internet. Customers get a maximum amount of bandwidth they access without restrictions over which speeds may be reduced and some services cut off.
For example, Roke Telkom has a maximum usage of 500 MB per day after which the user will be throttled to 256Kbps and torrent traffic blocked.
Below is part of MTN Uganda's FUP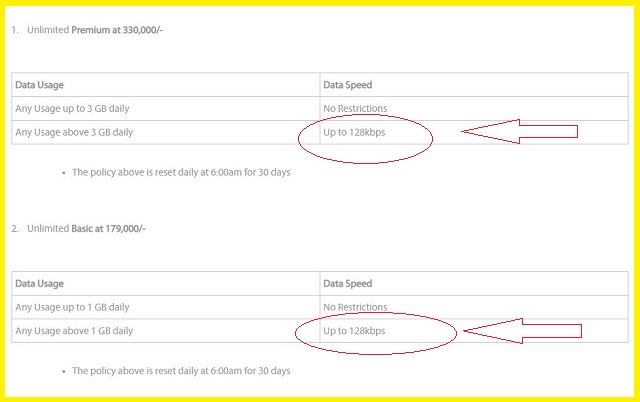 During periods of peak use, the Fair Use Policy restricts the available connection speed of users identified as having made excessive use of international bandwidth capacity, in favor of other users who have not yet used their fair share.
ISPs reset to zero all monitored bandwidth usage and all users. Some reset daily, monthly or of specific days as stated by the ISP. This ensures an equal usage profile and equal access to the network.
Verdict
The Fair Use policy improves the general user experience of all internet users. It controls and moderates the usage of international bandwidth by all customers. Therefore, it prevents the actions of internet hungry and heavy-users from abusing normal users' right to high-speed access to international content.