Dignited has often reported on various projects we believed were soon about to change Ugandans lives for the better, only to be disappointed. Experience is teaching us to be pragmatic in the face of glossy announcements. Case in point, the Uganda government's announcement of Free Wi-Fi internet in Kampala. Another article is about the much publicised Biometric Voter Verification System which didn't make our elections more transparent. We covered Google's optic fiber network which frankly has not yet lived up to expectations. But today, we will revisit one other: internet.org's Free Basics by Facebook.
Free Basics has encountered stiff resistance especially in countries like India. Not quite in Africa. We will think about crossing the bridge, when we get to the bridge. After all, half a loaf is better than none. Considering that most Ugandans and Africans spend a good chunk of everyday on the Facebook, we will see little resistance to this service now and in the near future.
Advertisement - Continue reading below
Facebook even announced the first successful test flight of their internet-beaming drone, Aquila. It is our understanding that these drones will be used to connect people in less developed countries to fast internet. We also believe this has something to do with Free Basics. Facebook continues to soldier on, no doubt working to fulfill Mark Zuckerberg's dream of a connected world.
Free Basics and Airtel Africa Partnership
Late last year, Dignited reported on Facebook's partnership with Airtel Africa to bring Free Basics to 17 African countries, Uganda inclusive. Free Basics is an open platform that provides a select free services and websites free to those who cannot afford to pay for internet access. The service is limited to those developers and companies that have partnered with Facebook.
In May 2016, Free Basics was launched in Nigeria in conjunction with Airtel. Over 90 million Nigerians online and those unable to access internet were given an opportunity to access certain news websites, health and jobs platforms without having to pay a shilling. Free Basics powered by Airtel is available in Ghana, Nigeria, Zambia, Rwanda and Kenya.
Why not Uganda?
Our question is: Why has Airtel not brought Free Basics services to Uganda? Kenya has more affordable internet. Ugandans don't. Rwanda has free Wi-Fi hotspots for its citizens. Ugandans don't have much faith in a similar project by the Uganda Government. Tanzanians on Tigo Pesa recently shared profits with the telco, something Ugandans cannot even dream of. And on top of all this, Ugandans don't even get to have Free Basics! The Airtel/Internet.org announcement was made by none other than Mark Zuckerberg himself almost a year ago. But just like on Airtel's promise to hook us up to 4G internet, there hasn't been a single peep from them.
Free Basics, Where art Thou!
Our hope were momentarily elevated on stumbling upon the Free Basics website. It appeared we could access Free Basics using Vodafone Uganda. As it turns out, indeed we use Vodafone internet so we always have a data subscription active. We couldn't test out the service but another option was to download the app. If you do use a Vodafone line and can verify that this link works, please reach out to us.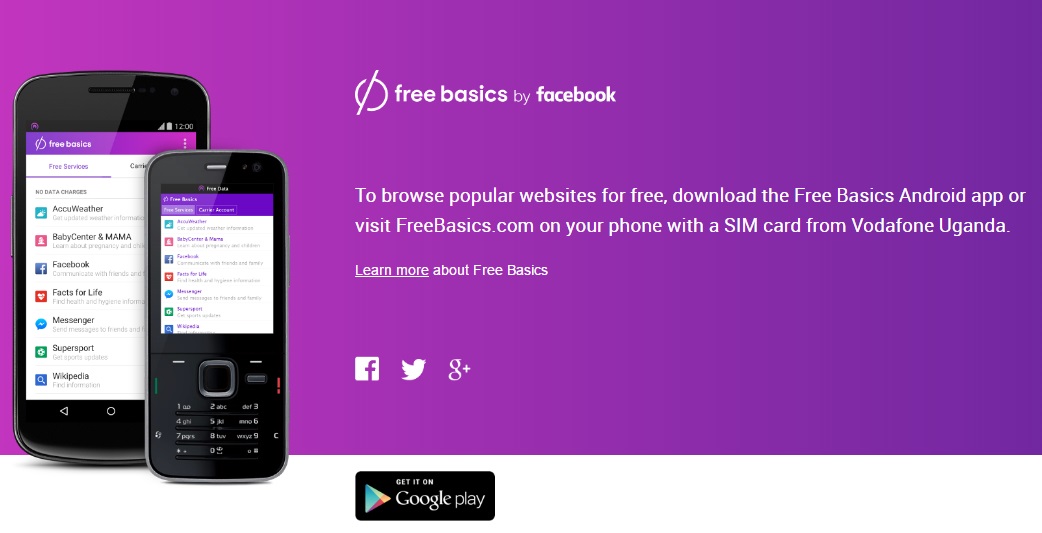 Advertisement - Continue reading below
Our skepticism with Free Basics reached new highs when we went to the PlayStore with the hopes of downloading the Free Basics App only to encounter disappointment. I personally currently use a Lenovo K3 Note and have used a Huawei P7 and an HTC One V. So we were confused when the Play Store said the app was incompatible with all our devices. What devices exactly are required to run Free Basics by Facebook? We leave this to our readers' deductions Observe: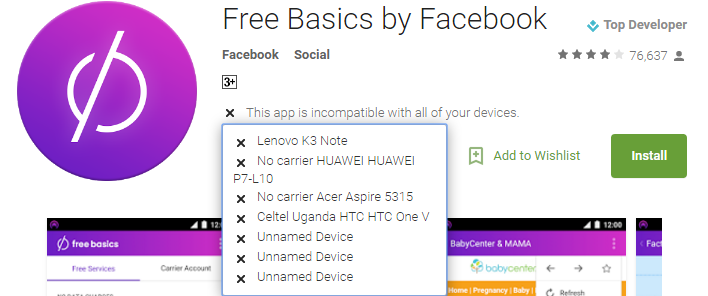 Nostalgia at Orange Uganda's free Wikipedia
In April 2012, Orange Uganda (now Africell) introduced Wikipedia for Orange subscribers at no extra cost. The initiative was due to a partnership between Orange Group and Wikimedia Foundation. Uganda could now access a repository that by then contained 20 million articles in 280 languages all for the price of free.
To imagine an entire online encyclopedia at your fingertips. What Orange did had not been done before in Uganda and has not been replicated since. It is said Free Basics includes Wikipedia as well, but we have not yet experienced it in Uganda. We do not have first hand information on the subject.
Add to the Wikipedia offering, Orange already had the best free Facebook platform on the market. While Facebook Zero offered by other telcos didn't include pictures, Orange did and that made all the difference. Orange did not have last long in Uganda before they sold out and exited the market. But the French company left a mark and those who remember have fond memories of the unique services they pioneered.
Advertisement - Continue reading below