A ride with a professional and trained boda boda rider is the best wish you can always have on Ugandan roads that record numerous accidents every other day. And you always won't wait to thank those that deliver safe transport in a generation that keeps being swept off the feet by calamity. SafeBoda greatly trades the aspect of safety, and being a pioneer in the industry, they own rights to being a first priority.
The latest update to the SafeBoda app has interesting features, including bug fixes as well as going international with an MPESA integration. If you are a visitor on Kampala soils, and are lucky to have on you an active MPESA account, you can easily purchase SafeBoda credit without a hustle.
Advertisement - Continue reading below
This addition has been made on both the Android and iOS apps, with the latter also adding a 'Call me' option during phone verification so that the activation code is read to you directly.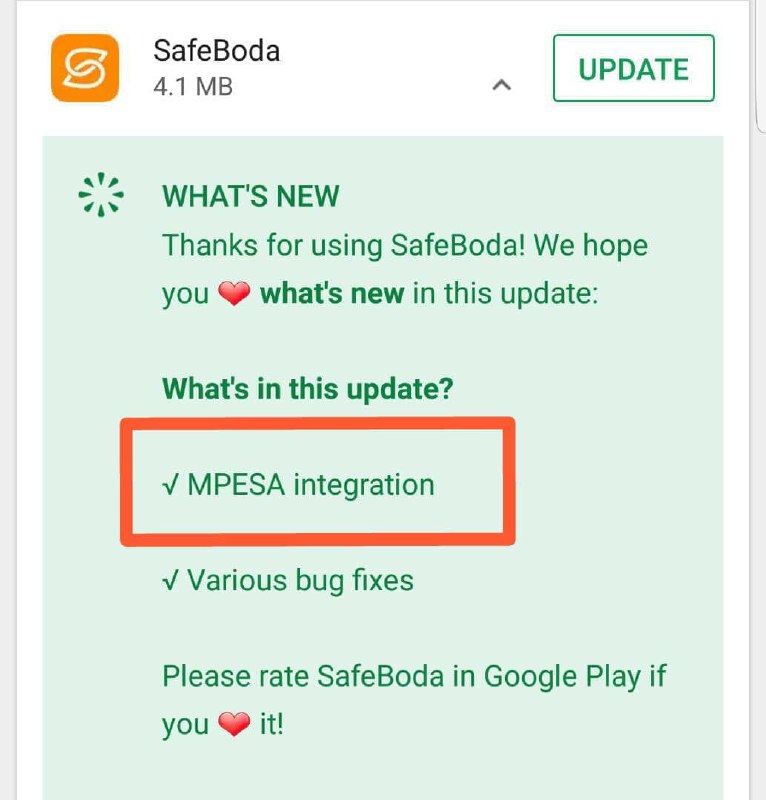 ---
Read About: How to ride safely on a Boda. A brief guide for a friend visiting Kampala
---
Currently, SafeBoda prices are slashed by 50% with customers having the option of paying by either cash or credit. Those with credit still get an upper hand whereby they enjoy this discount, with an additional 20% off because they have credit. MTN Uganda customers also benefit from the fact that the app is zero-rated on the network.
---
Read About: Safeboda is now zero-rated on MTN Uganda, hail a boda without MBs
---
Safeboda wants to cement its position as the leading Boda boda hailing service in Uganda to highten the competition for Dial Jack, Taxify and Uber – which added the Boda feature to their app. The company is also rumoured to be expanding to Kenya after raising another round of seed funding from investors.
Advertisement - Continue reading below
Image Credit: SafeBoda Twitter