The attention gaming-centric smartphones have received over the past few years is very interesting. Stakes become higher every time in and time out as the competition gets stiffer. ZTE, one of the major players, recently took the bull by its horn through the launch of ZTE Nubia Red Magic 3.
ZTE Nubia Red Magic 3 delivers what every gamer has in mind. A flagship chip positioned into an aesthetically pleasing device while arriving with classic new features; that's a simple summary of the gaming device. One of such features is the innovative cooling fan, the first of its kind in this niche. Let's dig in.
Advertisement - Continue reading below
Ergonomics & Gaming Features
The Nubia Red Magic 3 fits perfectly into the hand similar to a gamepad, especially when held in the landscape mode. Unlike smartphones with flat backs, its back is curved with precision for better handling. Taking a cue from its predecessor, ZTE Nubia Red Magic Mars, both the top and bottom of the phone's back are aligned with a V-shaped meshed design. The top portion is accompanied by a pentagonal camera, a switch from the hexagonal shape.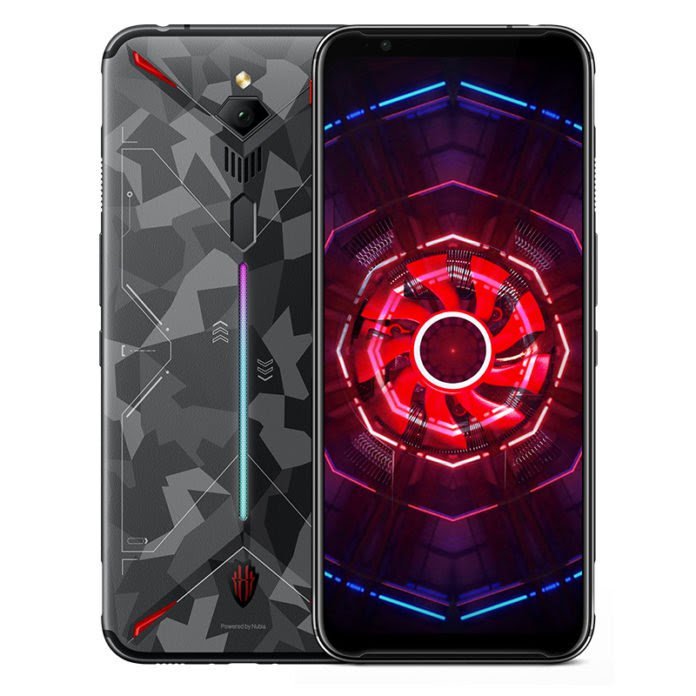 Moving on, there's an Air-In vent at the base of the V-shape on top. An Air-Out Vent also appears on the phone's right side. Both play a part in cooling the system whenever it gets hot when gaming. Together, ZTE calls them the ICE 2.0 multi-dimensional cooling system.
Nonetheless, the major controller of the phone's cooling system is the industry's first cooling fan. Instead of physical bearings, this fan is composed of nanomaterial that uses centrifugal force to do its job. After undergoing different lab tests, ZTE proudly states that the fan can run for over 30,000 hours at 14,000 RPM. Impressive, I must say.
Add that to the thermal fluid cold pipe in the device, you have a gaming smartphone that's way cooler than its competitors. Specifically, it reaches 5°C temperature lesser than others.
With such weaponry assigned to cooling, there are more entertaining entities to enjoy the gameplay. While holding the phone in the landscape form, you can use the two pressure-sensitive sensors, or better yet shoulder buttons during gaming.
Advertisement - Continue reading below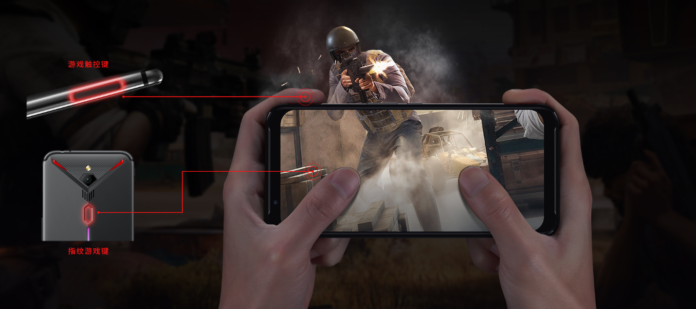 The fingerprint sensor also doubles as a gaming button, so you can use that as a quick response tool during your best game modes. Speaking of game modes, you have a 4D Smart Shock System that's designed to adjust vibrations and lights to suit different games.
To take in more accessories, the phone sports a gaming port on its left side. It's able to adopt accessories like Ethernet port, gamepads and more.
Refreshing Display and Silky Performance
The idea to use an AMOLED panel in the display department is totally understandable. Compared to its predecessor's IPS screen, it's a statement of intent. Even the option to avoid under-display fingerprint scanner balances well with gamers. As you know already, the rear-mounted touch ID is an extra button for gameplay.
Back to the display, there's a resolution of 1080 x 2340 pixels that governs the contrast and colour output of this 6.65-inch display. Despite the absence of a notch, 19.5:9 aspect ratio is well demonstrated by the display.
The most invigorating aspect of the phone's display is the 60Hz and 90Hz high refresh rates. Depending on the game type, you can switch between both rates for an enjoyable time.
Changing between the refresh rates can be done when Game Space 2.0 has been activated. Pressing a dedicated button on the left side confers this mode upon the device. It means the device is in full game mode, therefore actions can be carried out to enhance gaming. Actions such as turning on and off of the fan, adjusting the speed, DC dimming and much more.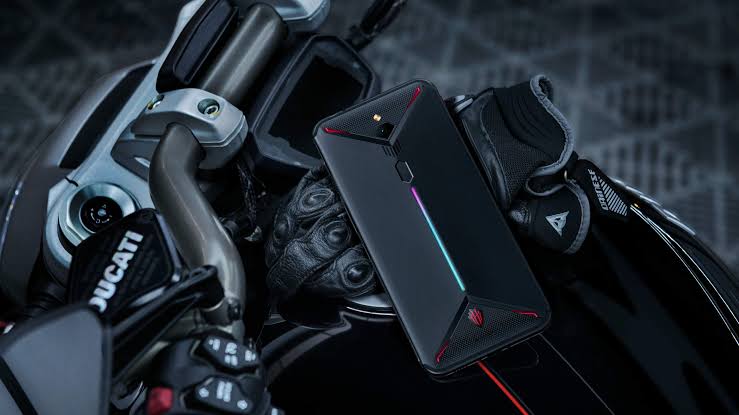 The top-tier Snapdragon 855 sits at the heart of the ZTE Nubia Red Magic 3. Its fluid operations are masterminded by its octa-core 2.8GHz Kryo CPU and Adreno 640 GPU. Even more, a 12GB LPDDR4X RAM increases the sleekness of the phone's performance. No memory concerns as a 128GB UFS 2.1 storage is on board. Also, freshness is found in the software unit as the Android 9.0 Pie OS is in charge.
As much as 5,000mAh battery is assigned to command the duration of the device. It does so smoothly as it lasts for more than a day while gaming intensively. Its swift charging skill allows it to charge up from 0% to 100% in less than two hours.
ZTE Nubia Red Magic 3 Key Specs
Display — 6.65-inch AMOLED (1080 x 2340 pixels); 402PPI; 19.5:9 aspect ratio
Processor — 2.8GHz Octa-core Snapdragon 855 SoC
GPU — Adreno 640
Rear camera — 48MP camera, f/1.8 lens with dual tone LED flash
Fingerprint sensor — Yes (Rear)
Front camera — 16-megapixels, f/2.0 lens
RAM — 6GB / 8GB / 12GB
OS — Android 9.0 Pie OS
Storage — 64GB / 128GB / 256GB
Battery — 5,000mAh (Fast battery charging 27W)
Pricing & Availability
ZTE Nubia Red Magic 3 is currently available in China but its global sales are expected to begin by Mid-June, starting with India. Its 6GB RAM and 64GB internal storage model costs $430 while the 6GB RAM and 128GB storage variation sells at $480. Also, the phone's 8GB RAM with 128GB ROM variant is currently selling for $539, while the 12GB RAM with 256GB storage edition goes for $640.
Advertisement - Continue reading below