Have you ever found yourself in a fix, without any cash at all? Yeah we've all been there. Xente is like that helpful Buddy that comes to hook you out at a very critical moment. 

With Xente, you can pay for bills even when you are cash-strapped. They give out small loans to help you pay for bills and buy for online products and services at small interest. But there's a catch; you have to qualify for the loan through a special algorithm by Xente determines. 

Advertisement - Continue reading below
So how does it work?

Xente app has this BuyNow-Paylater feature that lets you buy for services such as data,  airtime, water, electricity and even movie, bus and event tickets via a loan. You simply have to select the item that you want to buy then select  BuyNow-Paylater as a payment mode and then checkout. Xente will have to approve the loan in a few minutes, for my case it, took less than 15 minutes before the transaction is successful.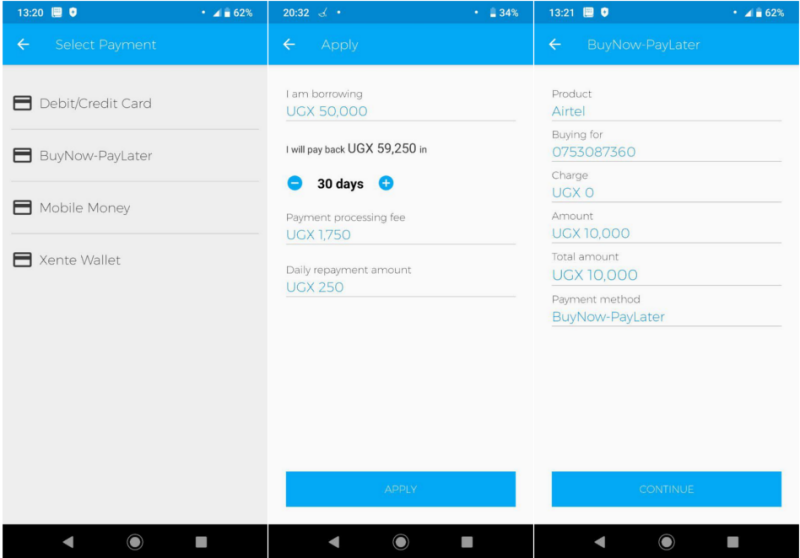 The repayment plan is pretty obvious. The default is 30 days, but you can increase this date although you need to be aware that the longer the deadline, the higher the interest.
Related: Xente is giving you Cashback every time you pay your bills
I borrowed Ugx 50,000 to buy Airtel mobile data with pay back in 30 days and my payback amount was Ugx 59,250. That's 18.5% interest. That's slightly lower than most Ugandan bank interest average (20-23%) but still not magical. 

Xente isn't the only option for mobile loans in Uganda you can actually also get loans from MTN Mokash and Airtel Berako. The difference here is that Xente combines micro loans  with a variety of services you can pay for. They recently opened shop in Nigeria. If you've used mobile loan apps in Uganda, please let us know in the comments below.
Advertisement - Continue reading below
Image: Xente