As we wait for the launch of the Samsung Galaxy Note 10, the Korean technology giant has lifted the curtains off its new flagship chipset – Samsung Exynos 9825. The new SoC is made with the 7nm EUV process which is a significant improvement on the 8nm LPP finFET process of its predecessor. This is because the smaller process translates to a better overall performance of the chipset. Like its predecessor, the new chipset is made up of 2 Cheetah M4 cores, 2 Cortex-A75 cores, and 4 Cortex-A55 cores.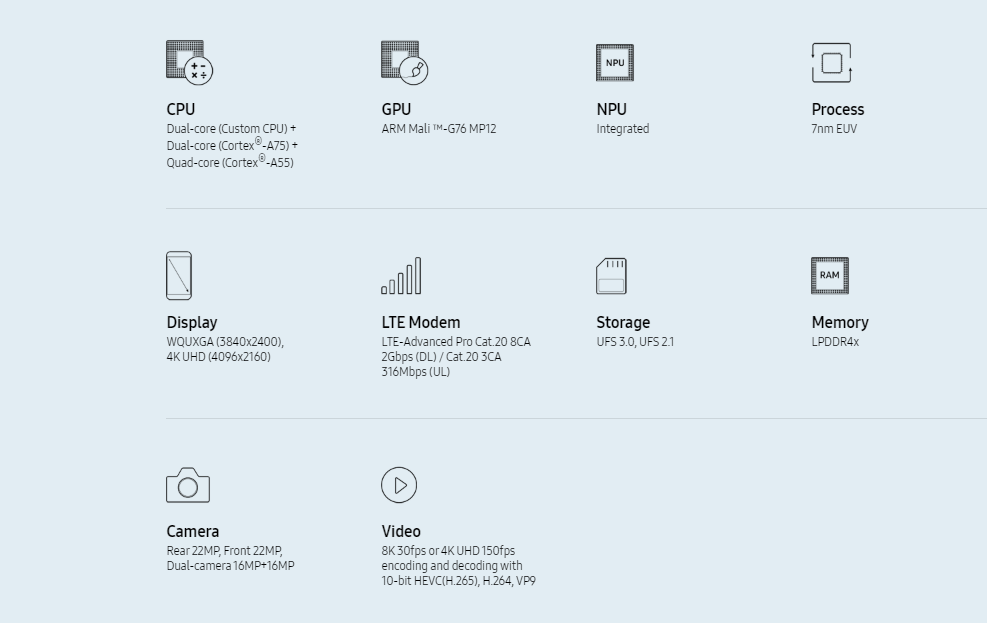 The Samsung Exynos 9825 is the first to feature the Extreme Ultra-Violet EUV) process that Samsung announced late last year. Also, you can expect a higher clock speed from the Cortex-A75 cores onboard for faster performance. There will also be a new neural processing unit to help out with AI image processing and general machine learning. Furthermore, Samsung also promises more gaming performance with a higher clocking Mali-G76 MP12 GPU for seamless graphics munching. You can expect a more power-efficient system with improved task management and usage pattern recognition.
Advertisement - Continue reading below
Read More: Radeon Graphics could be coming to Samsung Smartphones
In addition, the chipset is going to feature the 4G LTE Shannon 5000 modem with a top speed of 2Gbps. However, the Exynos 5100 modem can be added for 5G connectivity in the 5G variant. Although, Samsung is most likely going to feature the SoC in a variant of the Samsung Galaxy S10, however, you can also expect a variant with Qualcomm's Snapdragon 855 Plus chipset too.