About a year ago, Google launched the biggest revamp of its email app, Gmail with quite a number of amazing features. One of such features is "Email snoozing" which allow users postpone and temporarily hide emails from their inbox until they need them.
This feature is more of an "email reminder" and it comes in handy when you receive a really important email but don't have time to reply immediately. You can simply snooze the email to reappear in your inbox at a more conducive period when you'd be chanced to reply it. Once has email has been snoozed, it would disappear from your inbox and reappear at the date and time you set.
Advertisement - Continue reading below
For example, if you receive a mail while on your way to work but you aren't in the right state of mind to compose a befitting reply, you can snooze the mail (for 5, 10 minutes or more) till you get to your office. You can also snooze a mail for days or months. If you only reply to personal emails on weekends, you can snooze whatever personal emails you receive during the week till weekends.
How to snooze email(s) in the Gmail app
In your Gmail inbox, long-press a mail to select it. You can also select multiple emails and snooze them at once.
Once you've selected the mail(s), tap the menu icon at the top-right corner of the app.
Tap "Snooze"
Then select how long you want to snooze the email. You can select "Tomorrow", "Later this week", "This weekend", and "Next weekend" are on the list of options.
You can also tap "Select date and time" to pick an exact date in your calendar.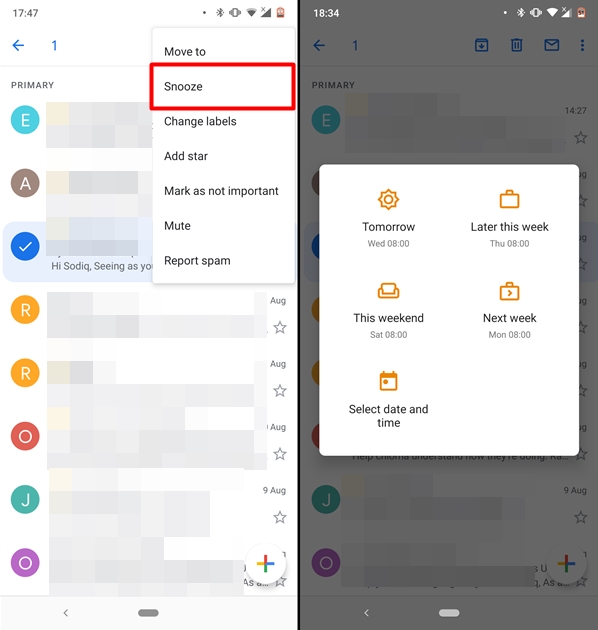 When you snooze an email, it disappears from your primary inbox and moves to the "Snooze folder"
How to find Snoozed emails
To check your Snoozed emails:
Tap the Hamburger menu button at the top-left corner of the Gmail app.
Select "Snoozed" from the list of options.
You would see the emails that you have snoozed, as well as the duration you snoozed them for.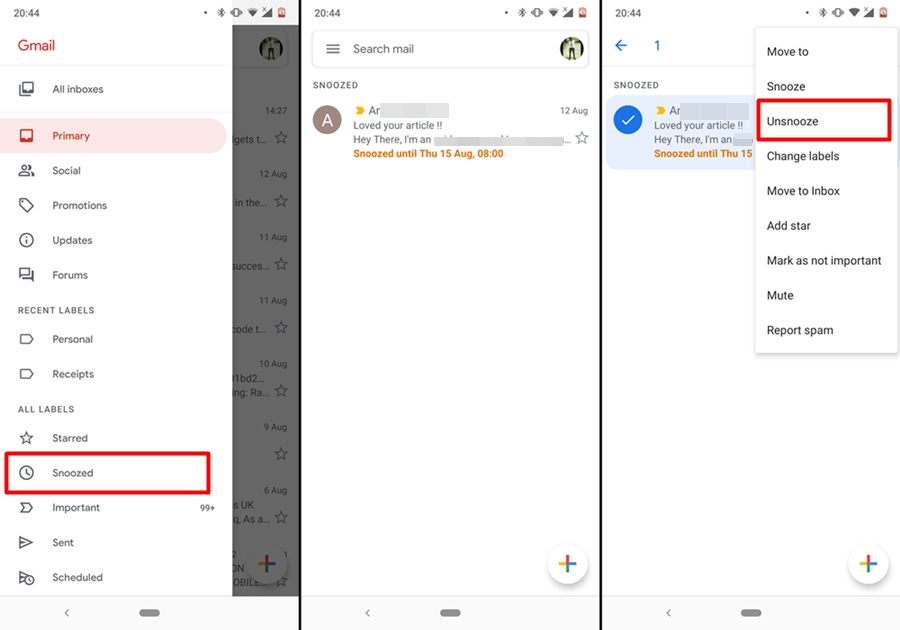 Unsnoozing an email
Long-press a snoozed mail in the Snoozed folder
Tap the menu icon at the top-right corner
Select "Unsnooze"
The email will be discarded from the Snoozed folder and reappear in the primary inbox.
With this snooze feature of the Gmail app, you should no longer forget to reply important work or personal emails. Lastly, it helps keep you inbox clean and organized.