Various countries around the world have already started testing 5G super-fast mobile internet. In Africa, telecommunication companies such as MTN Group have spearheaded the testing of 5G. In this article, we shall show you which countries in Africa have already tested or are already testing 5G. But first…
What is 5G?
5G is simply an abbreviation for the fifth generation. In simple terms, it is the next generation of mobile internet technology succeeding 4G LTE. It has faster download and upload times. Under the 5G technology, websites and apps that use the internet will open in microseconds, videos will download in seconds, among other improvements in the internet speed. It also promises less lag when playing video games online.
Advertisement - Continue reading below
How Does 5G Work?
The 5G technology uses radio waves to send and receive data between a mast and your device. It relies on higher radio frequencies but these can't travel as far other frequencies so it needs a denser network of base stations or masts. This means that 5G will work better in densely populated areas where many people are going online at the same time.
---
Related Article: Should You Buy A 5G Smartphone in 2020
---
Countries in Africa That Have Tested 5G
South Africa
Arguably one of the largest economies on the African continent, South Africa is one of the pioneer countries to have introduced 5G. Rain, a data-only mobile network, Liquid Telecom SA, Vodacom SA, and MTN SA have also launched trials for 5G in the country. Lack of the required spectrum has been the biggest bottleneck in the full roll-out of 5G in South Africa.
Nigeria
MTN NG had a trial of its 5G technology with a live 5G network demo in November 2019. It promised to build its 5G network as early as possible, pending the necessary spectrum allocation.
Kenya
Safaricom has access to licensed 2.5 GHz and 3.5 GHz bands which are ideal for 5G service. It has completed testing and trials for the upgraded network.
Uganda
MTN Uganda publicly demonstrated the 5G network in January 2020 in collaboration with ZTE.
Advertisement - Continue reading below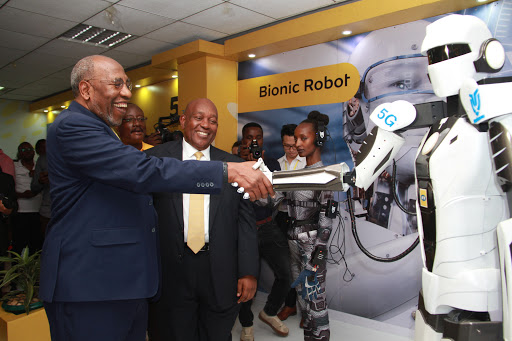 Lesotho
Vodacom Lesotho's 5G network is also active — although it supplies only the Central Bank and a mining company.
What Is Holding African Countries Back?
Since 5G requires higher frequencies and better technology, financial constraints are one of the biggest hindrances for 5G to work fully in Africa. Mobile operators will need to build a vast network of masts to transmit the signals and this entails expensive investment.
Also, African governments haven't yet developed the regulations that would allow for a 5G rollout. The mobile operators cannot launch full 5G services until the communications regulator holds a spectrum auction to sell the rights to transmit over specific frequencies.
Lesotho and South Africa are the only African countries where 5G is commercially available, although they are extremely limited. In Lesotho, the Central Bank and a mining company are the only entities using 5G so far. In South Africa, Rain (a data provider) is offering 5G to a select group of customers. It can only provide 5G because it's using its existing spectrum to transmit the signal. There are active plans to deploy 5G in other leading African economies like Egypt, Senegal, Morocco, and the Democratic Republic of Congo.
The 5G technology could allow Africans to access faster and more stable mobile internet without having to lay fiber-optic cables. The financial and government bottlenecks might mean that they should wait a little longer for full roll-out. Are you excited for 5G technology in Africa? Why? Share with us in the comments section.