The Xiaomi Mi Box S (also known as Xiaomi Mi Box 4) is the successor of Xiaomi Mi Box 3. This is a line of Android TV set-top boxes from the Chinese electronics corporation, Xiaomi. Founded just a decade ago, the company makes a variety of electronics products ranging from smartphones and laptops to TVs. Xiaomi has built a reputation for offering good quality and prices that are often hard to beat.
Cost and Competition
Averaging at $60, this is one of the cheapest ways to make your TV smart or smarter than it is. And if you look around well enough you can find discounted prices of up to $47. Considering that the NVIDIA shield costs $190 and is not available globally, the Mi Box S is a sizeable bargain.
Advertisement - Continue reading below
This device is supposed to compete with the likes of Amazon TV Stick, Roku, Apple TV, the more gaming-oriented NVIDIA Shield as well as a variety of Chinese non-verified Android set-top boxes.
Hardware
Notable is that there is no hardware upgrade from the predecessor. Thus, the Xiaomi Mi Box S is powered by Amlogic S905X SoC with 4 Cortex A53 cores clocked up to 2.0GHz, 2GB DDR3 RAM, 8GB internal storage. All you get in terms of I/O is power in, USB port, audio out and HDMI 2.0a. It doesn't have an ethernet port so it really on wireless (read: Wi-Fi) network connectivity.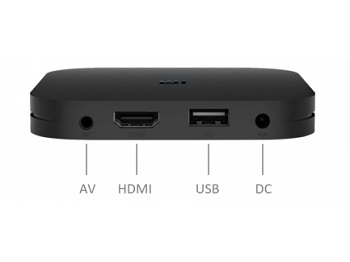 In terms of wireless connectivity, you get the newer Wi-Fi ac 2×2 MIMO module and Bluetooth. Bluetooth connectivity allows you to pair a Bluetooth game controller for playing games as well as system navigation. The Bluetooth paired remote has dedicated buttons to launch Google Assistant and Netflix. Mi Box S also has an in-built Chromecast enabling users to share content with their TV easy and fast.
Software
Because it runs a certified image of Google's Android means you don't have to worry about shady apps and bloatware whatsoever. The same cannot be said about some of its non-verified Chinese competitors. The Mi Box S comes with Android 8.1 Oreo out-of-the-box which is bound to receive firmware updates. Android 9.0 is already out for this device so you should definitely update as soon as you unbox for the best usage experience.
The Android TV operating system in the Xiaomi Mi Box S is quite customizable, though not as customizable as your average phone. The settings menu is well organized and grouped with Android TV standards giving user-friendly control over the entire system.
Performance
The Mi Box S runs very smoothly and seamlessly at 1080p 60hz resolution but is glazed by occasional lags and frame skipping when displaying HDR content at 4K. This is kind of a lot to ask of this hardware. So, if you are a 4K junkie you are better off considering more expensive, high-end, and gaming-oriented set-top boxes like the Apple TV 4K Box. Mi Box S has built-in support for DTS and Dolby 5.1 Surround audio.
Advertisement - Continue reading below
Do you need a well-working TV box for less than $100? This is a great choice, if not the best. If you own the previous generation of the Mi Box there are no compelling reasons to upgrade. The Mi Box S goes for $66 on Amazon.com.