TV is coming to your Mobile phone and tablets. But is your mobile network and smartphone ready? What about your TV? Two of Uganda's biggest mobile networks have released smartphone Apps available on Android and iOS platforms that bring content on the palm of your hands. I want to find out how each one of them is doing this.
Now Airtel's streaming App is called Airtel TV. It's available on both Android and iOS. So I downloaded it on on my android smartphone and iPad. MTN Uganda partnered with YoTVChannels owned by Al Bayan Media to bring content to not just its subscribers on its network, but anyone with an internet connection.
Advertisement - Continue reading below
Both companies seem to be approaching online mobile content streaming quite differently. But there are a few intersecting similarities. So lets get into it.
Payment model
To start with, what differentiates these platforms is the business model. Airtel has chosen to bill users based on data consumed. It's pay-as-go model. You load whatever amount of data you think is enough for you to stream TV. Once this data expires or gets used up, that's it for you. And you must be on the Airtel network to use the App.
Read more: What is Airtel TV and How to Use it
MTN on the other hand with the YoTVChannels has gone the subscription route. Consume all you want for fixed monthly fee of Ugx 10,000. This is similar to the model used by global streaming services such as Netflix. The app is zero-rated on the MTN network, so it won't use your data plan.
Read more: MTN Uganda Partners with YoTVChannels To Provide Streaming Bundles For her Customers
Friends I have spoken to don't seem to like Airtel's model. Airtel TV App has to share the same data bundles that users have apportioned for other online services. Keep in mind, the Airtel App naturally consumes more data.
Advertisement - Continue reading below
Content Availability
Both services have done quite alot in curating content for their platforms. You'll find most popular Ugandan Live TV channels on both platforms including UBC, BBS, Channel 44, NTV, U24, STARTV, Urban TV, as well as international news channels such as RT, Al Jezera, BBC. You'll however, find each service has specific channels that the other doesn't. Airtel TV has NBS while YoTV doesn't.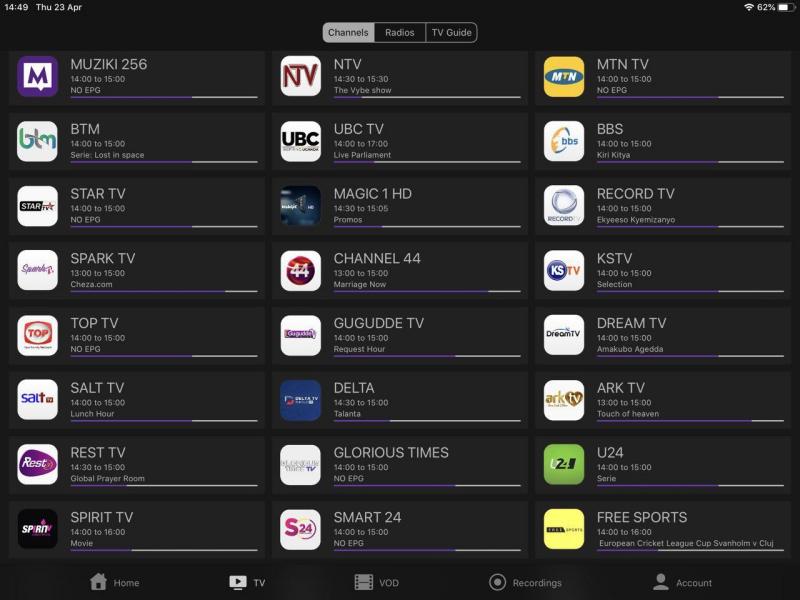 Both services have a TV guide. So you can quickly peruse through what's coming up next. Both have some way of choosing the video quality. The lower the quality, the less data is used, but consequently less picture quality also which affects your user experience.
I should say though that even with the highest quality, there's lack of HD or FHD video quality. The Apps have up their game here for customers with fast or unlimited internet connection.
You'll begin to see differences between the Apps when it comes to on-demand content. Airtel TV has some Bollywood content, Sports, family-orientated content for kids, Nollywood and some shows from Ugandan-producers such as comedian Tumusime.
YoTVChannels too has a wide catalog. You'll find Chinese movies, Korean drama as well as some of the latest Holywood blockbusters such as Avengers Endgame, Gemini man, Captain America, Cold Blood, Dark waters etc. I must say if you the kind that watches lots of Holywood movies, YoTVChannels has a bigger library.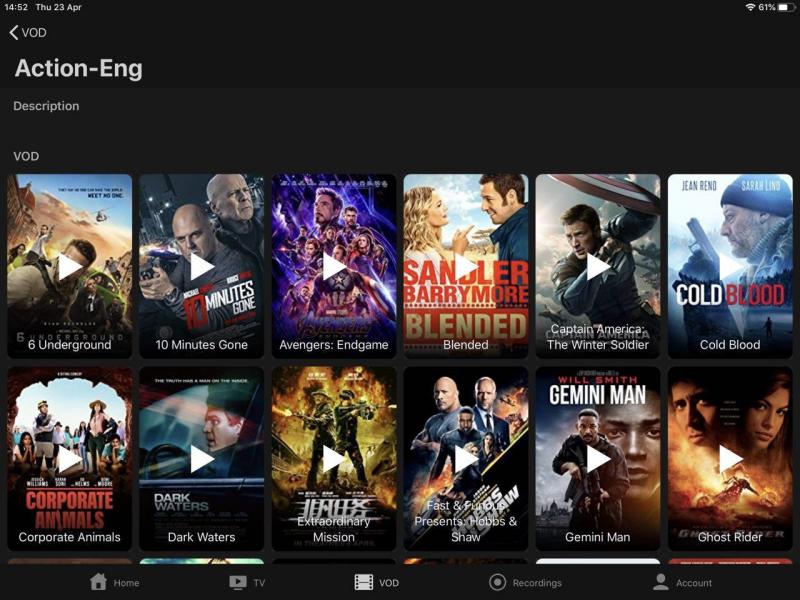 The other feature YoTVChannels has that seems absent on Airtel TV is list of local radio stations. If you're the radio listening kind, you'll find YoTVChannels very attractive. They have Radio One, Capital FM, Simba, CBS, Galaxy among more than 10 FM stations.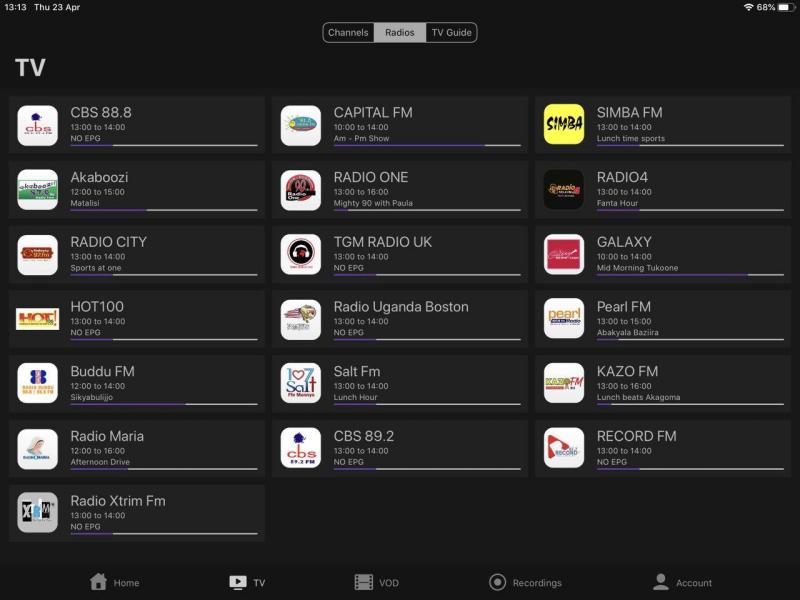 Platform support
Both Airtel TV and YoTVChannels services are available on Android and iOS devices. So whether you have an iPhone, iPad, Samsung or a Tecno smartphone, you'll most likely enjoy the content.
If you own a streaming device such as and Android TV box, you might also stream the content directly to the TV since Android is supported. This is unverified, but I'll update this article once I try it out. Both platforms lack Chromecast support, so you just can't watch the content on your TV via Chromecast device. The only way around this is to screen mirror the entire phone to the TV (if it supports it).
Advertisement - Continue reading below
Related post: The Updated Guide to Setting Up Google Chromecast
Streaming Sticks vs Smart TV: Should you get both?
If you own a SmartTV, chances are that you won't be able find the Apps in the respective Smart TV App stores. These services are mostly designed to be used on mobile devices.
As mentioned earlier, YoTVChannels is network-agnostic. It can be used on any internet provider, mobile or not while Airtel TV is strictly available Airtel Mobile network.
Final words
The way we watch TV is changing. Or rather the definition of TV itself is now evolving. It's now possible to catch your favorite TV show or the night news on the go or while chilling on your laid-back couch. Certainly the online streaming services have more work to do creating and curating interesting content for their users.
Related post: Top Video and Music Streaming Services Available in Uganda
And both Airtel TV and YoTVChannels face competition from global giants such as Netflix, Youtube, Amazon Prime, Apple TV+. So differentiation is going to be key.
Advertisement - Continue reading below