The Smarthome movement is increasingly becoming popular and it's no longer a thing for geeks on remote outposts of the internet. Smart bulbs are just one part of what makes a smart home 'smart.' With your existing lights, you might not see a need to change. Why fix what's not broken, right? But soon, you'll get bored of the mundane task of manually switching on and off your light or lights.
With wirelessly-controlled smart lights, the future is indeed bright. Xiaomi's Yeelights also known as Mi LED Smart Bulb is a safe landing ground for Smart bulb newbies who wish to test the waters without committing much. That's because a Central Hub/Gateway/Bridge is not required.
Advertisement - Continue reading below
I have been playing with Xiaomi's Yeelight bulb or Mi LED Smart bulb for a while now. Yeelight is a sub-brand of Xiaomi and it's mostly popular in Asia, China, and India. The Mi Smart Bulb brand is exactly the same product, but targeted towards the European and generally global market. So, don't be confused by these seemingly different products.
Users from the U.S will be more familiar with the incredibly popular Philips Hue Smart Bulb, LIFX Smart Bulbs, or TP-Link's Kasa Smart LED bulbs. They are all very great recommendations for anyone willing to fully invest in a smart bulb home system. Xiaomi's Yeelight or Mi Bulb are equally capable and support Google Assistant, and more recently Apple's Homekit home automation platforms.
So I bought the Yeelight Smart LED Bulb (Color version) from Aliexpress for $17. However, this bulb has recently dropped in price. You can get it for just $9 on amazon. Summarily, here's what I liked and didn't like;
Yeelight Smart Bulb Review
What We Liked
No hub/gateway is required.
Vast number of color options.
Schedules.
Integrates with several platforms including Google Assistant as well as Clova.
Affordable price point.
What We Didn't Like
No Siri or Apple HomeKit support.
No Bluetooth support.
Prone to interference from other WiFi and Bluetooth devices.
Yeelight Smart LED Bulb (Color) Full Specifications
Model: YLDP05YL/YLDP06YL
Luminous Flux: 800lm
Rated Power: 10W
Rated Input: 220V-240V ~ 50/60Hz 0.05A (European region)
Color Temperature: 1700K-6500K
Connectivity: WiFi IEEE 802.11 b/b/n 2.4Ghz
Life Expectancy: ~ 25,000 hours
Size: 60x60x124mm
What's Great About This Bulb?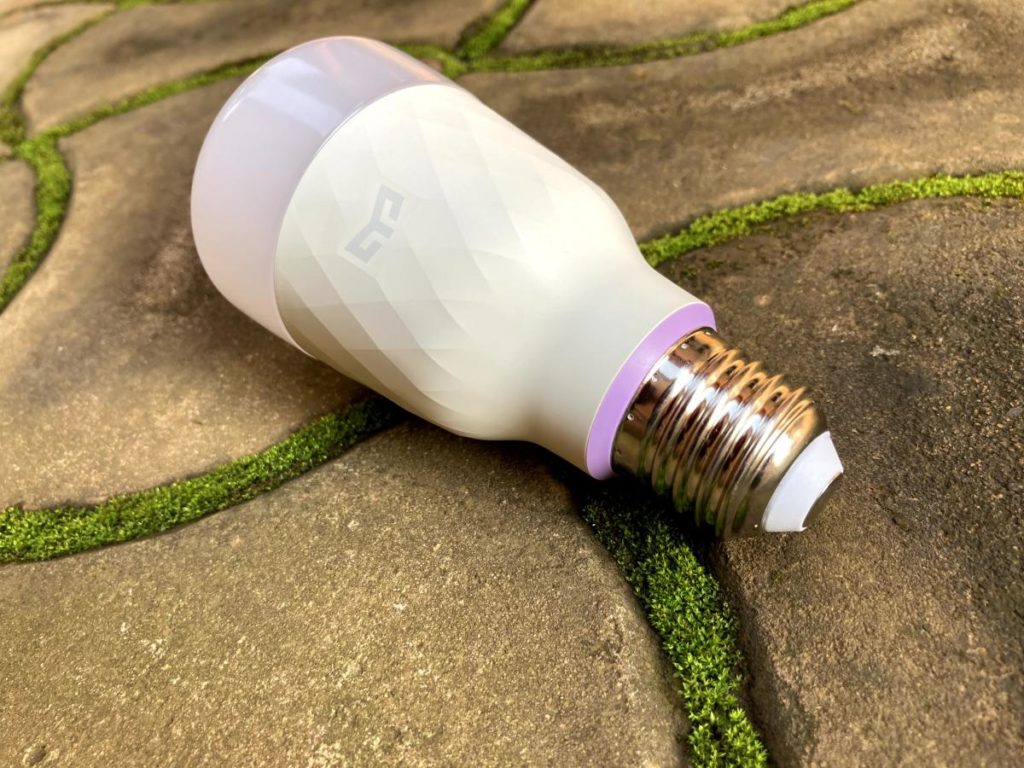 Energy Saver: The Yeelight Smart LED Bulb (Color version) is for starters. It is an energy-saving light-colored bulb with a power rating of only 10W. My previous non-smart bulb was a regular Philips 7W energy saving bulb, so 10W isn't very far from what I initially had. Xiaomi estimates you'll save at least $1.2/year based on 3hrs/day usage and 11 cents/kWh. This bulb is estimated to last 22.8 years based on 3 hrs/day usage calculation. So buy once and forget.
Adjustable Color: Alright folks, here's the kicker; you have up to 16 million colors to choose from. Yeah, you heard that right, 16 million color options. Obviously, chances are that you won't even use 10. Most people are used to white light or various shades of white with different color temperatures. But hey, that won't stop Technology innovation from reaching for the limits. With the Yeelight, you can switch your light colors to suit your mode. When you wake up, while reading or going to sleep, you can select, with the help of the companion smartphone app, the right color for the moment.
Scheduling: You can schedule your Yeelights to automatically switch on or off at specific times of the day. Why would you do that? Automate some of these mundane tasks and save time. Well, sometimes you can actually forget to switch on or off the outside security lights for instance. You can now easily set your lights to come on at sunset and turn off at sunrise for instance.
Remote Access: Have you traveled upcountry and forgot to switch off the bedroom lights? No worries. As long as you have an internet-connected device and the Yeelight bulb is connected to your home Wi-Fi, you can just turn them off from the Yeelight App, Mi home App, or Google Assistant.
Scenes: You can save the color you want to remember for a particular moment in what Xiaomi/Yeelight calls "Scenes." You can create different scenes for waking up, going to bed, watching a movie, or a romantic dinner. This is slightly related to the Adjustable Color feature mentioned in #2 above.
Feature Summary
Adjustable brightness
Adjustable color temperature
Different lighting scenes
Energy saving
Night Light
On/Off timer
Off-Delay timer
Smart control
Firmware upgrades
Installation
Installing the Yeelight Smart Bulb is as easy as installing any other bulb. Simply screw it to the lamp holder. Before you do that, however, make sure the power switch is off. Xiaomi recommends that you do not use this bulb with a dimmer switch to avoid damage to your smart bulb. That's it. You can now use it like a regular bulb. But of course, you want to take advantage of the smart features you get from a smart bulb.
To do that you'll have to set it up with either the Yeelight app or Mi Home App which are both available from Apple's App Store or Google Play Store.
Advertisement - Continue reading below
No Hub Required
Most smart home devices will need a Central Hub or Gateway to function. This Smarthome Hub works the same way your WiFi router connects all your devices to the internet. Usually, for Xiaomi ecosystem of devices, the Aqara (global) or MiJia (China) Hub is what connects devices together and controls them via the Mi Home App.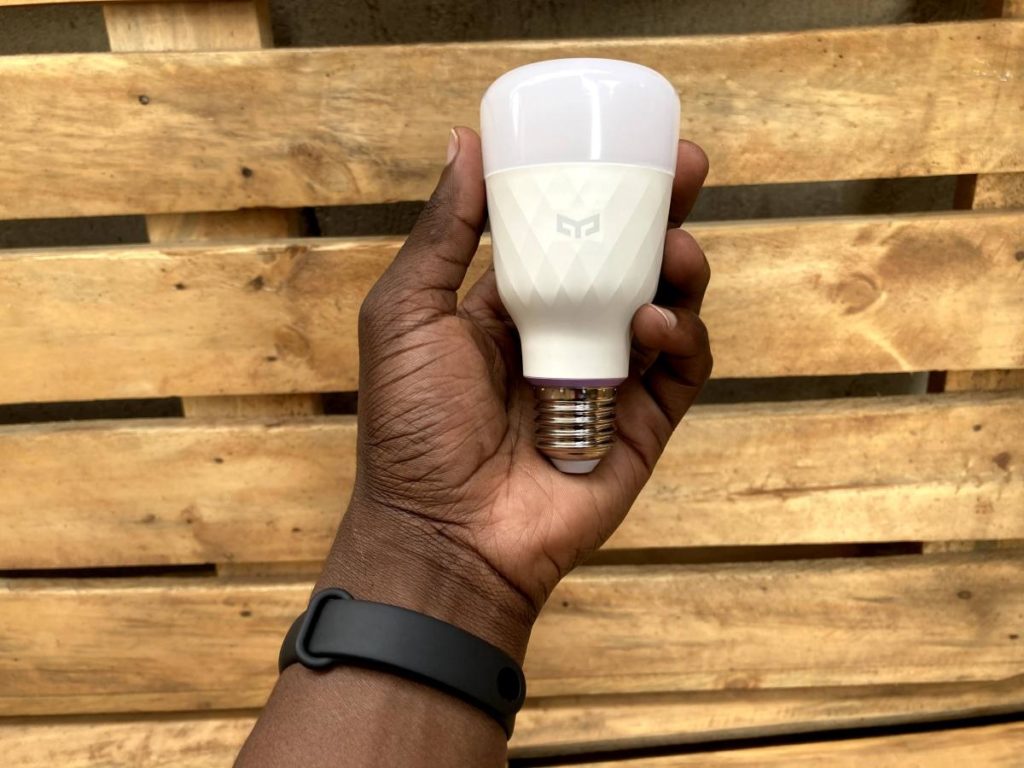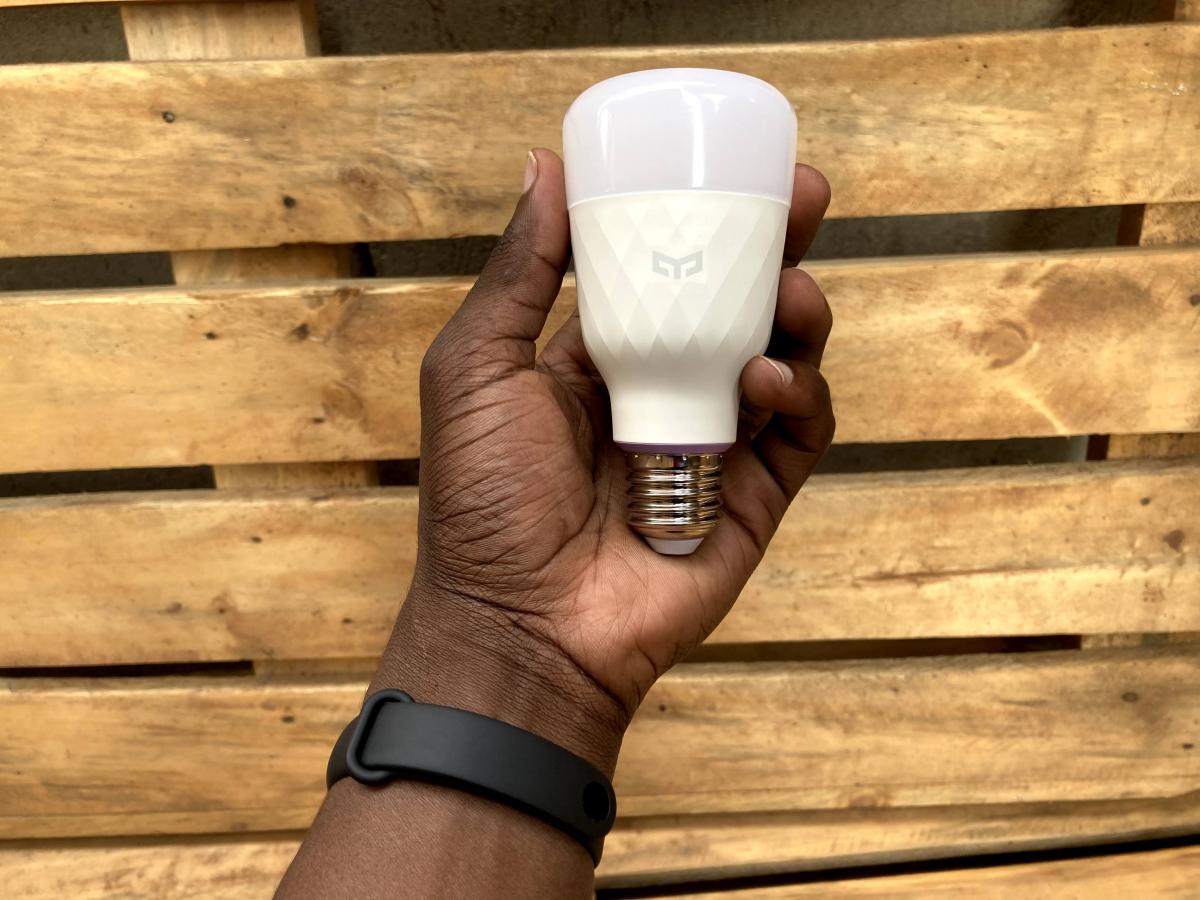 However, the Yeelights Smart bulb doesn't need one — although they can be controlled by the Aqara/Mijia Hub. When integrated with the Hub and other sensors such as Body sensor or Door/Window sensor, then you can create automation "Scenes" where lights go on or off when doors or windows open/closes for instance, or even when someone works into the room.
Without the Hub however, you control the Yeelights from the Yeelight App or Mi Home App. You can schedule them to turn on/off, change color or brightness.
Setup the Bulb with Yeelight App
To set up this bulb with the Yeelight app, make sure you have a WiFi network connected to the internet. I presume your WiFi network is from a router. Make sure the router supports WiFi IEEE 802.11 b/b/n 2.4Ghz or WiFi 4 for simplicity. It's very likely that your existing router or if you're using a smartphone hotspot already supports this standard.
From the Yeelight app, tap on the plus sign on the top right corner >> Add device >> LED bulb (color) >> Reset the device (switch the bulb on and off 5 times in a row — 2 seconds on and 2 seconds off until the bulb starts flashing).
Afterward, the Yeelight app will start scanning for available lights. Select the device to add >> select WiFi 2.4Ghz network to connect to. If all goes well, your bulb should now be added to the Yeelight app. You can then proceed to name the bulb.

The first thing I usually do is update the firmware to the latest version to take advantage of the latest features. With the Yeelight, you can turn on/off the lights, create scenes, set a timer, create schedules and share light with family and friends.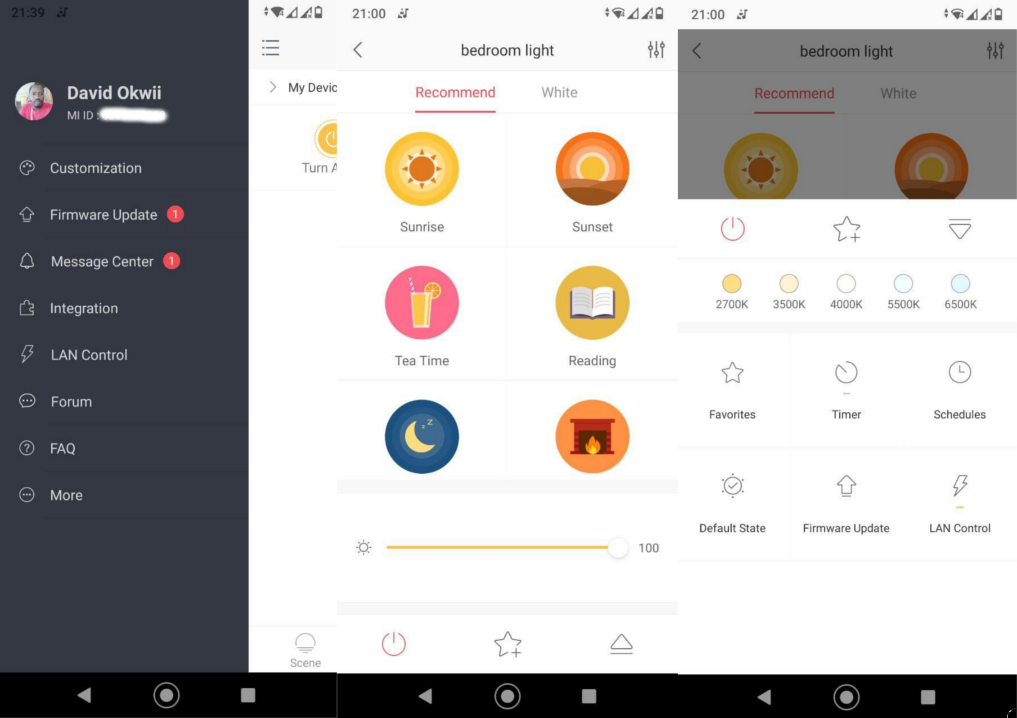 Set up with Mi Home App
Setting the Yeelight bulb with the Mi Home App follows almost the same flow as the Yeelight. Start by resetting the bulb as described above. Then tap on the plus sign on the top right corner. Mi Home app will start scanning for available devices. Your Yeelight should be able to show up on the radar. If it doesn't, then reset it first. When the Yeelight shows up, select it, and connect it to your 2.4Ghz home WiFi. If the connection is successful, then you should name the device and assign it to a specific room. And you're done.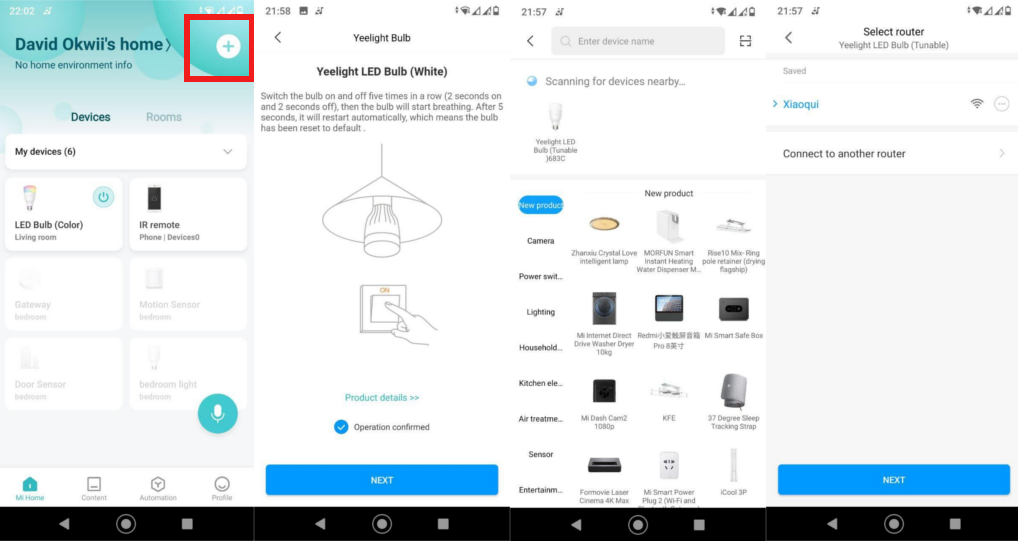 Setup with Google Assistant
If you don't use Google Voice assistant at all, here's a good reason to activate it on your phone. When the Yeelight smart bulb is integrated with Google Assistant, you can control the lights via voice commands. Google Assistant supports various control actions for smart bulbs including turning on/off, dimming or brightening the lights, and changing the light's temperature and color. When you integrate the Yeelight smart bulb with Google assistant, you can take advantage of this convenience.
Setting up the Yeelight Smart LED Bulb is easier to do when you've already added it to the Yeelight app or Mi Home App. Add the device by tapping on the plus icon on the top left corner >> Setup device >> Works with Google >> Choose Mi Home or Yeelight depending on which app you downloaded and set up the Yeelights with >> Connect the Mi Home or Yeelight account with Google Home Account.
Advertisement - Continue reading below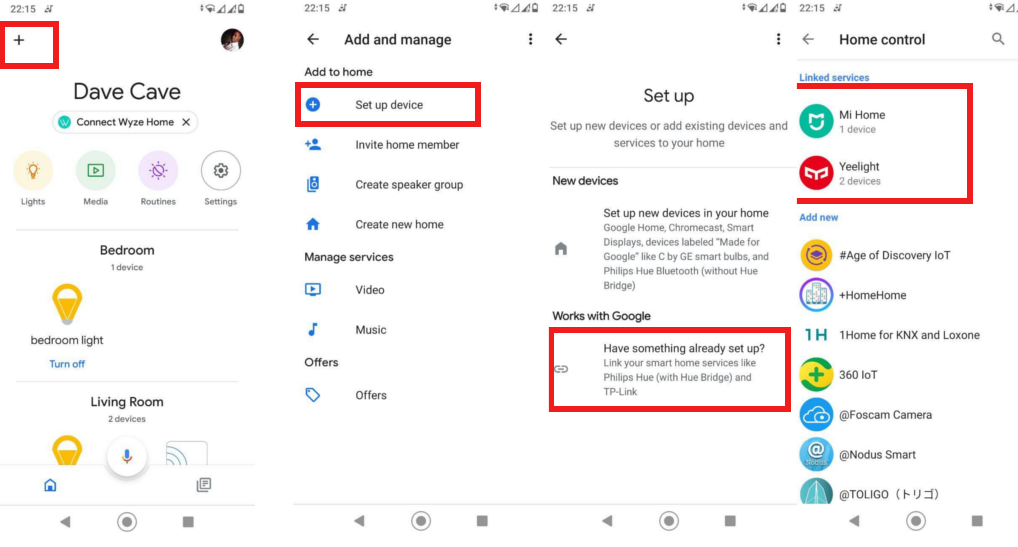 Resetting the Yeelight Smart LED Bulb
You'll need to factory reset the Yeelight when you want to set it up with a different platform/app. To do that, use the light switch to turn the light bulb on and off five times (on for two seconds, off for two seconds). For the light bulb (tunable white version), it will be in breathing mode. After 5 seconds, the bulb will automatically reset itself. For this light bulb (color version), it'll display a circling multi-colored effect, then automatically reset itself and display a white light after 5 seconds. This indicates the bulb has been restored to its factory settings.
Where to Buy the Yeelight Bulb (or Mi LED Smart Bulb)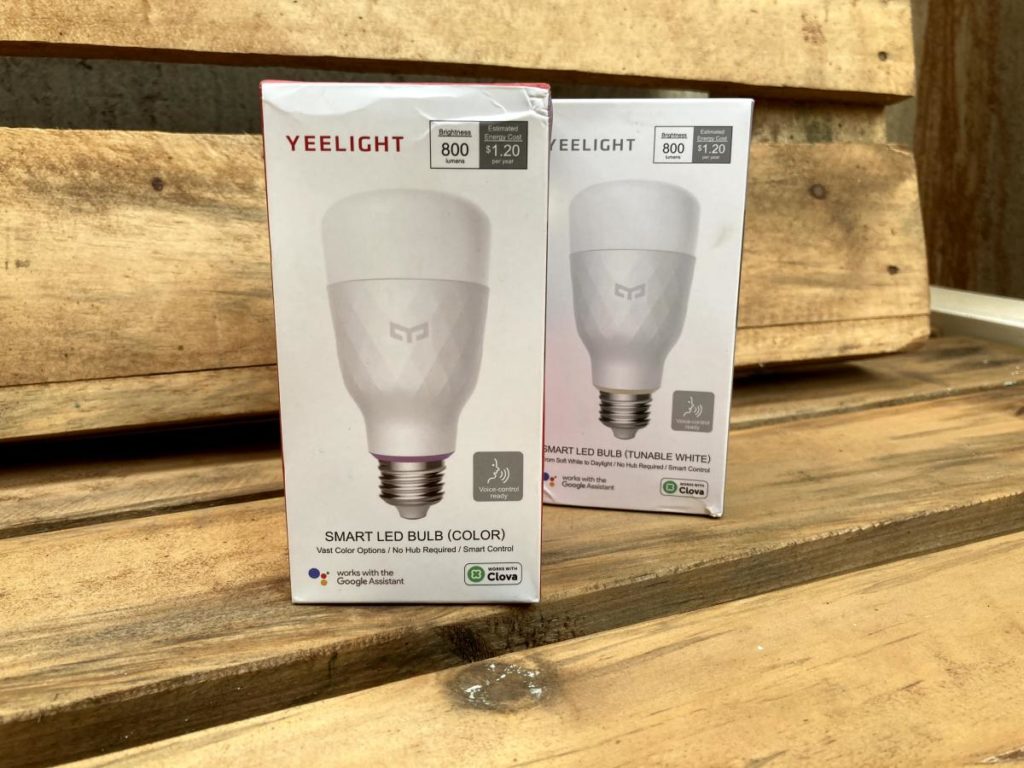 It's available on Amazon US for about $9, Amazon India for ₹ 1,299 ($17.71), AliExpress at $17.06, and $30 on GearBest. Before you buy, be sure to check the socket type. E26 is for the U.S region, E27 for Europe, and E26/E27 for other regions.