Mobile money and digital technology have created a whole range of new opportunities for customers and businesses. However, there's a flip side to these innovations as well —the darker side. You see, the criminal underworld/fraudsters have also benefitted from the explosion of digital tech and the internet.
Although telecoms have done their best to curb the fraud surrounding the service, defrauders also reinvent their business plans, they build networks and work together to advance their illicit agendas.
Advertisement - Continue reading below
Criminals have resorted to social engineering to get into mobile money accounts and exploit mobile money customers online. Follow along as we uncover the new common mobile money scam fraudsters use to make a fortune.
---
Related Articles:
---
The Social Engineered SMS
In the middle of the pandemic, I was on a call with a colleague of mine to send me money as part of the remaining balance for the service I had offered. Shortly after concluding the conversation, he called to confirm if I had received the money and to his surprised, I hadn't. He then mentioned the SMS he got shortly after our phone call. 
The SMS goes thus:
"Hey Man, I request you to send the money through this MTN number: 0775123456, in the names of [RANDOM NAME]. My number is not working."
After carefully digesting the environment we had been talking, we realized we got scammed and the fraudster didn't even have to break a sweat.
Advertisement - Continue reading below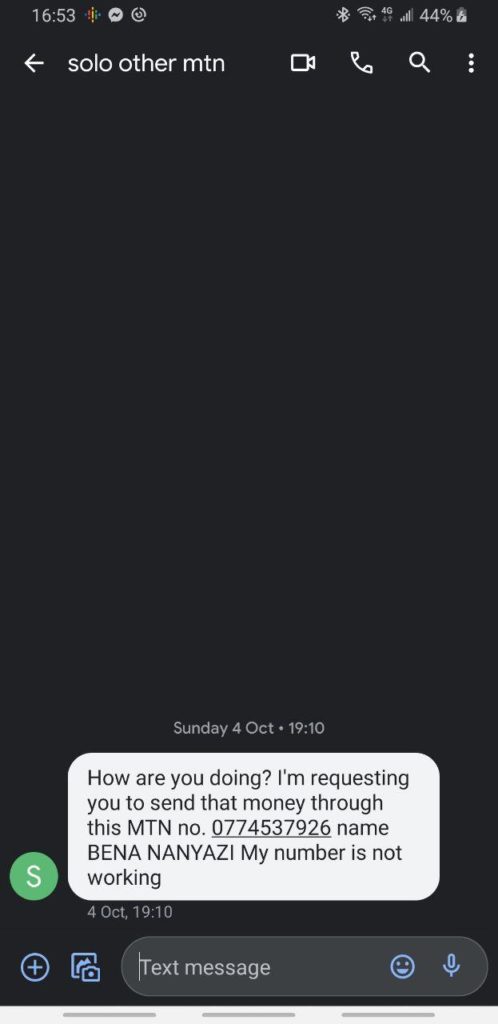 For us, we concluded it wasn't a well-coordinated scam but rather, a bit of sheer luck on the fraudster side.  But imagine an instance where the criminals work in collaboration with dubious mobile money agents or fellow scammers. Such SMS messages could lead several mobile money users to send funds to the wrong numbers. The impact would be devastating. They would know the right numbers which are actively sending money and target such people with spam text messages. 
To protect yourself from falling victim to this (new) scam, make sure you double-check that the receipient indeed sent the sent the SMS message —if you ever got a text like this.
And if you've sent the case to the fraudster, you could reach out to the customer service to revert the money. The transaction will be reversed and you'll get your money back. However, this is only possible if the fraudster hasn't withdrawn the money from their account yet.
I recently got a similar text to send money to a random MTN number which I wasn't expecting. It then hit me that the scammers are really busy trying to get new victims. However, I didn't fall for it for the second time and you shouldn't either.
Other Common Mobile Money Scam
We have extensively covered the different scenarios of mobile money scams in our past blogs which you can read here. But as the nature of these attacks keep evolving, it's better to keep logs on these common attacks;
Promotional Scam calls: The most common is one where fraudsters call with a cunning message such as "You have won 20 Million in our promotion, please send us some airtime or money worth XXX UGX to process or redeem your prize". Don't fall for this, please.
A new wave of defrauders calling you asking the mobile money balance you have in your wallet. Meanwhile, they'll also try to guess your password on mobile money apps. This is also quite rampant. The next SMS you will receive is MTN/Airtel sending you a text saying your Mobile Money account has been temporally suspended after trying too many wrong PIN. Don't fall for such trickery when a stranger calls you saying they are from a telecom operator and carrying out updates, i.e. requesting your mobile money PIN.
If you have been scammed or you have any security tips for us, let us know in the comments section.