While you're on the go or in the great outdoors with your laptop, you can keep it charged with a portable power bank. Most power banks are designed to charge smartphones, tablets, and smaller devices. A laptop is more power-hungry and will need a bigger power brick than your regular power bank.
We've crunched the web for the best options of charging your laptop with a power bank. But first, you must understand your laptop, specifically the wattage—which is a measure of how much power your laptop consumes. Most laptops out there will take in about 30W (e.g. the MacBook Air), 45W (e.g. Dell XPS 13), or 65W (e.g. HP Elite X2 MacBook Pro).
Advertisement - Continue reading below
Laptops can be powered either via AC power (your wall socket, for example) or via Direct Current. Powerbanks mostly charge your devices directly through DC. For laptops, this requires a USB-C port on your laptop with charging capabilities.
Sadly, this is still only supported in newer high-end laptops such as MacBook Air/Pro, HP Spectre X360, Surface Pro, Dell XPS 13, etc. If your laptop has USB-C, then look out for power banks that support USB-C Power Delivery 3.0. For regular laptops that use an AC adapter, you'll need a power bank that has an AC outlet. These are unfortunately few and a lot more expensive than those with USB-C ports.
Here are some laptops with USB-C PD support;
MacBook Pro 13/15"/MacBook Air/MacBook 12
DELL XPS 13 /15
Surface Pro 7
HP Spectre X360 / Spectre X2 / Spectre Folio / ELITE BOOK 830 G5
Lenovo X1 / YOGA730 / E490 / ideapad 720s-13 / THINKPAD X390
Huawei MateBook X Pro/MateBook X/MateBook13
Samsung Notebook9(950XBE)
Xiaomi Air
Another thing to consider is the power input or wattage of your laptop measured in watts vs the power output of the power bank. If your laptop takes in 30W and you use an 18W powerbank, it'll either charge slowly or refuse to charge altogether. Therefore, aim for a powerbank whose power outage is either close to or more than your laptop's rated maximum power input.
Lastly, if you plan on catching a plane, lookout for a power bank below the accepted battery rating considered for aviation. 100Wh is the standard TSA-approved figure; anything above won't be checked in. The formulae for converting from mAh to Wh is E(Wh) = Q (mAh) × V(V) / 1000. For instance, a power bank rated 30,000mAh at 3.7 volts = 111Wh. This won't get into the plane.
1. ROMOSS 30,000mAh Power Bank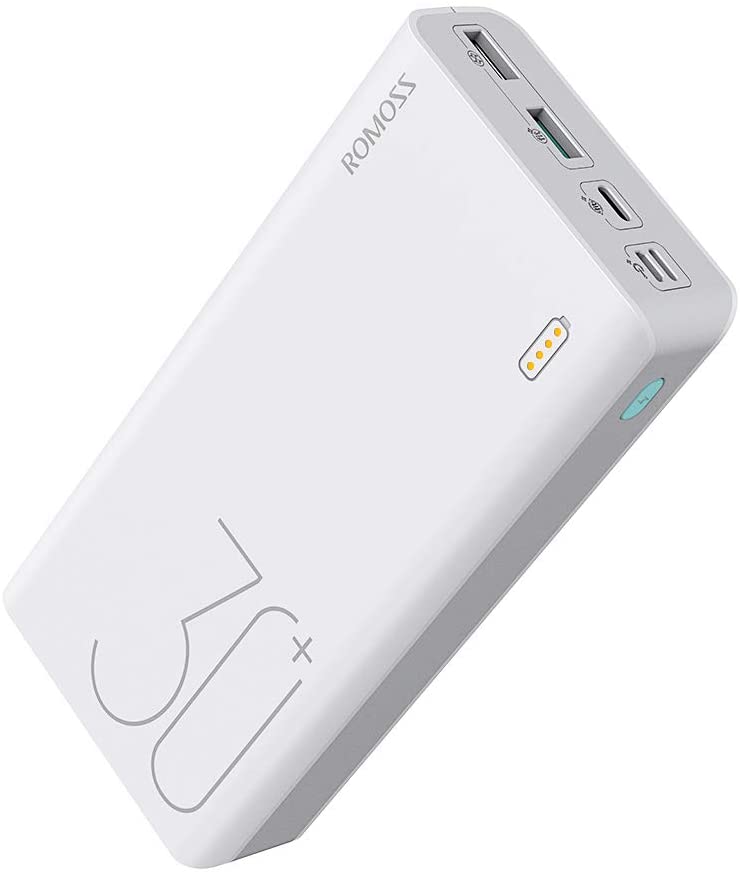 This powerbank has three inputs (micro-USB, lightning, USB-C) and two outputs (two USB-A and USB-C). It's able to charge up to three devices at once and can be used to charge USB-C compatible laptops through the bi-directional USB-C port. At 18W USB-C PD, it's not the fastest way to charge your laptop.
Advertisement - Continue reading below
Better to charge while not using your laptop because the rated power output is lower than 30W. Several reviewers on Amazon have reported success charging their Macbook Pro 13″ albeit at slower speeds. This power bank is $35.99 on Amazon.com. You can get a bigger 40,000mAh variant for an additional $15.
2. Panergy 26,800mAh PD 45W powerbank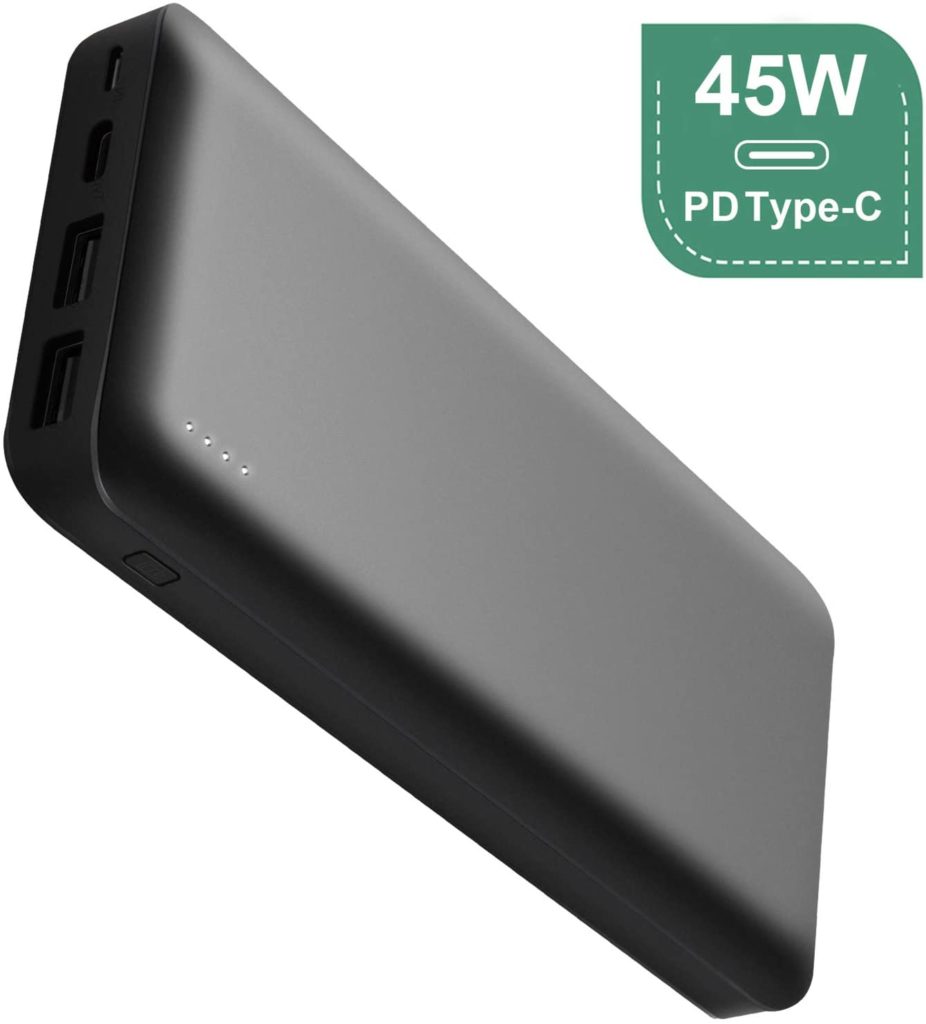 Looking for a bit better performance? This Panergy 26,800mAh PD 45W power bank is a good option. It comes with one Micro-USB port for charging it and three output ports; two USB-A rated 5V/3.4A and an additional bi-directional USB-C port. The USB-C port supports up to 45W output power which can charge a Macbook for about 2 hours.
A verified buyer on Amazon was able to charge their Thinkpad 13 Chromebook and another was able to charge their Dell XPS 13 7390. You can also take this power bank with you on the plane since it's below 100Wh TSA-approved value. It's going for $39.99 on Amazon, but if you want something with AC output by the same company, then go for the 40000mAh/148Wh AC outlet variant.
3. Fkant 30,000mAh 83W Powerbank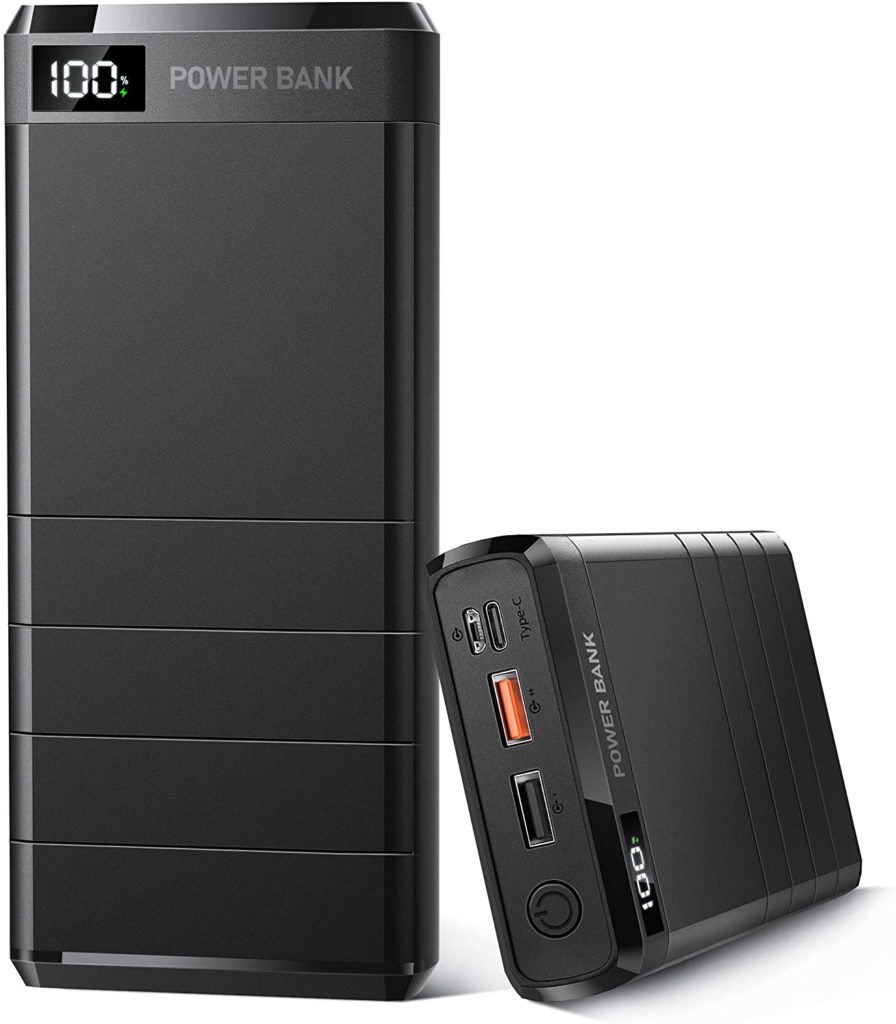 Going for a bit more power? This 30,000mAh power bank from Fkant has a total power output of 83W across all the ports. If you're charging a laptop, then you're going to use the USB-C PD port which supports a maximum power output of 65W.
That can comfortably charge a Macbook Pro 2019 or Dell XPS 13 at least once in about 2.5 hours. The other extra ports (18W QC 3.0 and 10W via USB-A) are ideal for charging your smartphone. One verified buyer on Amazon has been able to charge their Dell XPS 9700 2020 with this power bank. Get it at $65.99 $46.19 on Amazon.com.
4. RAVPower 20,000mAh 60W Powerbank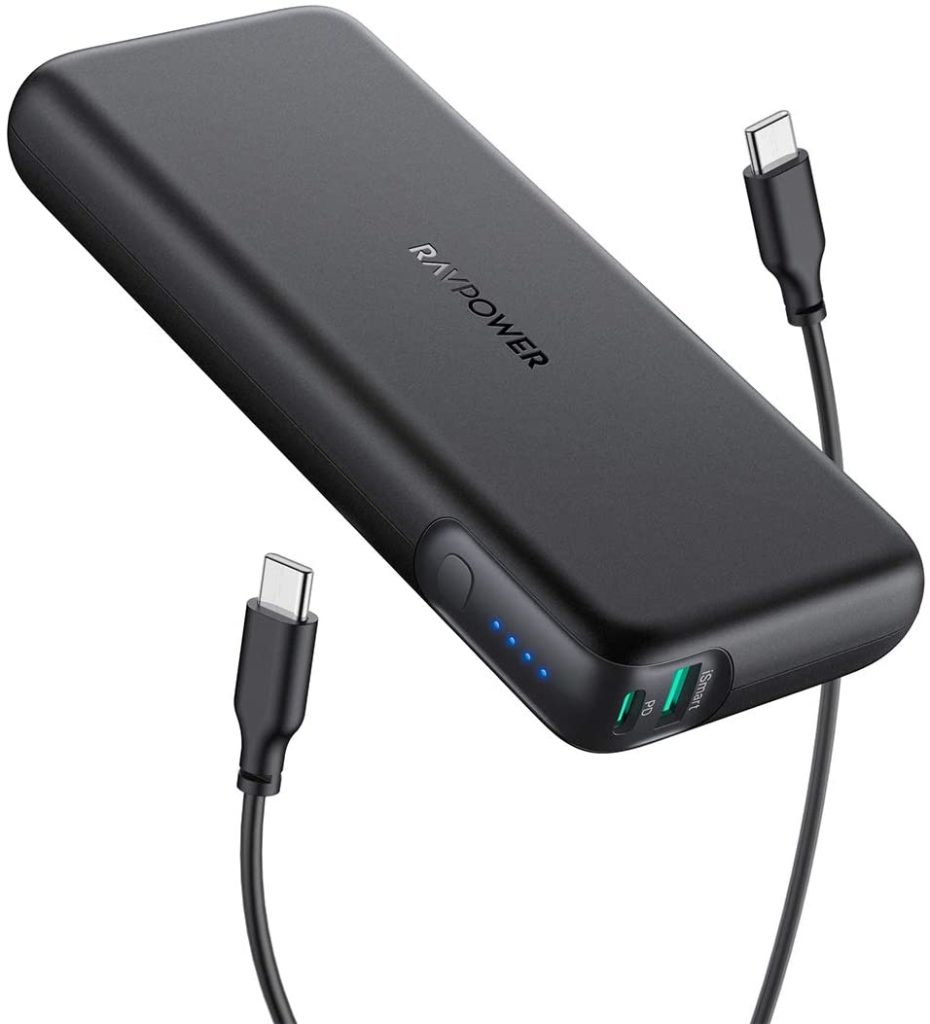 If you're going for something for familiar, then this 20,000mAh powerbank with 60W power output is a good option. RAVPower is a well established powerhouse in electronic accessories, so you can't go wrong. It has 45W power output on the USB-C port which can charge your Macbook pro 13″ from 0-60% in about an hour according to RAVPower. The other port is a regular USB-A QC 3.0 port with 18W output which you can use to charge your smartphone. You can recharge this powerbank in about 3 hours if you use 30W USB-C PD wall charge or about 10 hours with a regular 10W phone charger. One verified buy was able to charge their Dell XPS 13 laptop for 6 hours and another user reported success with Surface Go. This powerbank is $48.99 on amazon.com. You can get the bigger 30,000mAh 90W at $79.99.
5. RAVPower 20,000mAh 80W Powerbank with AC outlet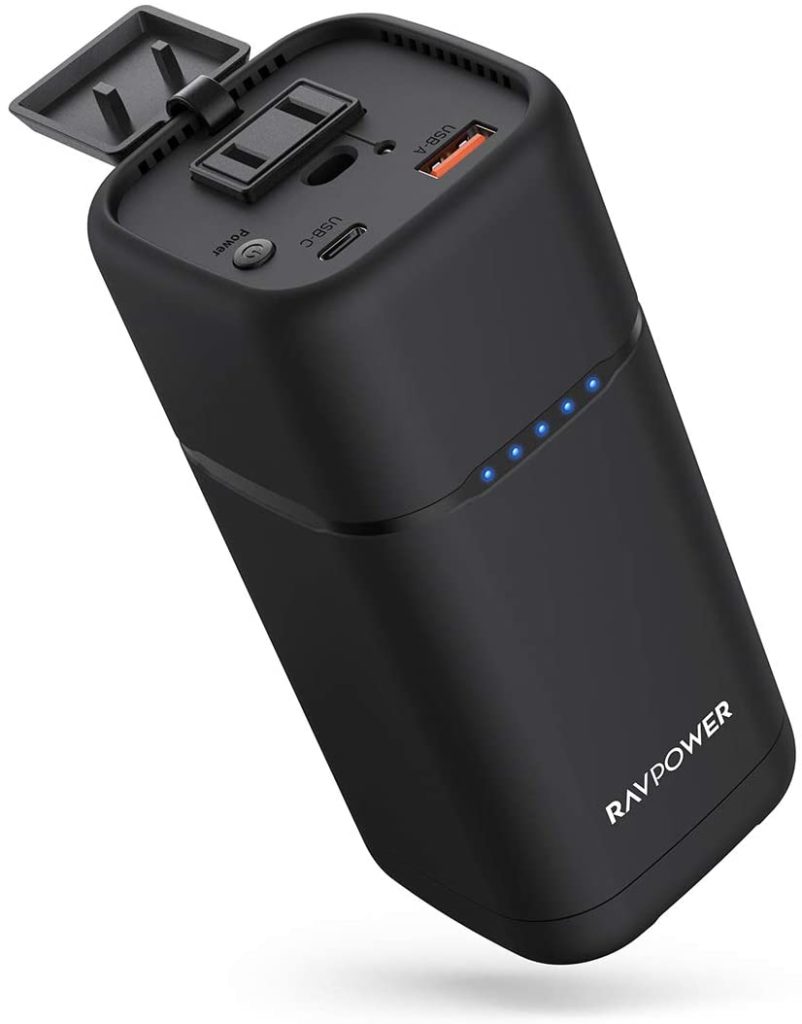 What if I told you that you don't need to own an expensive USB-C laptop to charge it using a power bank? You can use this RAVPower 20,000mAh power bank to charge any regular laptop. In fact, any small power AC appliance rated below 80W. This power bank includes an AC outlet; you can use your standard AC power cord (U.S pin) to charge your laptop up to 100W maximum power output.
It has two additional ports: a regular USB-A QC 3.0 delivers 18W and a USB-C bi-directional port delivers up to 30W of power. It comes with one USB-C to USB-C Cable so you don't have to spend extra on a compatible cable. This power bank goes for $86.99 on Amazon.com. But if you're looking for a more supercharged model, then consider this $129.99 30,000mAh 100W variant instead.
Advertisement - Continue reading below
6. ZMI 20,000mAh 45W Powerbank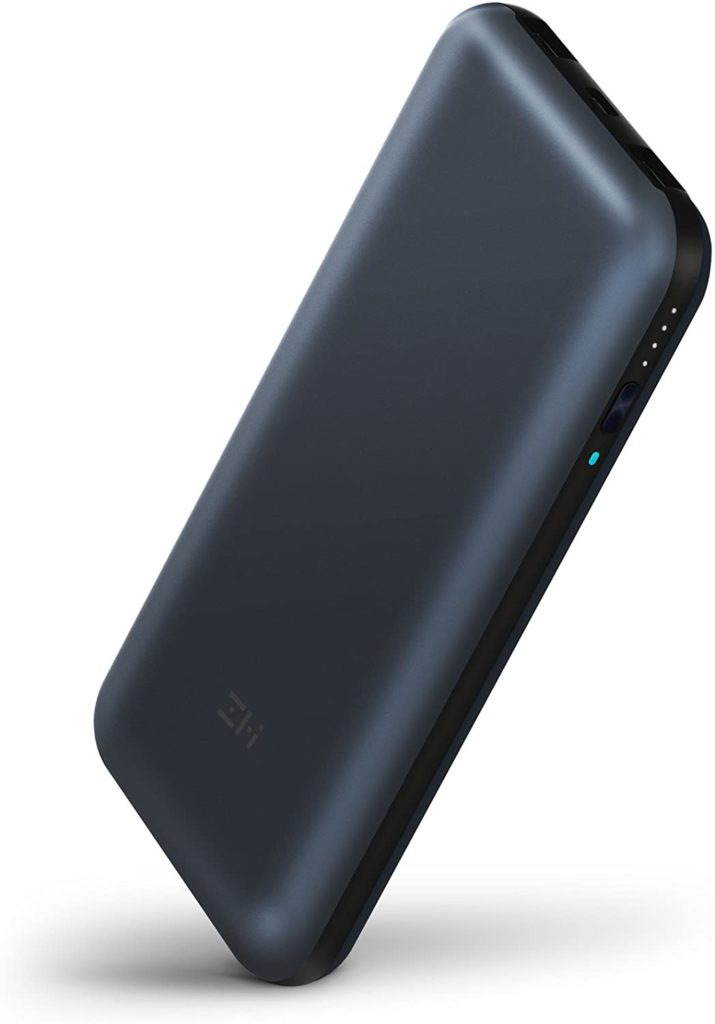 This ZMI 20,000mAh power bank from Zimi offers up to 40W of output power enough to charge MacBook 2015, MacBook Pro 2016, MacBook Air 2018, Dell XPS 13, Lenovo Yoga 720 13″, Surface Book/Go, and more. It comes with two USB-A output power and one USB-C bi-directional port. You also get one USB-C to USB-C cable and another 2-in-1 Micro-USB/USB-C to USB-A cable out-of-the-box. This power bank goes for $59.99 on Amazon.com.
7. Anker PowerCore+ 26800mAh 45W powerbank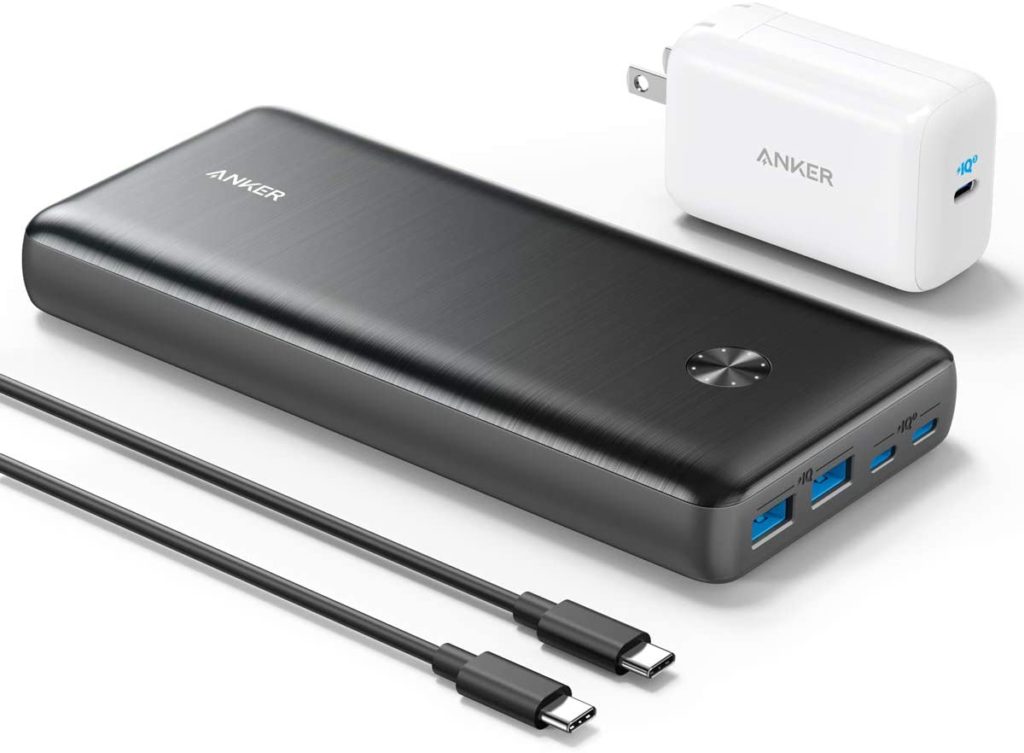 Looking all-in-one solution? Get this Anker PowerCore+ 26,800mAh powerbank. It has total power output of upto 45W via USB-C PD enough to charge most laptops and an additional 15W USB-A port for smartphones. Anker has included a 60W USB-C wall charger (Anker PowerPort Atom III) that can be used to recharge the power bank in just 3 and half hours.
It normally takes about 10 hours using a standard 10W charger. You also get a USB-C to USB-C cable. For that, you'll pay a premium price; $129.99 on Amazon. Looking for something slightly beefier? Then check out the 87W 25,600mAh Anker PowerCore III priced at $139.99.
8. HALO Bolt 58830 mWh with AC outlet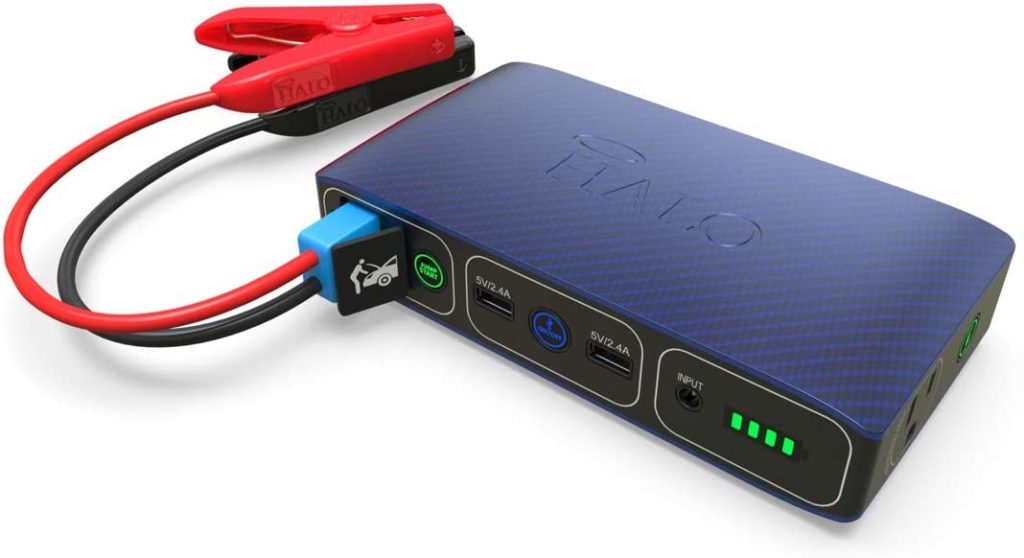 What if you want a power bank that can charge just about any laptop and also jump-start a standard-size SUV car in case you're stuck in the middle of nowhere? The answer is this Halo Bolt 58,830mAh power bank. This power bank is small and lightweight and deserves to be added to your emergency toolkit.
It has an AC power outlet, so you can charge just about any laptop. For MacBooks, you get up to 7.9 hours of additional charge. It has two standard 5V/2A USB-A ports for charging your smartphone and tablet. No USB-C port is included though, so no fast-charging supported. It has great reviews on Amazon and will set you back by $99.95.
9. Maxoak 50,000mAh/185Wh powerbank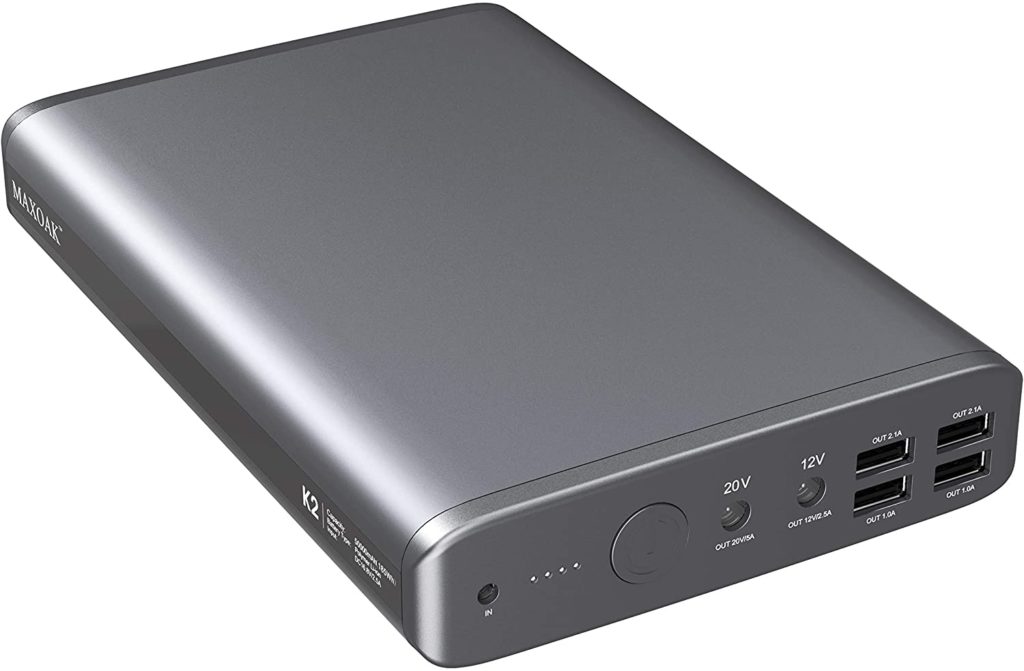 This is a massive 130W, 50,000mAh power brick you can use to charge Dell, HP, Lenovo, Samsung, Acer, and most popular PC laptops. Since different laptops come with different sets of charging connectors, this power bank has 14 pieces of DC connectors. No AC outlet or USB-C output ports are included.
Instead, it has two DC outputs; 20V/5A and 12V/2.5A, and then two standard USB-A 5V/2.1A and two 5V/1A outputs which allow you to charge several devices like laptops, tablets, and phones simultaneously. This power bank highly depends on those DC adapters, so if you lose one compatible with your laptop, you'll have to find a replacement. That might be an inconvenience. This power costs $129.99 on Amazon.com.
10. Omni 20+ 20000mAh Laptop Power Bank with AC outlet

The Omni 20+ 20,000mAh is another multipurpose universal power bank you can use to charge or power a lot of mobile devices such as cameras, drones, smartphones, tablets, or laptops. It comes with a standard 100W AC outlet 120V(AC) suitable for powering your laptop.
Advertisement - Continue reading below
If your laptop has USB-C PD, then you can charge it also through a 60W USB-C port. Two USB-A fast charging ports of up to 18W output via QC 3.0 are included. This power bank also supports up to 10W of wireless charging which is convenient if your device supports wireless charging. The power bank comes with one USB-C to USB-C and another USB-A to USB-C cable. It's great but will set you $199 on Amazon.com.
Honorable mentions include;