Whether you are taking a road trip or commuting to work, you can keep your devices charged no matter where you go. While the latest cars come with built-in USB chargers, most cars like my Toyota Rav 4 don't. Instead, they come with a cigarette lighter port which can be turned into a USB charging port with the right adapter.
USB car chargers or adapters can be just as powerful as your regular phone USB wall charger. They provide both standard and fast-charging depending on which charging standard and product you choose. Most smartphone vendors won't make USB car chargers, so you'll have to rely on third party manufacturers such as Belkin, Anker, Ugreen, RAVPower, Aukey among others.
Advertisement - Continue reading below
Related post: Charge Your Laptop on the Go with These USB-C Car Chargers
Getting the right USB car charger depends a lot on your phone and whether or not you want fast charging. iPhones for instance have maximum power rating of 20W (iPhone 12/13), while the Samsung Galaxy S21 charges with a maximum power rating of 25W. So buying a Charger that delivers more than 25W when you own an iPhone or Samsung is a waste of money.
A good bet is going with Qualcomm's Quick Charge(QC) 3.0 charger. QC 3.0 delivers a maximum of 18W on standard USB-A port. Anker has its own proprietary Charging technology called PowerIQ which delivers upto 100W depending on the version. USB Power Delivery(USB-PD) is the latest open standard that is increasingly becoming the preferred choice by big guns like Apple and Google. However, USB-PD is great for powering more power hungry devices like your laptop as it supports a maximum of 240W.
Read more: Anker's PowerIQ vs Quick Charge vs Power Delivery: What are the differences?
Before you buy a USB Car Adapter
A good car adapter charger should provide over-heat, over-current, over-charger, over-voltage, over-temperature and short circuit protection. It should comfortably fit into the cigarette lighter port of your car, easy to fix and remove. It should support 12V, but if you have a truck, then look out for those that support 24V too. If you're charging small USB-powered accessories or older phones in your car, then go with the standard 5W or 10W charger. But if you're looking at fast-charging compatible phones like iPhone 12 or Galaxy S21, then go for something that's either QC 3.0 or USB-PD compatible that outputs at least 18W on either ports.
Alright, lets get into it. You can get a USB Car charger for as low as $9 to as much as $40 on amazon depending on power output. Summarily;
Advertisement - Continue reading below
Ailkin 2-pack 10W Dual-port USB car charger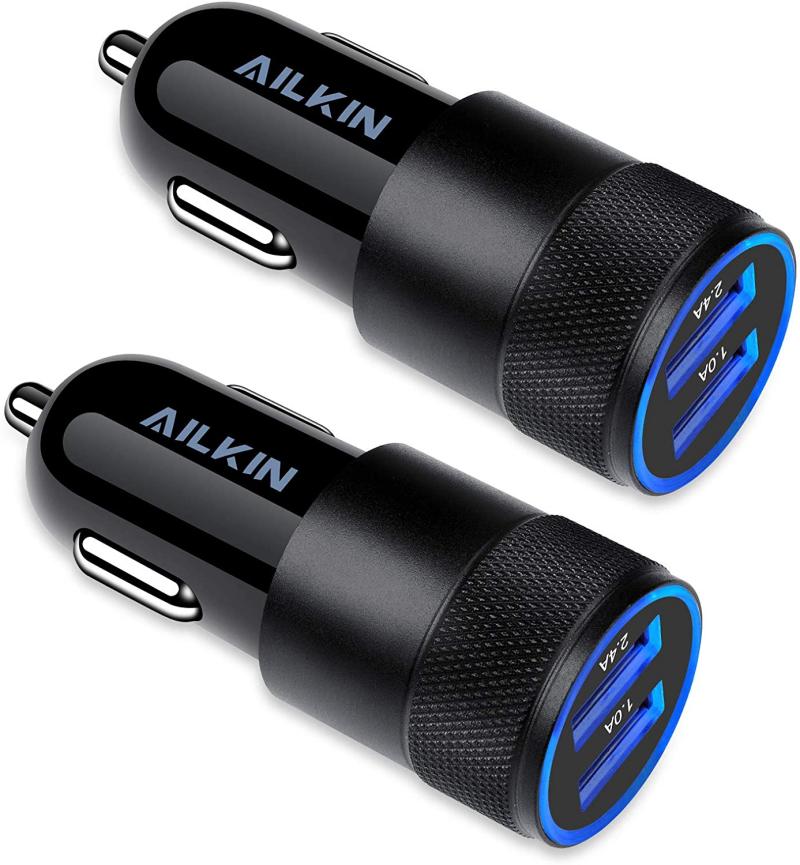 The best deal on the table is this USB car adapter from Ailkin. It fits perfectly into your car's cigarette lighter socket. Comes with two USB-A ports; a slower 5V/1A and faster 5V/2.4A delivering 5W and 10W of power respectively. This is the same power output of the power brick that comes in the box with your iPhone for instance. It's able to charge just about any phone/tablet from iPhone 13/12/11/X, Google Pixel 5/4, Galaxy S21 and older, lG, Sony, Xiaomi and more. Ailkin is offering not one but two of these for just $8.99 on amazon which sounds great.
Maxboost 24W Dual-port Charger adapter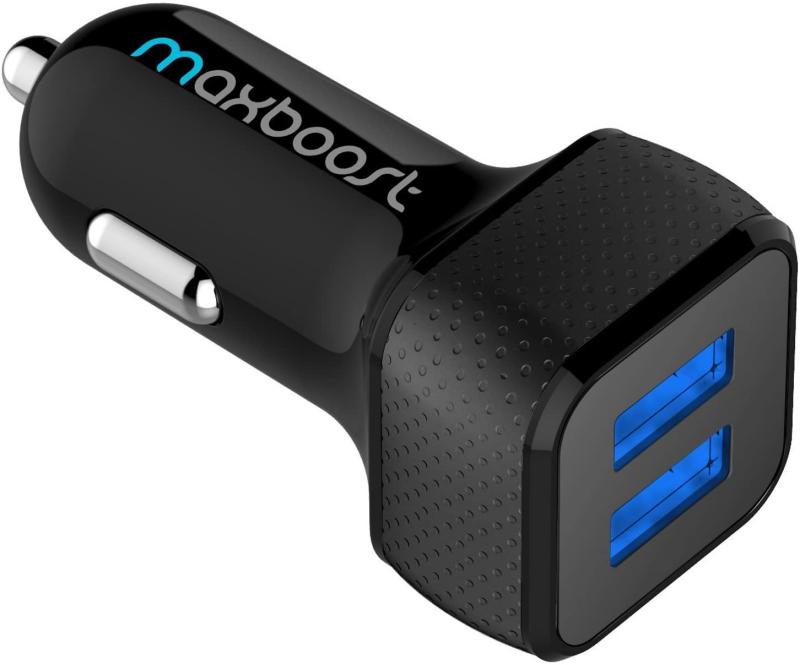 Another really great car USB charge is this dual-port 24W charger from Maxboost. You get two USB ports each delivering 12W of power to your iPhone 12 11 Pro Max/XS Max/XR/XS/X/8/7/Plus,Galaxy S20 Ultra/S10/S10+/S10e/Note,LG, Xiaomi, Huawei, Moto or Google Pixel. It offers standard charging which is ideal for just about any USB-powered portable device. Maxboost Intelligent circuit design protects against short circuiting, over-heating, over-currents, and over-charging. It goes for $9.99 on amazon.
Similarly priced alternative with the same specification is this Amazon Basics Dual-Port USB Car Charger adapter at $8.99. An even more premium-looking option with mini Aluminum alloy build is this 24W Anker dual-port car charger priced at $11.99.
Hussell 30W/5.4A Car Charger Adapter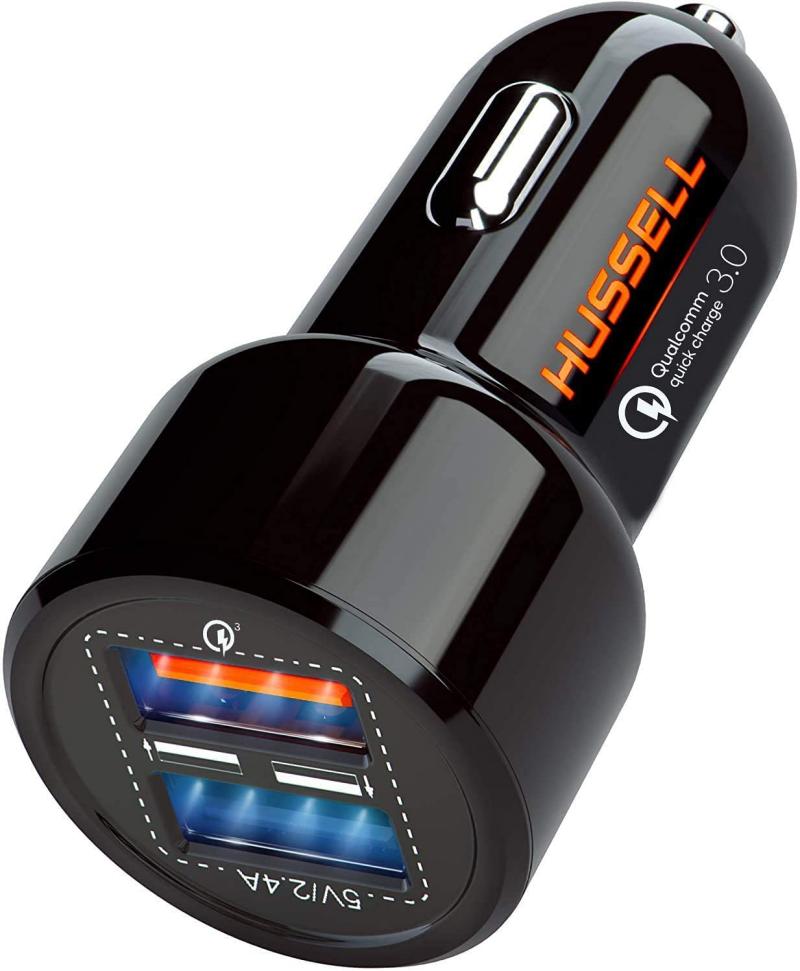 Looking for a bit more power, then you should consider this 30W/5.4A car charger adapter from Hussell. It supports Qualcomm's Quick Charger 3.0 which delivers upto 18W of power on one port color-coded orange while the other ports supports standard 5V/2.4A (12W) charging color-coded blue. So if you have a smartphone with Qualcomm SoC chip supporting QC 3.0, then you can take advantage of fast charging. This charger goes for $13.97 on amazon.
But I would rather you go with another model from Hussell that supports both QC 3.0 on one port and USB-PD fast charging on another. The QC 3.0 port pumps upto 18W of power while the USB-PD port pushes upto 30W of power which is at least six times faster than the usual charger. It costs only $12.99.
Belkin 20W USB-C Fast Car Charger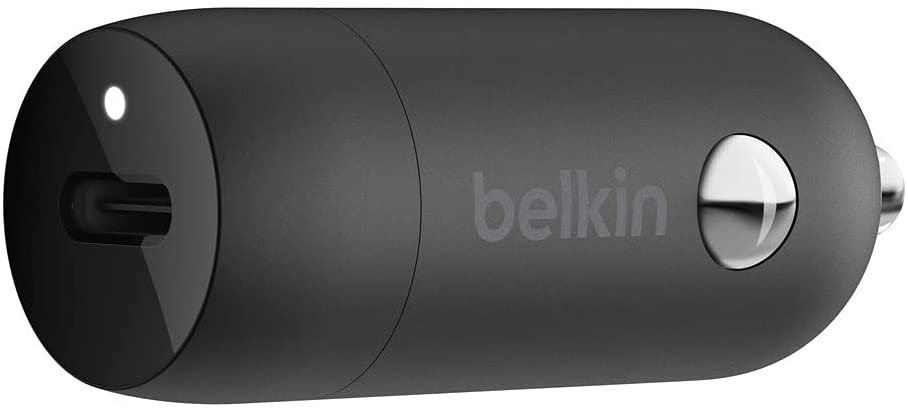 If you only have an iPhone and its the only device you'll be charging in your car, then this 20W Belkin USB-C car charge is worth your bucks. iPhone 12/13 support fast-charging upto 20W, so this charger is right on top of it. You'll of course need a USB-C to Lightning cable purchased separately or you can use the one that came in the iPhone box. This charger costs $19.99 on amazon. If you want a lightning cable included, then you'll remit $34.99 instead.
AINOPE 42W QC 3.0/USB-PD Car Charger Adapter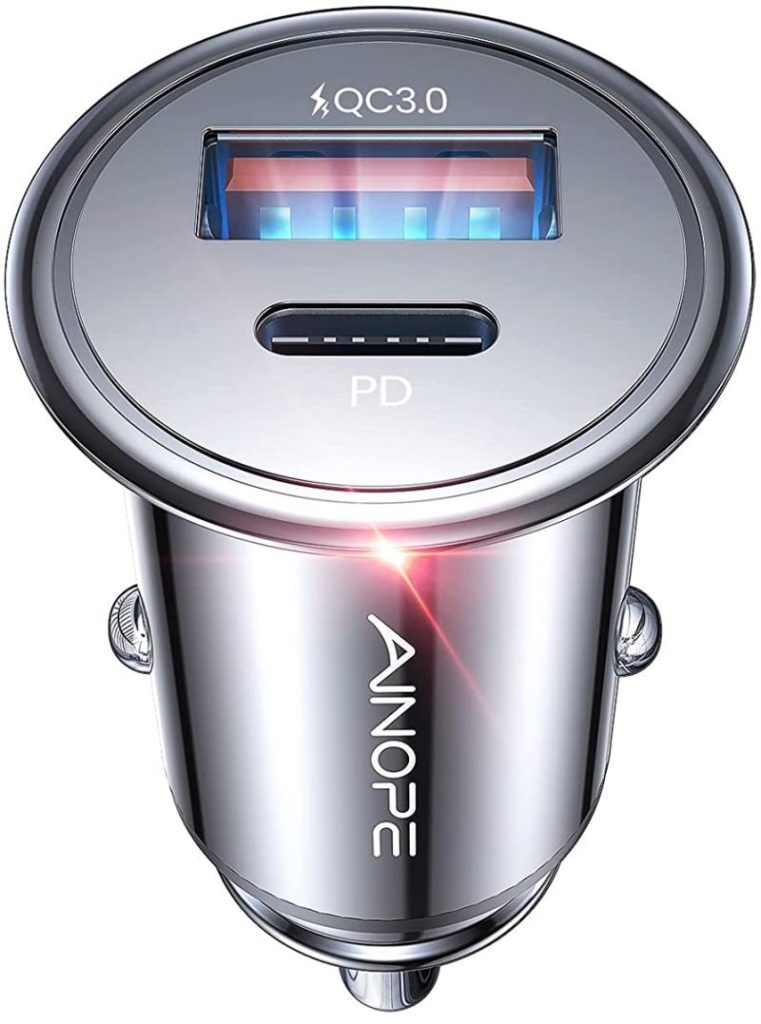 I think if you're going to get a car adapter charger today, it should have both the rectangular-shaped USB-A port and the oval-shaped USB-C Power Delivery port. This Car charger has both. The standard USB-A port will deliver standard power to just about any device and fast-charging through QC 3.0 to any phone with Qualcomm chip upto 18W. But most mid-range to flagship smartphones such as Google Pixel 4/5, Xiaomi Redmi 8/9/10, Oneplus 7/8/9 etc come with USB-C port which pumps out even more power.
This Ainope car charge supports 18W power output on QC 3.0 port and 24W on USB-C PD port. So it's fast-charging car charger ideal if you own any of the latest flagship high-end smartphones and costs just $13.99. You should probably top up $3 and get USB-C to USB-C cable with this charger.
Advertisement - Continue reading below
Similar to the Ainope is the Syncwire 38W Dual-port USB-C PD and QC 3.0. Car Charger priced the same at $13.99.
AUKEY CC-Y18S 36W Dual (USB-C/USB-A) Car Charger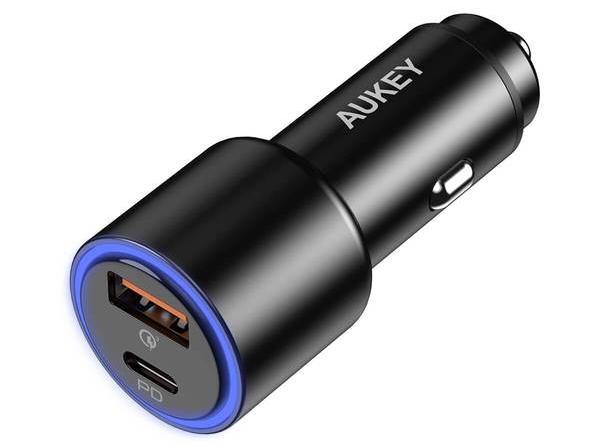 I love Aukey products because most of them have worked for me. This Aukey car charger pumps a total of 36W split between a USB-A QC 3.0 port and another USB-C PD port. So you can get fast-charging on supported devices from both Apple and the Android camp. The charger is very compact, fits in most cars both 12V and 24V and costs just $16.99 from the Aukey website. Aukey was recently banned from amazon, so you'll have to purchase it from their website or from other online retailers like Newegg.
Anker PowerDrive PD 2 30W 2-Port Car Charger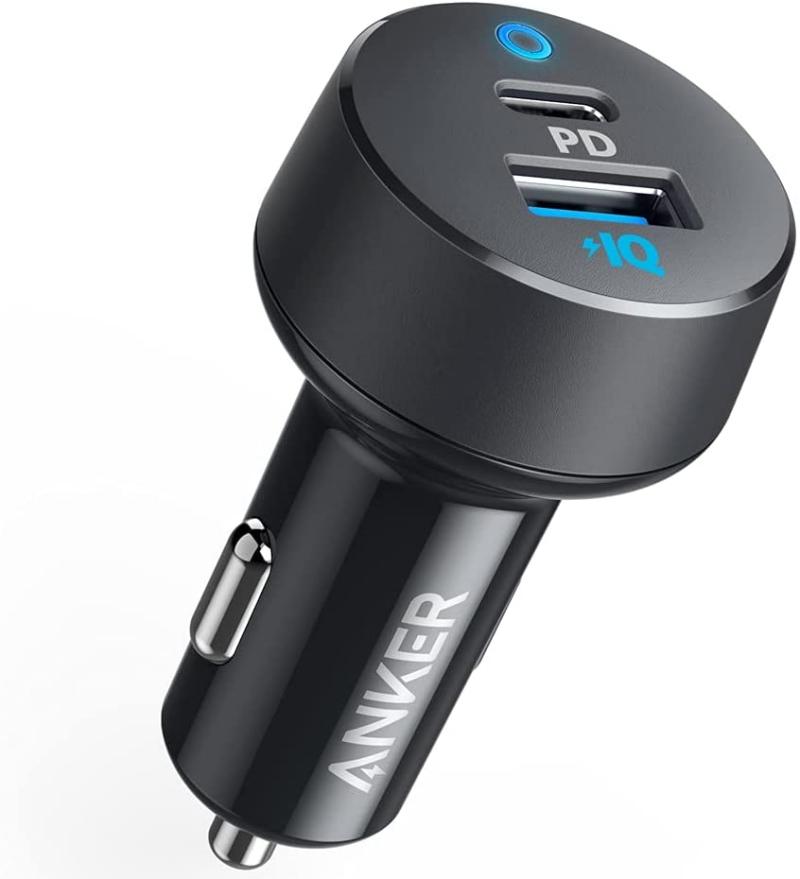 If you want to go premium with a 12W USB-A port and 18W USB-C port, then this Anker dual-port car charger is your choice. Anker has its own proprietary charging standard called PowerIQ(PIQ) that delivers the appropriate power to different devices as discussed above. The QID port delivers only 12W standard power but if you want more power, then you'll have to use the USB-C PD 18W port. At $29.99 price point, this USB car charger seems more costly than the alternatives. However, Anker has a great reputation of producing premium long lasting products.
If you want only USB-A ports, then you can save $10 with this 36W Anker PowerDrive III dual-port car charger instead. You should also consider this 36W Belkin car charger with two USB-C port at price point of $29.99.
Tollefe 5-Multi Ports 31W Car Adapter Charger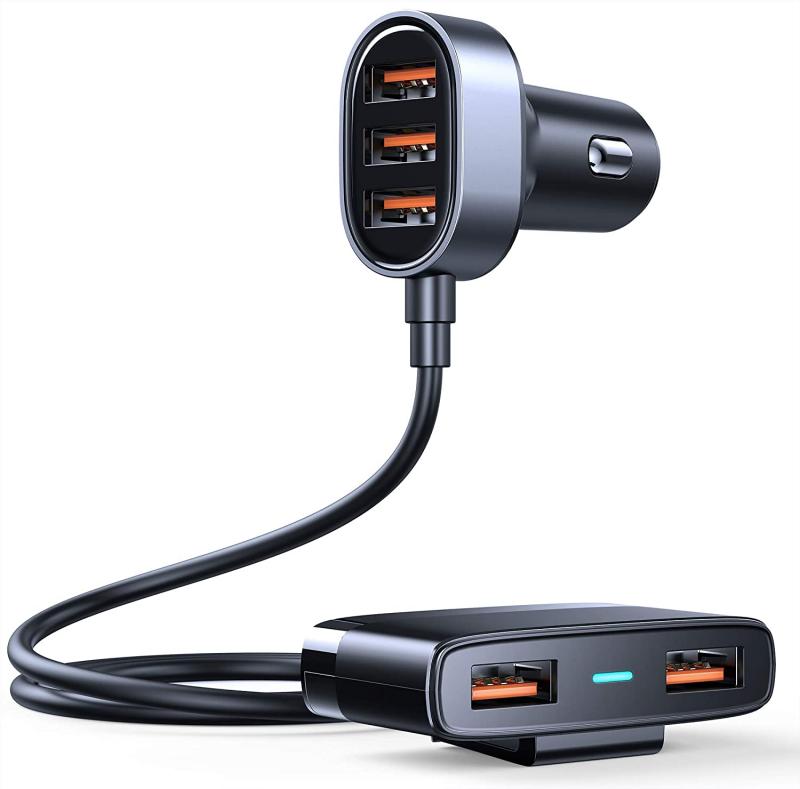 If you you have a family car, a travel or tourist van or any kind of vehicle that takes multiple passengers, then this is the right car adapter charger for you. It has upto 5 USB-A charging ports, 3 for the front seat and 2 for the back seat thanks to a 5ft long cable. That is 5 different devices being charged at once. It supports a total of 31W power output and works with 12-24V vehichles inlcuding SUVs, trucks and off-roaders. It goes for $16.99 on amazon.
UGREEN 40W USB-C Dual-port Car charger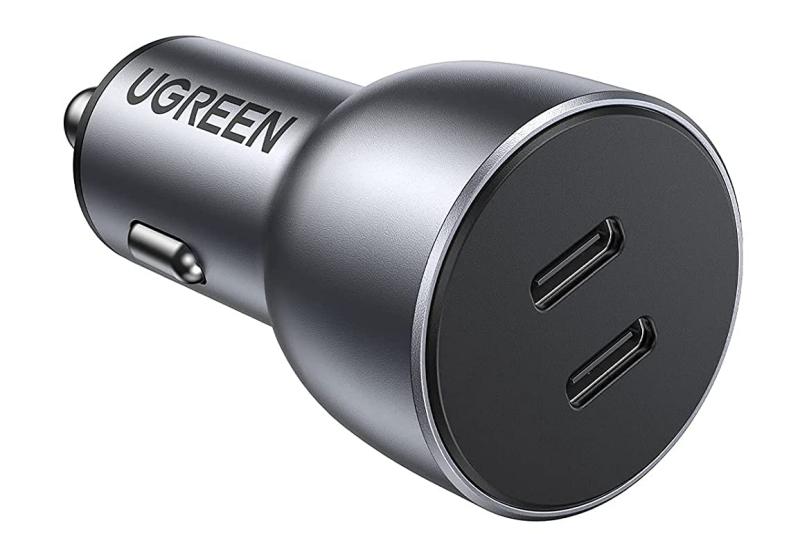 If you only own two or more high smartphones such as iPhone 11/12 or Galaxy S20/21 or Google Pixel 5/4, then this UGREEN 40W charger is the right one for you. Each USB-C PD port pumps out 20W which fast charges your iPhone or Galaxy phone. The charge is made of premium alloy with a scratch-resistant surface. The chip is integrated with intelligent power management for over-current, over-charging and over-voltage protection. It goes for $16.99 on amazon.
So there you have; top list of USB Car adapter chargers. If you have any great recommendation for us, please leave it in the comments below.
Advertisement - Continue reading below