Portable SSDs (Solid State Drives) do cost a pretty penny when compared to their spinning platter HDD (Hard Disk Drive) compadres. But as far as portable drives go, SSDs offer unparalleled durability, speed and portability. And did I mention speed, because portable SSDs are mighty fast.
While the list for the best portable SSDs of 2022 is largely subjective from a lived and secondhand experience and also regional availability, we have curated a few names (in no particular order) that keep cropping up on our radar and some we swear by from personal experience.
Advertisement - Continue reading below
Samsung T7 Portable SSD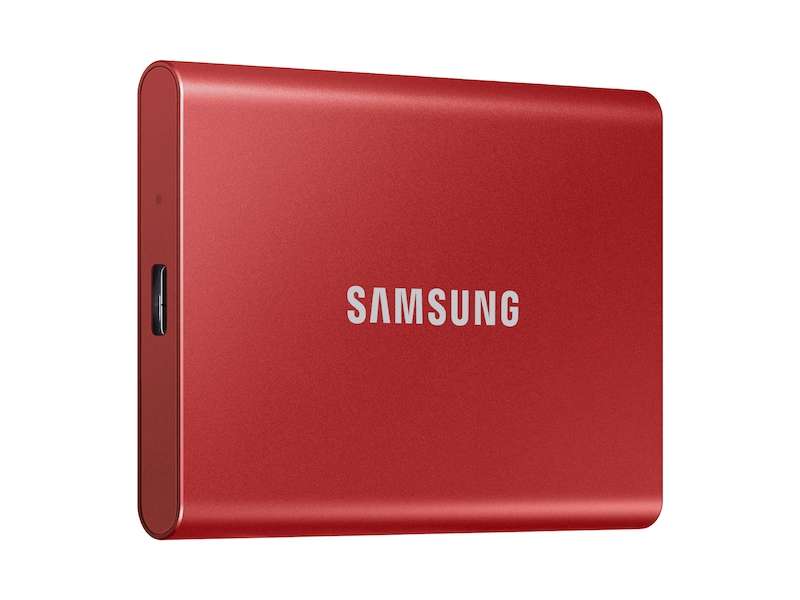 Samsung reigns supreme with anything SSD and this post might as well be an ode to Samsung's greatness. The Samsung T7 Portable SSD is the successor to the excellent Samsung T5 which we have unfortunately bumped off just to inject diversity up in this list but is no less deserving.
The Samsung T7 ticks all the right boxes. It sports PCIe NVMe technology with sequential read and write speeds of up to 1,050/1,000 MB/s and USB-C Gen 2 (10Gb/s), and is backwards compatible with USB 3.0 and USB 2.0. However, we should perhaps note that the write speeds on the T7 inevitably slow after the device exceeds its cache.
As is to be expected, the T7 comes with shock-resistance, thermal throttling, 256bit AES hardware encryption, and an optional fingerprint scanner in the Samsung T7 Touch (costs extra). The regular Samsung T7 costs $84.99 (500GB) , $114.99 (1TB) and $259.99 (2TB). Premium consumers have to cough up $104.99 (500GB), $159.99 (1TB), $289.99 (2TB) for the Samsung T7 Touch.
SanDisk Extreme Portable SSD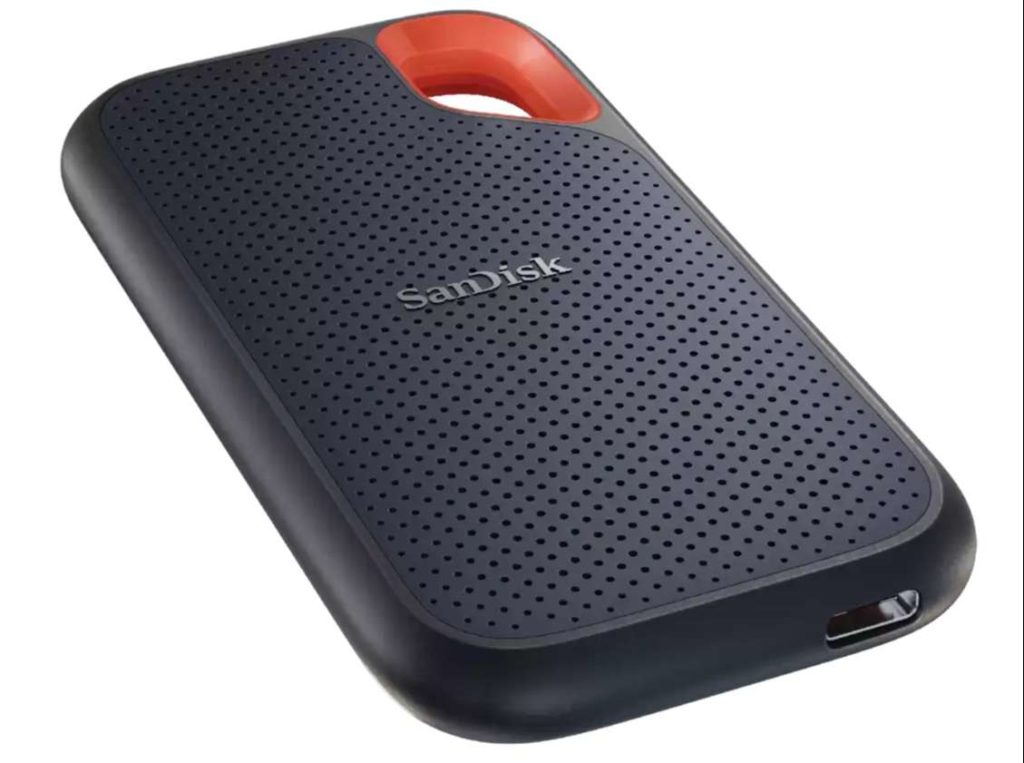 The Sandisk Extreme Portable SSD is built like a tank for extreme outdoor excursions without worrying about compromising your data. The rugged design is as durable as it looks and comes with an IP55 water- and dust-resistance rating. The Sandisk Extreme v2 packs some serious performance chops. It's powered by a fast NVMe SSD (1050MB/s), USB 3.2 Gen 2 (10Gb/s), and features 256‐bit AES hardware-accelerated full disk encryption.
Price-wise, the Sandisk Extreme Portable SSD is a little on the steep side. Set aside $87.99 for 500GB, $134 for 1TB, and if you want to go for glory, the 4TB capacity will set you back a whopping $529.99. You do get a 5-year limited warranty though, but whether that offsets the cost is up to you the consumer.
---
Read more:
Advertisement - Continue reading below
---
ADATA SE800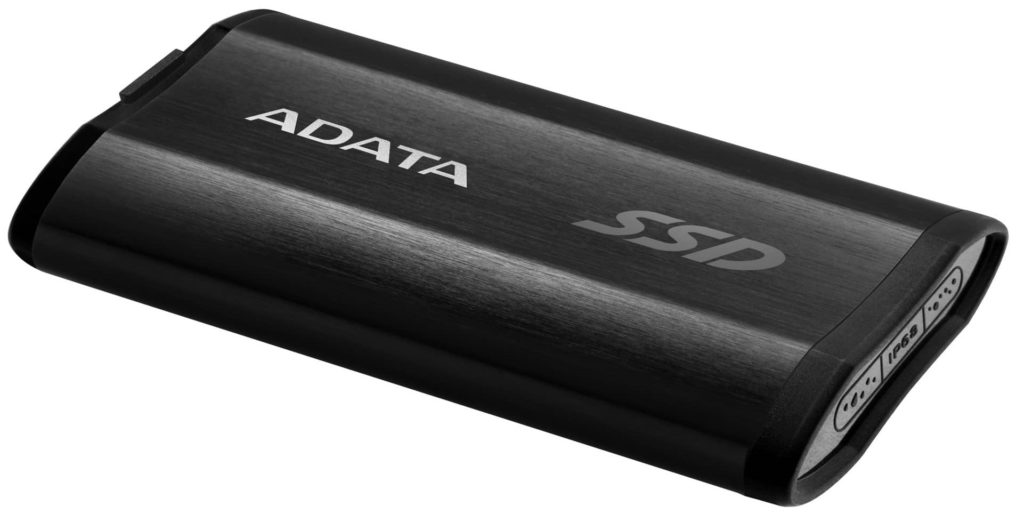 One of the most consistent performers on our list is the ADATA SE800. The ADATA SE800 gets full marks for its impressive IP68 rating. This translates total dust resistance and normal operation even after 30 minutes submerged in water up to 5 feet but that's only when the USB port cover is firmly secured in place. This drive measures next to nothing at 40 grams and is slim enough to fit just about anywhere you can think of (72.7 x 44 x 12.2mm).
The ADATA SE800 still comes with the usual bells and whistles which we have come to expect from portable SSDs on this list. This includes super fast sequential read and write speeds of 1000MB/s, USB 3.2 Gen 2 (10Gb/s) and encryption. It's compatible with Windows, Mac, Linux, Android, PS4 and Xbox One although it might require formatting from Windows-centric NTFS file format.
Unlike some portable drives on this list, you get only a 3 year warranty. But you also get some nifty software you can download which lets you boot your operating system from the drive, or use it as backup. Pricing starts at $74.99 for 512GB and $119.99 for 1TB.
WD MyPassport SSD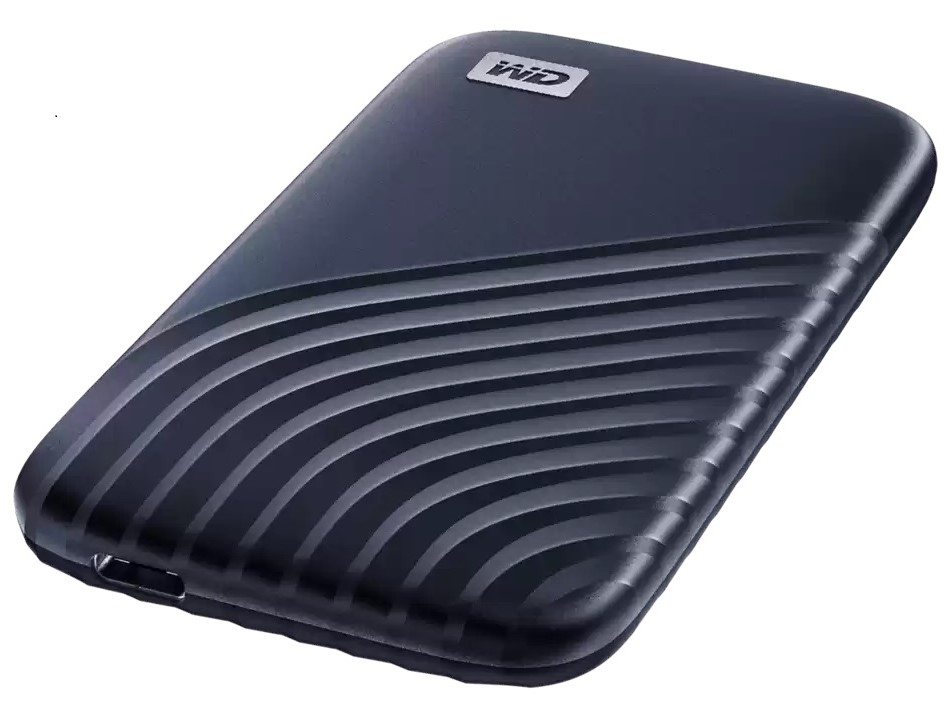 Western Digital is an old hand in the storage space, pun intended. The WD MyPassport SSD is actually no different from most of our picks here, although the naming convention might confuse buyers. MyPassport in itself is simply the blanket name for a whole range of drives from Western Digital. Be sure to verify as to what you're buying before you commit.
The WD MyPassport SSD features USB 3.2 Gen 2 (10Gb/s), sequential read and write NVMe speeds of 1050MB/s/1000MB/s, WD Discovery software for backup and password protection (256-bit AES hardware encryption).
Personally, I found the design of the WD MyPassport SSD a bit tacky, but that's just me. It comes in a variety of colors; grey, silver, blue, gold and red. The divisive design aside, the case is shock and vibration resistant and can withstand drops up to 6.5 feet, according to Western Digital.
Capacity options start from 500GB ($84.17), 1TB ($124.99), 2TB ($259.99) and 4TB ($474.99). You also get a USB-C–to–A adapter because well…Type A is here to stay and is supported just about everywhere.
LaCie Rugged SSD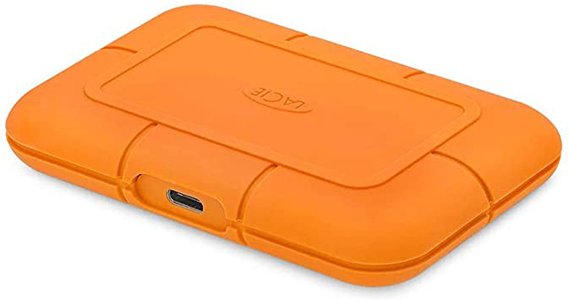 What we can say about the LaCie Rugged SSD is that boy, can it take a beating. A homebody like you and me might not see the value in the over-the-top bright orange padding but it does make sense for photographers, videographers and thrill seekers out in the field.
Advertisement - Continue reading below
The LaCie Portable SSD has an IP67 rating for extreme dust and water resistance and can withstand drops up to ten feet and check this, according to LaCie, the LaCie Rugged SSD boasts a crush resistance of 2-tons. We will take their word for it.
The drive isn't the fastest you can buy even though it's NVMe SSD. Expect modest maximum speeds of 950MB/s, USB-C (USB 3.1 10GB/s) that works with Thunderbolt 3 and USB 3.0 . Our gripe with the included cable is how short it is. At 5.5 inches, you'll need to be quite close or else have your drive hang precariously at a precipice. The 500GB model goes for $165, 1TB is $230, 2TB is $485.
Crucial X8 Portable SSD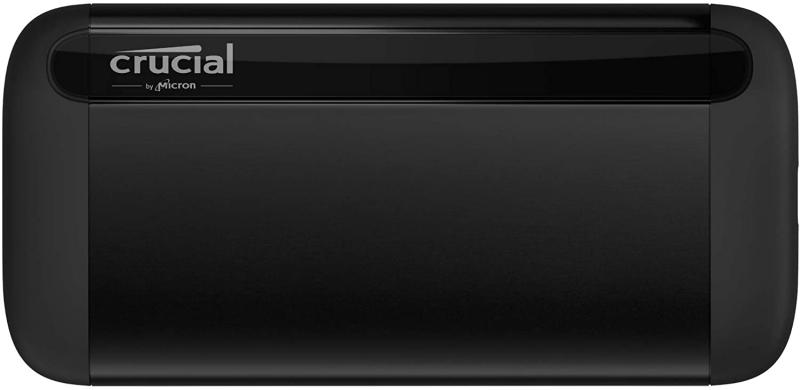 Crucial is well established in the memory game having some of the best RAM chips on the market. But the company also features serious contenders in the solid state drive space. The Crucial X8 is a lightweight, small and portable SSD drive with all the specs of other products on this list. This SSD drive sports read/write speeds of upto 1050 MB/s, USB-C 3.1 Gen2 and USB-A connectors. This drive can take a beating outdoors thanks to a durable, rugged and compact design. So it's a great recommendation for content creators who shot a lot of pictures and videos outdoors.
The Crucial X8 comes in two capacities; the 1TB version goes for $119 while the 2TB model goes for $197.99 on Amazon.
Final Thoughts
If speed is your calling card, then portable SSDs are the way to go. These portable SSDs on our list are all NVMe and averaging 1000MB/s read and write speeds. As a rule of thumb, it's best to go with the big name brands like Seagate, Samsung, Sandisk and the like which have a proven track record.
If you are to base on price, these portable SSDs are all even at the base capacity of 500GB, average about $85. At 1TB, the Samsung T7 is comparatively cheaper at $114.99 (although the T7 Touch is bit more expensive). Capacities of 2TB fetch about $260 on average and quite a bit more for the 4TB variants.
Disclosure: We might earn some commission fees from some of the products listed here. However, this doesn't in anyway affect our editorial choices.
Photo by Samsung Memory on Unsplash
Advertisement - Continue reading below