Wyze has a set of great affordable smart cameras that you can use to monitor your home. The Wyze Cam Pan v2 and Wyze am v3 are the companies most popular choices. Like most smart home security camera vendors, Wyze lays a monthly subscription service where you are charged a flat monthly fee to access additional services.
Now Wyze has a free tier where you can choose to store footage on your camera's Micro SD Card or the cloud. You get motion detection so the camera will record footage whenever it senses motion. The result is a long list of motion detected footage including insect and animal and object movements. This isn't smart. You end up with a long list of video snapshots that you have to filter through to for instance find a person or pets.
Advertisement - Continue reading below
So if you want the AI smarts such as person detection, you have to upgrade to at least Cam Plus Lite, Cam Plus or Cam Plus Pro subscription plans. Cam Plus Lite is free-ish while Cam Plus costs $1.99/month and Cam Plus Pro is $3.99/month. Cam Plus offers Back-to-back recording, Person Detection, Sound Detection, Pet Detection, Vehicle Detection, and Package Detection. Cam Plus Pro on the other hand offers 24/7 Professional Monitoring, the ability to Arm/Disarm your cameras, Facial Recognition.
So how is Cam Plus lite free? Well, Wyze offers you the opportunity to contribute between $1-3/month or set your own custom price. However, this is all optional. You can choose not to subscribe. However, you'll still get event recordings with a 5 minute cool-down period between events. So if an event happens within this cool-down period, it won't be recorded. Wyze also, limits the video length to just 12 seconds. You get person detection too which isn't available if you have not subscribed to any of the packages.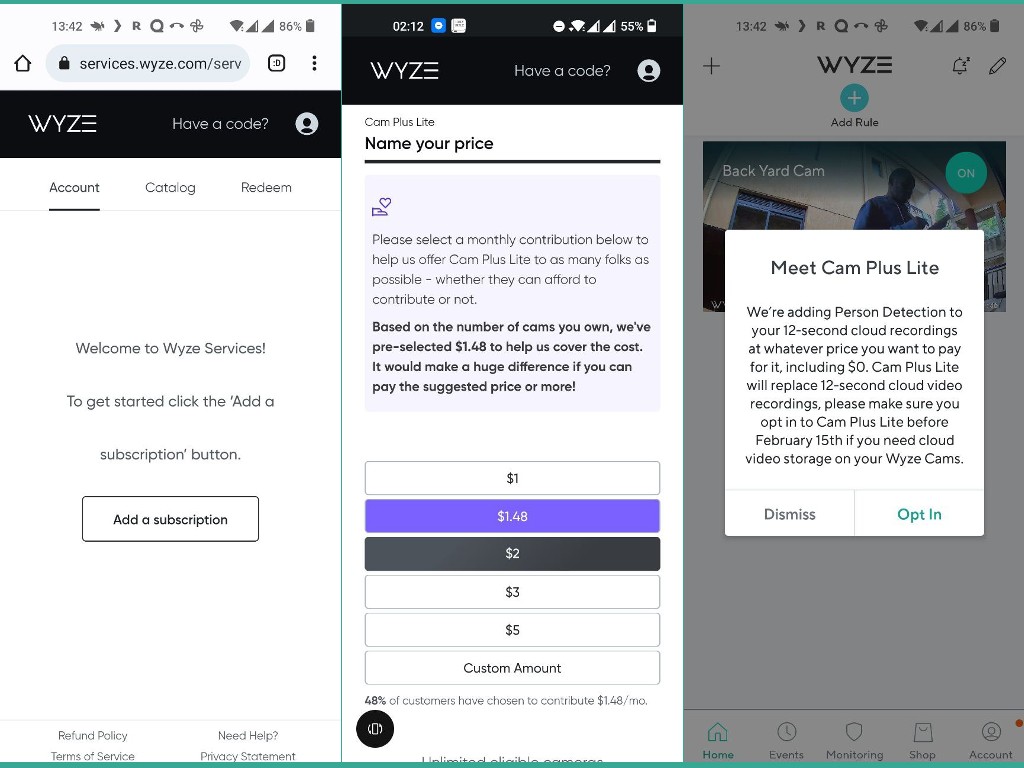 To subscribe to Cam Plus lite, go to your account either on the app or web version, then add a subscription and then select Cam Plus lite. You will be asked to pay what you want. However, you can skip this if you wish to.