Science fiction is the favorite genre of many of us here From multiverse adventures to clone fights, 2022 has been a solid year for science fiction movies.  A quick look at 2022's upcoming sci-fi movies makes it clear that the year has plenty of exciting releases still on the way.
Most of these movies are tech-future related and fictional and some explore the current technological advances to bring the point home. So here are my top ten movies you should watch in 2022!
Advertisement - Continue reading below
Here is my top ten list you should at least watch before the end of the year and some of these can be streamed over Netflix.
1. The Adam Project
From the creative minds that brought us "Free Guy," "The Adam Project" follows the titular Adam, a time-traveling pilot from 2050 who gets stranded in 2022 while pursuing an unauthorized mission.
I personally loved watching this movie because of the time theories that are being fiction-played and I believe it's one of those movies I can rewatch again before the dawn of this year. The movie also features one of my favorites, the Incredible Hulk actor (Ruffalo), and was initially released in February.
Watch it on Netflix.
2. Apollo 10 1/2: A Space Childhood
Apollo 101⁄2: A Space Age Childhood is a 2022 American animated film set during the events preceding the Apollo 11 Moon landing, loosely based on the childhood of writer, director, and producer Richard Linklater.
If you love Sci-Fi, this is a coming-of-age story set in the suburbs of Houston, Texas in the summer of 1969, centered around the historic Apollo 11 moon landing. The movie was released in March. Watch Apollo on Netflix.
Advertisement - Continue reading below
3. Doctor Strange in the Multiverse of Madness
Doctor Strange in the Multiverse of Madness is a 2022 American superhero film based on Marvel Comics featuring the character Doctor Strange.
I watched the movie for two days because I dosed off on the first try since it is two hours long. It is produced by Marvel Studios and distributed by Walt Disney Studios Motion Pictures. It can be confusing at the beginning, you just need to follow the story.
It is the sequel to Doctor Strange and the 28th film in the Marvel Cinematic Universe and was released around May.
4. Moonfall
Roland Emmerich is the king of natural disaster sci-fi films. Over the years, he has graced us with Independence Day, The Day After Tomorrow, and 2012, garnering him the title of "master of disaster."
Moonfall is his latest film about the moon heading for a collision course with Earth. It is intense to watch and I loved the storyline. It is the next best entry into "so bad it's good" filmmaking that depicts the end of the world as we know it.
5. Black Panther: Wakanda Forever
This is an upcoming American superhero film based on the Marvel Comics character Black Panther. Produced by Marvel Studios and distributed by Walt Disney Studios Motion Pictures.
The movie is intended to be the sequel to Black Panther and the 30th film in the Marvel Cinematic Universe and will be out later in November. I can't wait for it enough.
---
Also Read: Best Kenyan Movies to Watch on Netflix in 2022
---
6. Avatar: The Way of Water
This is also an upcoming American epic science-fiction film directed by James Cameron and produced by 20th Century Studios. It is the second film in Cameron's Avatar franchise, following Avatar.
We all know the first Avatar is one of the longest and top-rated movies ever with billions of dollars in revenue. I can't wait to watch the next in line in December before Christmas.
Advertisement - Continue reading below
7. After Yang
After a small family's robot boy, named Yang, suddenly malfunctions beyond repair, they are forced to grieve his untimely absence and process how to move forward. By viewing his memory banks through his eyes, they are able to appreciate Yang less as a robot and more like a brother and a son.
After Yang is a 2021 American metaphysical science fiction drama film written, directed, and edited by Kogonada. The movie was released in March this year but it's worth the time.
---
Also Read: Top 10 Nollywood Movies to Watch on Netflix in 2022
---
8. Dual
Quirky and disarmingly deadpan, Dual exists in the future when a clone of yourself can live on in your place if you come down with a terminal illness. The clone never mentions to your family and loved ones that you actually died, and everyone goes about their lives none the wiser. What could possibly go wrong?
Dual is a 2022 American satirical science fiction thriller film written, directed, and produced by Riley Stearns and was released in April this year.
9. Everything Everywhere All At Once
A Chinese immigrant gets unwillingly embroiled in an epic adventure where she must connect different versions of herself in the parallel universe to stop someone who intends to harm the multiverse.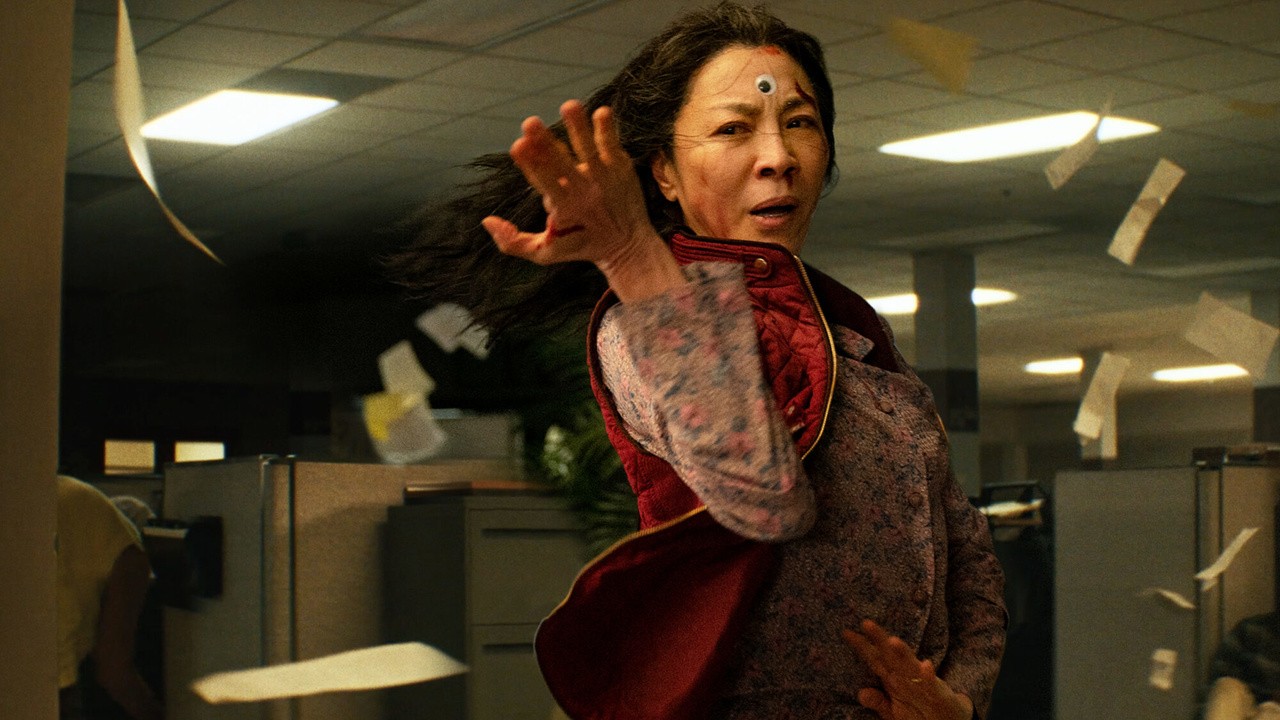 I absolutely love the concept of the multiverse and all the different versions and ideas of it. The movie is already out and came through around March. You can watch it on Netflix.
10. Jurassic World
From Jurassic World architect and director Colin Trevorrow, Dominion takes place four years after Isla Nublar has been destroyed. Dinosaurs now live – and hunt – alongside humans all over the world.
This delicate equilibrium will reshape the future and decide, for the last time, whether people are to stay the dominant hunters on a planet they presently share with history's most fearsome animals.
This might be the last movie in the franchise that brings old and new characters together and was released June 10 in theaters everywhere.
---
Conclusion
I have watched some of these that are already out and I found the Multiverse, Adam project, and Moonfall, very interesting. Everything Everywhere All At Once's storyline is also an interesting one. There are lots of movies that you could possibly look out for like, Brian and Charles, Crimes of the Future, King Car, Light Year, Looop Lapeta, Nope, Prey, SpiderHead, etc
Most of the movies have landed in my top ten because some of them are futuristic, tech-driven, space, multiverse, and metaverse with time travel adventures.