Safaricom, Kenya's leading mobile network operator, is preparing to launch satellite data services in the country, in a move that could shake up the market and pose a challenge to Starlink, the ambitious project of billionaire Elon Musk.
Safaricom will offer the service through a partnership with Starlink's rival AST SpaceMobile, which has signed agreements with the telco's ultimate parent firm Vodafone Group Plc. AST SpaceMobile aims to provide low-cost broadband connectivity to rural and remote areas using a constellation of satellites that can communicate directly with standard 4G smartphones.
Advertisement - Continue reading below
---
Related:
---
According to a statement from Vodafone, Safaricom and other African operators in the Vodacom group will participate in a trial of AST SpaceMobile's technology in 2023. The trial will involve 200 satellites covering 49 countries in Africa, Europe, and the Caribbean.
"After successful completion of the trial, AST SpaceMobile will scale up their satellite deployments in partnership with Vodacom to provide ubiquitous communications to 4G devices across Africa and beyond."
Starlink, on the other hand, had indicated its satellite-based services would be available starting in the quarter that ended last month.
Starlink is a project of SpaceX, Musk's aerospace company, that aims to provide high-speed internet access to anywhere on the planet using a network of thousands of low-Earth orbit satellites. Starlink has already launched over 1,700 satellites and has begun offering beta services in some countries, including the US, Canada, UK, Germany, and Australia.
Starlink has also applied for a license to operate in Kenya, but it is not clear when it will start offering its services or at what price. Starlink's website says that its service will cost KES 6500 per month, plus a one-time fee of KES 89,000 for the equipment, which includes a small satellite dish and a Wi-Fi router.
Advertisement - Continue reading below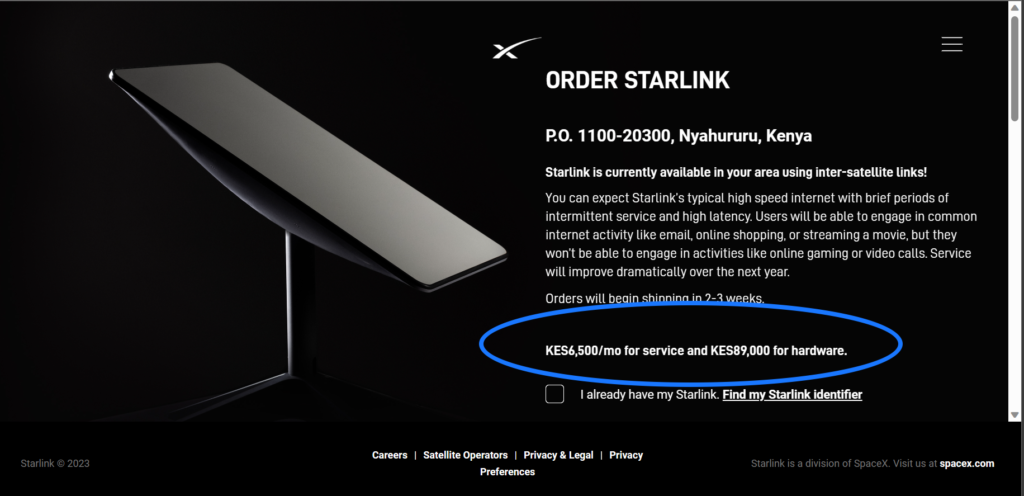 Safaricom's plan to launch satellite data services could pose a threat to Starlink's ambitions in Kenya and Africa, as the telco has a strong brand presence and customer base in the region. Safaricom has Safaricom Grows its Fixed Internet Market Share to 46.1% – Kenyan Wallstreet.
It also operates M-Pesa, the popular mobile money platform that has over 30 million users across Africa.
Safaricom's satellite data services could also bring significant benefits to its customers and the country as a whole. Satellite internet could enable access to online education, health care, e-commerce, and entertainment for millions of people who live in areas that are not covered by terrestrial networks. Satellite internet could also improve the resilience and reliability of communication systems in case of natural disasters or network outages.
---
Related:
---
However, Safaricom's satellite data services could also face some challenges. One of them is the cost of the service, which could be prohibitive for many low-income customers who rely on affordable data bundles and free public Wi-Fi hotspots. Another challenge is the regulatory environment, which could pose hurdles to obtaining licenses, spectrum allocation, and taxation.
A third challenge is the competition from other players in the Kenyan market who are doubling down on Fiber to the Home. Players such as Faiba, Zuku, Mawingu, and other small players mean that fast, reliable internet is readily accessible to people in remote areas. Airtel Kenya's recent network expansion also means that more and more Kenyans have access to internet.
Safaricom's satellite data services plans are part of its broader strategy to diversify its revenue streams and expand its digital offerings. The telco has also invested in e-commerce, cloud computing, music streaming, gaming, and social media platforms. Safaricom's satellite data services could give it an edge over its rivals and position it as a leader in innovation and connectivity in Kenya, and Africa.
Advertisement - Continue reading below