Pros:
Support for Different Degrees of Noise Cancelling
Stellar battery life
LDAC Support and Multi-point connectivity
Advertisement - Continue reading below
Cons
---
Today, the market is full of wireless earbuds from almost all popular OEMs and even from little-known companies, all offering various levels of quality, pricing, and more. needless to say, there is something for everyone.
But then what if you have some little disposable income to spend but you really aren't looking to drop $200 on a set of TWS? Well, the Redmi Buds 4 Pro fall right in the middle of that price range and in this post, we shall be looking at what these buds have to offer.
Related:
---
Not to be confused with the Xiaomi Buds 4 Pro
Xiaomi's product line can be very confusing. See, Xiaomi has a range of earbuds that compete with the Redmi Buds 4 Pro. The Xiaomi Buds 4 Pro earphones are more focused on high-quality streaming, active noise cancellation, long battery life, dimensional audio and head tracking.
They are priced at €250. That is Airpods Pro 2 territory, these Redmi Buds 4 Pro might share some cosmetic elements but these are not it.
Advertisement - Continue reading below
Sound Profile
The Redmi Buds 4 Pro earbud has Hi-Res Audio Wireless certification and supports LDAC audio codec at transmission speeds of up to 990kbps, as well as audio resolutions of 96kHz/24bit and above.
It features an all-new dual dynamic driver system, which consists of a 10mm aluminium alloy diaphragm and a 6mm titanium diaphragm for treble frequencies. Together, the two drivers combine to deliver crystal-clear treble and rich bass in a wide range of genres.
The Sound profile on the Redmi Buds 4 Pro is rather flat out of the box with no clear emphasis on bass or treble, an all-round neutral sound. The companion app does have a few presets to boost the mids, lows or highs but there is no dedicated EQ.
I used Poweramp EQ to handle my equalizer needs and this worked for the most part. However, this is a paid app that might be worth considering.
Bells and Whistles
The Redmi Buds 4 Pro are the first product that I have used that support multi-point connectivity. This means you can connect to multiple devices at the same time. In my time, I struggled to get my Windows or Linux install to see the Bluetooth buds but my phone and tablet connected and paired seamlessly.
Listening to music with the buds connected to the phone, every time I came to a video that autoplay on the tablet, the playback of music would pause, the video would take over, and then resume muting or skipping the video on the tablet.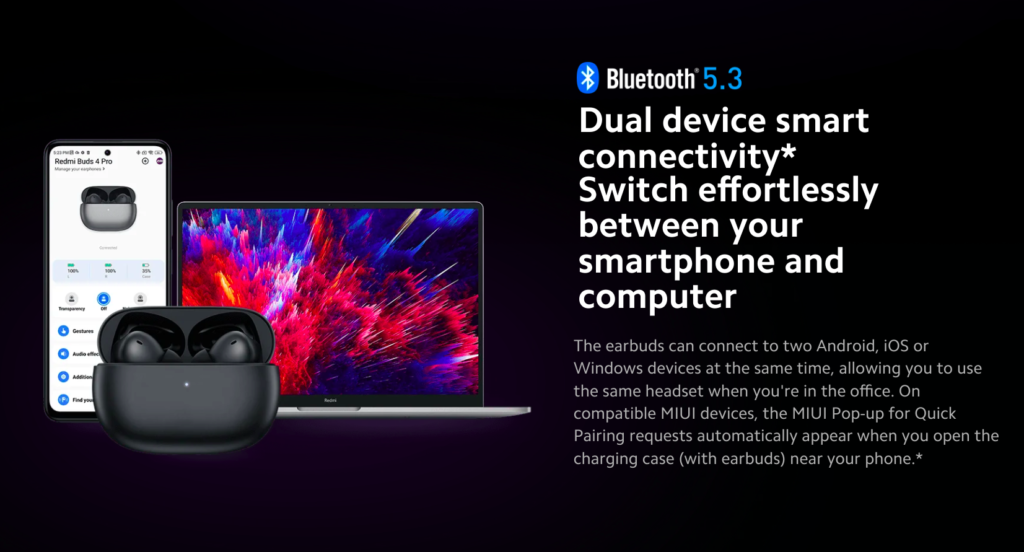 This could be useful while working on your desk, listening to music on your laptop, and then getting a call and having the buds switch audio automatically. Neat feature of this one.
Another feature that I liked a lot is the in-ear detection. Remove one bud from your ear and the playback pauses, and the remaining bud goes into Transparency mode. Return the bud to your ear and playback resumes, along with ANC Mode.
Advertisement - Continue reading below
Companion App
I had an issue getting the recommended Xiaomi Earbuds app to work despite it having the Redmi Buds 4 Pro listed as one of the supported products. Luckily though, there's another app that is available on the Play Store, dubbed Mi Buds M8 that did the trick for me.
The Mi Buds M8 app offers most of the features I have seen available on the Xiaomi Earbuds app. From access to the various noise cancellation options, to eartip fit tests and customizing the touch controls and more.
Noise Cancellation
The Redmi Buds 4 Pro have a feature that I haven't seen in any ANC-enabled TWS that I have tested in my day, the ability to adjust various levels of Noise Cancelling. While other TWS like the Oraimo Freepods 4 have 3 modes, Noise Cancelling ON, Noise Cancelling OFF, and Transparency mode, the Buds 4 Pro has levels to these three.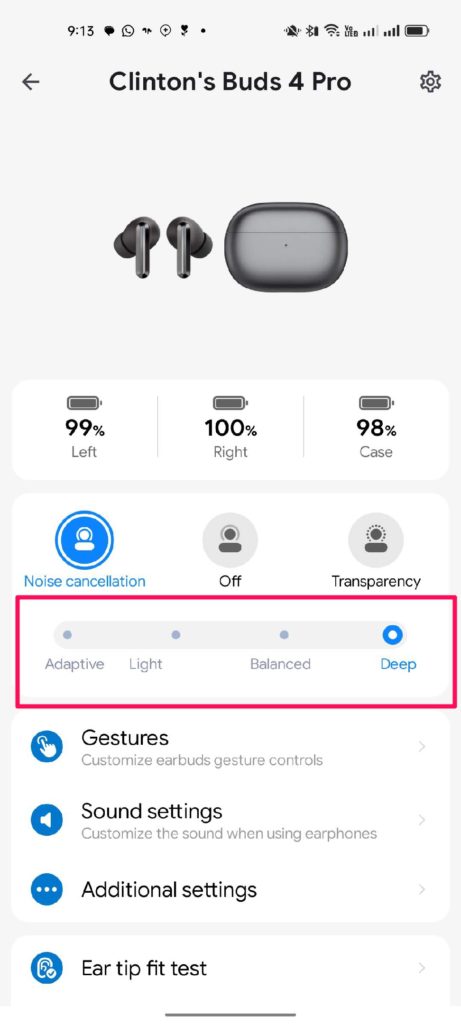 Under Noise cancellation, you have Adaptive, Light, Balanced, and Deep with Adaptive being like an Auto mode and Deep being the highest level of isolation from what's happening around you. The Transparency mode has two options, one where it pumps in everything around you and one where it amplifies voices around you.
In my testing, these worked well although the different levels of noise cancelling weren't as pronounced. The transparency modes were more discernable and it was nice to play around with them.
Battery life and Endurance
Xiaomi advertises up to 36 hours of battery life and upto 9 hours of listening on a single charge for the buds. But let's be real, what are you listening to for 9 hours non-stop? The buds have not died on me, not even once for the period I have been using it.
The longest I have used them was on a 6-hour bus ride with ANC turned on and listening to music and podcasts at 60% volume. That brought the buds down to around 20% battery. The case charges pretty fast via USB-C, topping up to a low battery to 100% in around 30 minutes which is ideal. I charge it casually at least once a week and they've been fine.
Advertisement - Continue reading below
Pricing and Availability
The Redmi Buds 4 Pro are on the higher side in terms of price. These go for KES 9500 from Xiaomi's official online store and from third-party sellers.
Globally, the Redmi Buds 4 Active are making waves for its low price and tons of features and that might be a more appealing option for many people. In Kenya, I would still prefer the oraimo Freepods 4 that cost almost half as much while still offering most of these features. That, in my opinion, is more value for money.
However, if you look at the Redmi Buds 4 Pro as a budget version of the premium Xiaomi Buds 4 Pro that cost upwards of $200 while offering similar features, this starts to look like a mighty good deal.