Kwesé TV is giving its competitors heart attacks and a run for their cash, with no mercy at all. Just a few months in pay TV business, and they are already painting the industry with a whole new look, plus causing a great trek among customers in the digital television – of course, in migration to Kwesé.
Africa's newest broadcast network just recently launched to the Ugandan market an entirely 'new world of premium sports and general entertainment'; delivering to customers the free will to opt for whichever subscription their wallets can support, yet with full access to the entire programming line up of channels.
Advertisement - Continue reading below
This means that after acquiring your Kwesé TV kit, you will have the option to purchase either a three, seven, or 30 day subscription – for all channeling. You can look forward to viewing unique stations that you actually won't find else where, Kwesé own television line up, and an inclusion of local free to air channels, which will come in due course. This innovative flexible payment model will see the brand easily penetrate through the competitive Ugandan market.
The Packages and Prices
Kwesé is bringing you a Full kit that comes with an entire month of premium subscription, and a free installation to it, at Ugx 143,000. If you're not into the dish, and only want a decoder for easier access, you can acquire it at just Ugx 81,000.
The pricing is ridiculously cheap, given the channels available. The monthly Premium subscription goes for Ugx 106,000; the weekly Premium subscription for Ugx 32,000; and the 3-day subscription going for Ugx 17,000.
This grants you the unlock key to unlimited broadcast of entertainment and sports, the choice being yours.
At the launch, held at Kabira Country Club, the General Manager of Kwesé TV Uganda – Mr. Herbert Mucunguzi said that Kwesé looks to beat it's rivals with not just world class content, but also this payment model that has not been in existence in the country.
Advertisement - Continue reading below
"At Kwesé, we believe that world class content needs to be accessible to audiences not only through multiple platforms but also at affordable prices," he explained.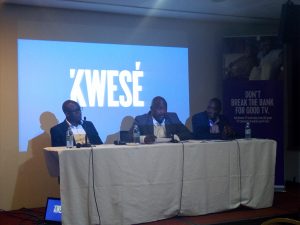 This will see Kwesé TV take the top notch, as the only broadcaster to offer a pay-per-view service that enables viewers to purchase weekly or three day passes to the full Kwesé bouquet. And all these come with attention offered for each and every viewer.
Related article: Full HD channels worth watching on Kwesé TV
"Kwesé is all about choice," he added. Viewers will be able to choose what they want to watch, where they wish to watch it from, the viewing period that works best for them, and the price they find appropriate to them.
"Gone are the days when consumers were forced to choose one or the other platform, Kwesé is unlocking a whole new world of flexibility"
Kwesé TV is currently available at branded dealer outlets both in urban centres and rural areas throughout the country and includes a free 30-day subscription for new installations. The full suite can be accessed via Kwesé's own satellite and set-top decoder available at leading retailers or online via dealers.
If you wish to know what it feels to own a Kwesé decoder, read our extensive review on it.
Advertisement - Continue reading below
With the newly introduced 'always on' programming lineup of Kwesé free bouquet, you can be guaranteed of 24/7 access to select free to air channels,even after your paid subscription expires. You can only find that on Kwesé TV – without breaking the bank!