Wi-Fi 6 which also goes by the name 802.11 ax is being touted as the biggest update to the wireless standard since its first release two decades ago. And that's because of some good reasons; Wi-Fi 6 brings multi-gigabit speeds 4 times as fast as the previous versions, it performs well in dense environments and it's easy on battery life of even the smallest devices.
Now device vendors are rushing to release wifi 6 certified products to the market this year. Usually old-time router manufacturers like Asus, Netgear, TP-link, Cisco, D-link are the first on the slippery road before computers, smartphones, smarthome, wearables follow suit. That's because the router or access point plays a central role of connecting devices together in a wireless network.
Advertisement - Continue reading below
It's really not wise to jump onto this new shinny Tech bandwagon because vendors are still fixing the rough edges around the Tech, there aren't enough compatible devices yet and usually such cutting edge Tech is pricey being new in the market. But the advantage with WiFi 6 here is that it's fully backward and forward compatible with older Wifi standards WiFi 1-5 or 802.11 a/b/g/n/ac. So you are still not at a loss if you bought Wifi 6 router except for their hefty prices right now.
NETGEAR NightHawk AX12 (RAX120) and NightHawk AX8 (RAX80)
Late last year, network giant Netgear launched two WiFi 6 routers; the 8-stream NightHawk ax8(Rax80) and the 12-stream NightHawk ax12(Rax120) both capable of speeds of up to 6Gbps. While the Nighthawk ax8 is capable of 4×4 MU-MIMO meaning it can talk to 4 devices concurrently on 4 spatial streams, the NightHawk ax12 doubles this with 8×8 MU-MIMO. More so, the ax12 spots Multi-Gig 5G/2.5G/1G Ethernet Ports and supports WPA3, the latest WiFi security protocol. The Ax8 Nighthawk router is currently retailing for $400 on Amazon and the Ax 120 won't be available till Q1 of this year.
Update: Netgear has since added four more WiFi 6 routers; the entry level RAX15, RAX40, RAX50 and RAX200. The full list now as follows;
NETGEAR 4-Stream Wifi 6 Router (RAX15) – AX1800 Wireless Speed (Up to 1.8Gbps) – $82.72
NETGEAR Nighthawk AX4 4-Stream WiFi 6 Router (RAX40) – AX3000 Wireless Speed (up to 3Gbps) – $194.95
NETGEAR Nighthawk AX6 6-Stream WiFi 6 Router (RAX50) – AX5400 Wireless Speed (up to 5.4Gbps) -$299.99
NETGEAR Nighthawk AX8 8-Stream WiFi 6 Router (RAX80) – AX6000 Wireless Speed (up to 6Gbps) – $352.50
NETGEAR Nighthawk AX12 12-Stream WiFi 6 Router (RAX120) – AX6000 Wireless Speed (up to 6Gbps) – $428.96
NETGEAR Nighthawk AX12 12-Stream Wifi 6 Router (RAX200) – AX11000 Tri-Band Wireless Speed (Up to 10.8 Gbps) – $599.78
The entry level 4-stream RAX15 WiFi 6 router is about $100. It comes with 4 x 1 Gigabit Ethernet ports, 2 x 3. 0 USB ports, quad-core processor, 2 amplified antennas, Beamforming+, OFDMA, Alexa Voice Controls.
If you are looking for a more high-end WiFi 6 router, then the Netgear Tri-band RAX200 router is your choice. It supports 12 simultaneous streams, 4 x 1G and 1 x 2 5G Ethernet ports, 2 x 3.0 USB ports, 64-bit 1.8GHz quad-core processor, 8 amplified antennas Beamforming+, MU-MIMO, Dynamic QoS, Smart Connect, OFDMA Alexa Voice Controls.
Asus RT-AX routers
Early last year, another big name in routers Asus released a plethora of Wifi 6 routers on the market starting with the ASUS RT-AX88U – AX6000 Dual Band 802.11ax WiFi Router. The Asus AX88U spots 4 antennas with 4×4:4 MU-MIMO, 1GB of RAM, 8 Gigabit LAN ports, 1 WAN and can handle upto 6Gbps of wireless speeds. You can even control this router by linking your Amazon Alexa to it with simple voice commands. This router is currently retailing for $346.00 on Amazon.
Advertisement - Continue reading below
The Asus AX11000 Tri-band WiFi Gaming Router is a more pricey and powerful Tri-band router targeted towards hardcore gamers with its 10 Gigabit wireless speeds, quad-core processor, 2.5G gaming port, DFS band, WTFast, Adaptive QoS, AiMesh for mesh wifi system and AiProtection network security.
Related post: The updated guide to WiFi wireless network connectivity
The other Asus AX routers include;
TP-Link Archer AX Routers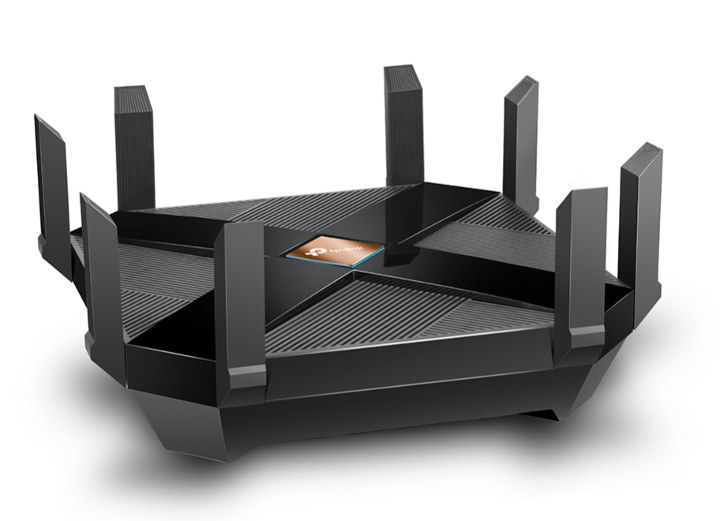 Late last year after Asus and Netgear, TP-Link announced two AX router models; the TP-LINK Archer AX6000 running a broadcom BCM4908 1.8GHz Quad Core Processor and the TP-LINK Archer AX11000 Tri-Band Wi-Fi Gaming Router running the same Broadcom processor. Both routers support 4×4 MU-MIMO configuration and come with 1GB of RAM, a 2.5 Gbps WAN port, 8x gigabit LAN ports, and two USB 3.0 ports (1x Type-A, and 1x Type-C).
The Archer AX6000 at the time of release was available on pre-order on Amazon for $350 while the Archer AX11000 is expected to retail at $450. However, at the time of writing this article, no units are available on Amazon.
The other TP-Link AX routers include the TP-Link Archer AX1500 and the TP-Link Archer AX1800 available in 2×2:2 configuration.
TP-Link now also has a WiFi 6 mesh router, the TP-Link Deco X10 Wi-Fi 6 Mesh Router which launched in Q3 of 2019 priced at $350. The TP-Link Deco X10 starter kit includes two mesh Wi-Fi nodes that you can link together to blanket a large area with wireless coverage.
D-Link DIR-X6060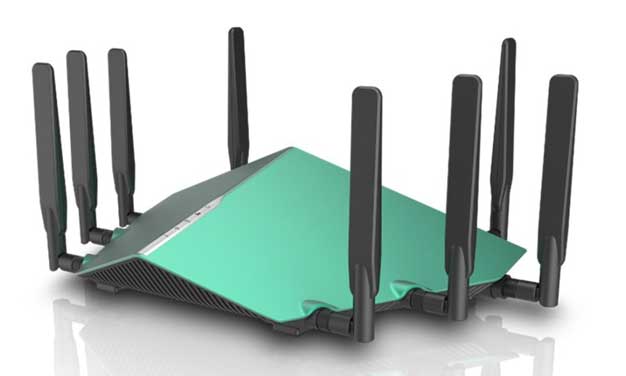 D-Link haven't yet featured prominently in the WiFi 6 race. The company has two AX routers so far; the D-Link DIR-X6060 and the DIR-X9000 802.11ax Ultra Routers which haven't even yet launched in the market. There's still scanty information on the products, but what we know so far is the AX6000 is expected to support speeds of up to 6,000 Mbps while the AX11000 will support up to 11,000 Mbps. We shall have to wait till the products are launched in the market for the full details.
Advertisement - Continue reading below
Arris AX11000 Surfboard
The Arris ax11000 surfboard mesh wifi system is another WiFi 6 worth looking at. While the product is expected to launch later this year, the Arris ax11000 surfboard tri-band router will come with 4×4 configuration, 1,200 mbps on the 2.4GHz band, 4,800 mbps 5GHz low, and 4,800 mbps 5GHz high and 4 gigabit Ethernet ports capable of linking for up to 2 gbps WAN speed. The product page says nothing about pricing, so we shall have to wait till it's released.
Aerohive
Aerohive has enterprise access points AP630, AP650 and AP650X AX 4×4 Access Points with Dual 1G Ethernet ports and powered by PoE+ or DC power. They support 802.11 abgn+ac+ax, 4×4:4 x 4×4:4 streams, 1 LAN and 1 WAN Port and USB 2.0 or 3.0 Port.
Aerohive AP630
Aerohive AP650
Aerohive AP650X
That's all we have on WiFi 6 routers. We can only expect WiFi 6 routers to become more relevant when more client devices such as smartphones, wearables, laptops and smart home devices support the standard in the coming months or more realistically years.