For those still using the much loved Windows 7, it will receive its last security update on January 14th, 2020 after which it will officially retire. Microsoft said that with the Windows 7 end of life, users should not expect any kind of support for the OS after the deadline.
This means that Windows 7 devices will be more likely to be affected by malware and other operating system related issues which will for sure not be fixed — by Microsoft. For those still using Win 7, you will need to upgrade to Windows 10. Luckily, Microsoft is offering free upgrades to Windows 10 for Windows 7 users with genuine keys.
Advertisement - Continue reading below
Migrate to Windows 10
For current Windows 7 users looking to upgrade their computers to the Windows 10 operating system, here are the minimum specifications your device must possess:
Processor: 1 Gigahertz (GHz) processor/chipset.
RAM: 1 Gigabyte (GB) for 32-bit or 2 GB for 64-bit.
Hard disk space: 16 GB for 32-bit OS 20 GB for 64-bit OS.
Graphics card: DirectX 9 or later with WDDM 1.0 driver.
Display: 800 x 600 resolution.
For users without the required hardware, you will need to upgrade your PC's processor or storage. Buying a new machine that can support Windows 10 is another option. You can then move your files and folders to your new machine using an external hard drive.
Related Article: How to Restore Windows 10 To Factory Settings
How to Upgrade to Windows 10 for Free
As mentioned earlier, you will be able to upgrade to Windows 10 for free… as long as your Windows 7 license key is valid. You simply have to download and run Microsoft's Windows 10 Installation tool.
During the process, Windows will connect to Microsoft's activation servers and your machine will get a digital license for Windows 10. You will see a message "Windows is activated with a digital license" on the Windows activation page.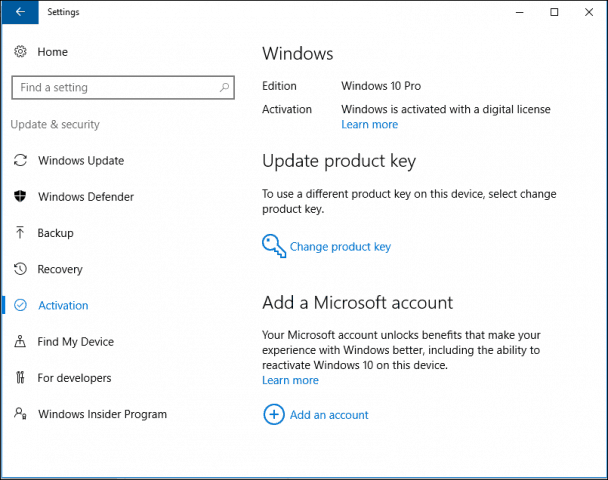 You can upgrade Windows 7 to Windows 10 using the inbuilt upgrade option and this means you will not lose your files or have to erase your device clean. This task can be performed using the Media creation tool. Just for extra precaution, you will need to create a full back up using the system image back up tool.
Advertisement - Continue reading below
What If I Stick to Windows 7?
If you make a decision to stick to Windows 7 after the January 14th deadline, you will have to live with your machine while taking extra care and precaution.
If you aren't ready to let go of the Windows 7 OS on your PC, here are some tips on staying safe and getting the best out of the OS after Microsoft permanently ends support for the OS:
Update everything as regards software and OS in the January 14th security patch release. This will make sure Windows and other Microsoft software are as secure as possible.
Install a strong anti-virus as Microsoft is likely to kill its own anti-virus software for Windows 7.
Move away from Microsoft Office components and switch to software that is not associated with Microsoft.
For some people, making adjustments is hard but a decision to move from Windows 7 to Windows 10 should not be a hard one to make — as it is for the better. You will get an immediate improvement in operating speed and many other upgrades. Hurry up and make the switch as the deadline approaches.