The Houseparty face-to-face social network app has seen an increase in both usage and number of users. This surge can be attributed to the ongoing COVID-19 pandemic and general stay at home/work from home styles of living and working that most companies and individuals have adopted.
Since more people are working from home, video conferencing and e-meeting apps have seen an increase in usage. Houseparty is one of such apps but it isn't work inclined.
Advertisement - Continue reading below
Houseparty is a video chat app that is replicating real-life social gatherings for the millions of people stuck indoors. In the sections below, we answer a number of questions you might have about the viral Houseparty app.
What Is The Houseparty App Used For?
Houseparty is a video chat app that lets you spend time with people you care about. Basically, you can carry out your usual social activities, only that this time, it's virtual. Users can play games just like it is in actual social gatherings and parties.
In 2019, Epic, creator of Fortnite and Unreal Engine acquired the company. With the acquisition, they believed to help even more people connect with their friends, family, and peers.
What Can You Do On Houseparty App?
1. Video Chat
Video chat is the primary feature of the app. Users can make video calls to friends and family and spend time with them. The maximum number of people the app can have in a video call is 8.
2. Play Games
Houseparty offers in-app games and trivia. Examples of games you can play on the app include Heads Up, a game where you give friends clues to guess a card. Chips and Guac, Quick Draw and Trivia in different aspects like entertainment, slang terms, superheroes, fashion, geography, sports, 2000 and more.
3. Chat With Friends
Just like the normal party, where friends can chat in a room, Houseparty lets you do this. Other friends can join in on the chat, but you have an option to "Lock" the room so nobody else joins.
Advertisement - Continue reading below
4. Find Nearby Friends
At the point of registration on Houseparty, users are prompted to turn on location. This helps to find friends that are near a user's location so they can be added on the platform.
How Well Are People Adopting Houseparty?
The growth rate (in terms of users and usage) of the Houseparty App has seen an upward spiral. It is even much more rapid than other video conferencing apps like Zoom, Skype and others.
The image below shows the pace of growth of global downloads for Houseparty and other video apps.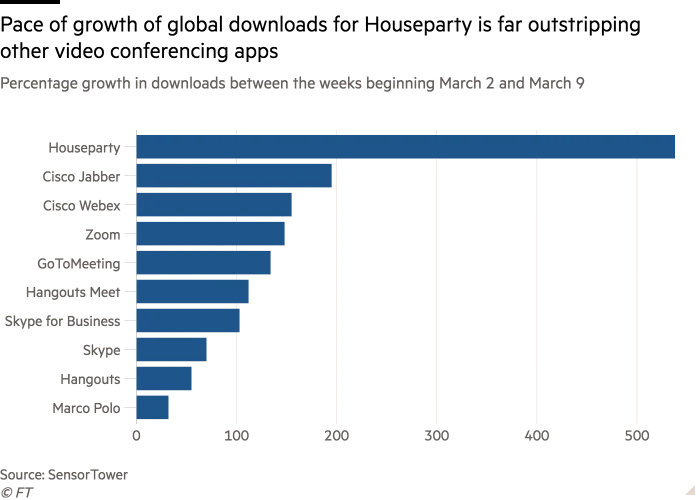 With this virality, it is hoped that users continually use the app to organize parties, chat with friends and find nearby friends —even after the COVID-19 saga.
Have you tried out the Houseparty app? What do you think about it? If you haven't, please go ahead of download and install the app for the Google Play Store HERE and on the iOS App Store HERE.