The incumbent 970 EVO SSD from Samsung has always held a dominant position as the fastest budget NVMe SSD. That position was further cemented with the introduction of the 970 EVO Plus which was announced in April of 2019. Samsung claims that the newer Plus version comes with performance increases of 57% above its predecessor.
---
Also Read: M.2 form factor used in Solid State Drives: Everything you need to know
Advertisement - Continue reading below
---
Design and Specs
The 970 EVO Plus is equipped with V5 flash which provides performance improvements of up to 3.5 GB/s throughput sequential reads. All this at a meager 1.2V I/O power rating. The new V5 flash has support for the Toggle DDR 4.0 interface operating at 1.4 GT/s. Die densities of the EVO Plus are at 256 gigabits.
This new SSD uses the NVMe 1.3 protocol over PCIe 3.0 x4 to interact with hosts. For broad compatibility, all capacity types are available in single-sided M.2 2280 form factors. To dissipate heat effectively, there now is a thin copper film behind the PCB and a coating of nickel on the controller.
Samsungs thermal throttling algorithm, Dynamic Thermal Guard, bumps down the performance when temperatures get too high. The newer 970 EVO Plus is in some ways similar to the preceding 970 EVO because they both use Triple Level Cell (TLC/3-bit) NAND.
They also share the phoenix controller but the Plus version has improved firmware and boasts support for hardware encryption. The 970 EVO Plus is built on the latest 9x-layer V NAND from Samsung. It is important to note that Samsung refers to the NAND as 3-bit MLC V-NAND (vertical) and not as TLC.
Multi-Level Cell (MLC) was a poorly composed moniker that was precisely associated with 2-bit NAND. Additionally, MLC can also be applied to other NAND types that store multiple bits per cell.
---
Also Read: M.2 SATA SSD vs M.2 PCI Express (PCIe) SSD vs NVMe
Advertisement - Continue reading below
---
Capacities and Price For The 970 EVO Plus
This SSD is available in 4 storage capacities, 250GB, 500GB, 1TB, and 2TB which cost $90, $130, $250, and $450 respectively. That translates to 25 cents per GB for the 1TB capacity and slightly more with the other two smaller sizes.
These are very fair prices considering there are 1TB PCIe x4 NVMe drives costing 15 cents per GB with significantly lower performance.
---
Also Read: Solid State Hybrid Drive (SSHD) is a sweet spot between SSD and HDD drives
---
Durability
Samsung rates the 970 EVO Plus at 150TBW (TeraBytes Written) for every 250GB of storage capacity over the SSD's lifetime. Just to be clear, it is highly improbable for average users to hit those write figures in a decade. I'm yet to come across an SSD that failed due to lost capacity.
The company also offers a nice 5-year warranty for the 970 EVO Plus. Something that may be of interest to professional/commercial applications such as servers and storage arrays is improved power efficiency.
---
Also Read: What is 3D V-NAND technology used in Solid State Drives?
---
Performance
It should not come as a surprise to anybody that the newer model SSD performs better than the older one. That is specifically so with writes to the NAND's main body as well as with writing lots of queues in 4K. However, the plain copying times vary with changes in capacity because of different sizes of cache and other associated factors.
Something to note about the performance of 3-bit NAND during native writing operations is that it is not all that quick. That notwithstanding, Samsung's 970 EVO Plus can hit 3.3 GB/s in writing operations and up to a mind-bending 3.5 GB/s in sequential reads. This latest SSD also boasts random read/write IOPS of up to 620,000/560,000.
Advertisement - Continue reading below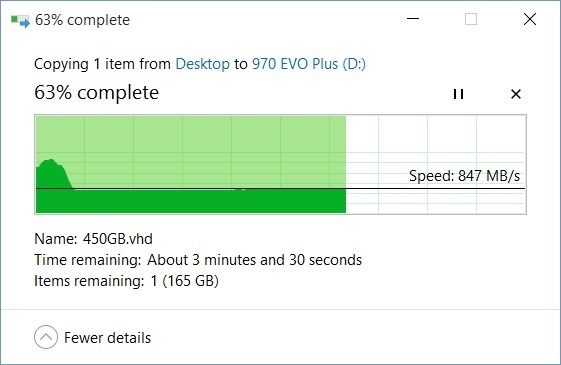 As soon as the cache runs out, the performance of all TLC drives typically takes a dive. The 970 EVO Plus dips to about 900 MBps, contextually that is almost double the speed of SATA SSDs. 900 MBps is also 250 MBps faster than the preceding 970 EVO after the cache runs out.
---
Also Read: Intel Optane Memory explained
---
Intelligent TurboWrite
The cache sizes that Samsung refers to as "Intelligent TurboWrite" generally varies with drive capacity. The 250 GB version comes with 13 GB of Intelligent TurboWrite while the 500 GB version has 22 GB of Intelligent TurboWrite and the 1 TB weighs in at 42 GB of Intelligent TurboWrite. However, these figures will be affected by the amount of data you are writing and how full the drive is.
Anyway, rarely will users write beyond these cache quantities, and if they do, the 900 MBps transfer rate is quite fair. But if you want to avoid the performance drop go for WD's Black NVMe or the 970 Pro which are considerably more expensive. If you need an affordable, fast, and reliable SSD, the 970 EVO Plus is the logical choice.
---
Also Read: Is Intel Optane Memory faster than RAM?
---