There might come a time in your life when you make the decision to unplug yourself from WhatsApp and switch to a new messaging app – for privacy reasons, maybe. Or you have suddenly become disenchanted by social media altogether. If you are at any of these stages, we will, in this article, show you how you can delete your WhatsApp account, retrieve your data, and move on, effortlessly.
Backup Your Chat
Once you've made the decision to delete your account and move, the first thing we recommend you do is to backup your chats. Why? Well, if you delete your account without backing up your chat, you won't get them back if you ever decide to reactivate your WhatsApp in the future.
Advertisement - Continue reading below
Here's how to back up:
Open WhatsApp
Click the three-dot icon on the top-right corner of your screen
Go to chats
Click on Chat backup, and then click Backup
How to Delete Your WhatsApp Account
When you delete your account, here's what WhatsApp will do:
Your account will get removed from WhatsApp.
It'll erase your message history.
Delete you from all of your WhatsApp groups.
Delete your Google Drive backup.
How to delete your WhatsApp account: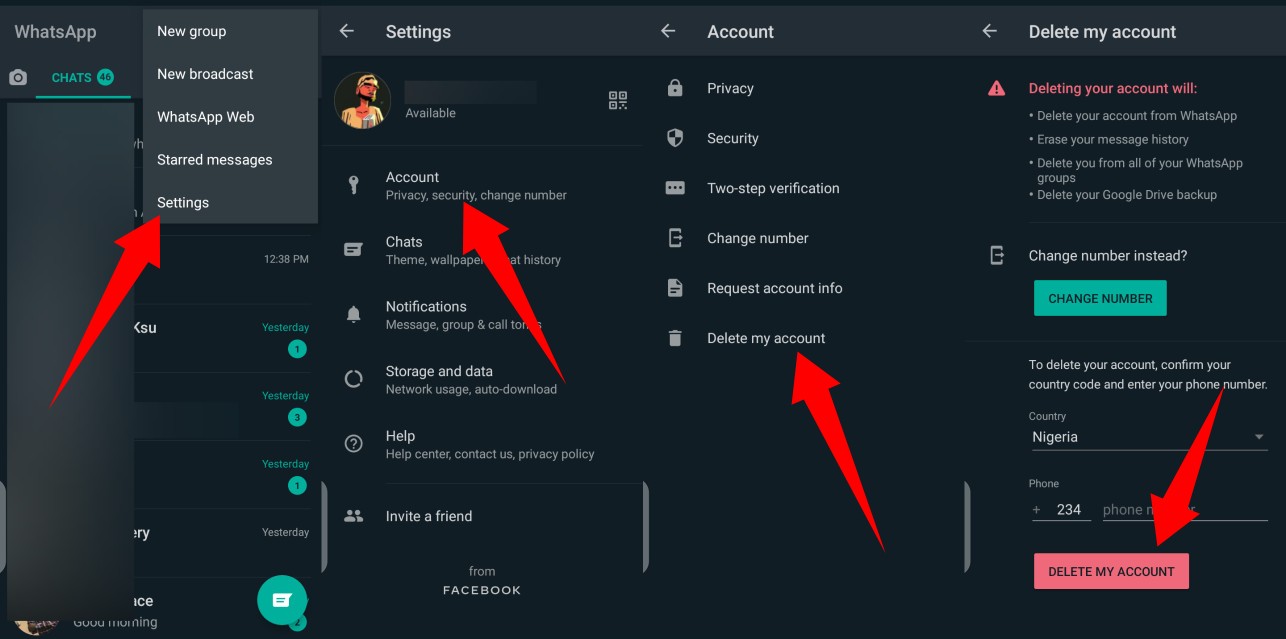 Open WhatsApp.
Tap the three-dot icon > Settings > Account > Delete my account.
Enter your phone number and tap DELETE MY ACCOUNT.
You'll then need to select a reason why you're deleting your account in the dropdown.
Next, tap DELETE MY ACCOUNT.
Related Article: How to delete your Telegram account
Conclusion
If you're a member of any WhatsApp group, all your chats on such groups will also be erased after you've deleted your account, and a notification will appear on the group, letting other group members know that you have left the group.
Also, no one on your WhatsApp list will know that you have deleted your account. Messages sent will indicate that it is sent but it will not be delivered.
Advertisement - Continue reading below
Here are other things WhatsApp says will happen when you delete your account:
It may take up to 90 days from the beginning of the deletion process to delete your WhatsApp information. Copies of your information may also remain after the 90 days in the backup storage that WhatsApp uses to recover in the event of a disaster, software error, or other data loss event.
It doesn't affect your information related to the groups you created or the information other users have relating to you, such as their copy of the messages you sent them.
Copies of some materials such as log records may remain in WhatsApp's database but are disassociated from personal identifiers.
Your information shared with other Facebook Companies will also be deleted