For Xiaomi, rolling out the latest Android OS in their MIUI skin has been inconsistent to say the least as most OEMs struggle to get regular updates to their devices. Some Xiaomi smartphones like the Redmi series don't seem to make it beyond one major update.
We all know not all previously released smartphones get updated to the latest Android OS and the chances of that even happening is even much lower based on how long ago it was released. Even more so if your phone is not as valuable. On average, a flagship does not only get more updates than a mid-range phone released at the same time as it but also quicker. This is because, in line with how recent the flagship is, OEMs including Xiaomi tend to cater for their 'more valuable' customers first.
Advertisement - Continue reading below
The only exception to this is if you're using an Android One smartphone then Google is responsible for rolling out updates to you. The devices that are currently eligible for Android 12 Beta are Xiaomi Mi 11, Mi 11 Ultra, Mi 11i, Redmi K40, Redmi K40+, Redmi K40 Pro, and Mi 11X Pro. In short any smartphone in their latest flagship series.
Update: Android 12 Beta is now available for Xiaomi Mi 11, Mi 11 Pro, Mi 11 Ultra, Mi 11i, Redmi K40, Redmi K40+, Redmi K40 Pro, Mi 11X Pro, Mix 4 and Mi Pad 5, Mi Pad 5 Pro, Xiaomi 11T, Xiaomi 11T Pro and Xiaomi 11 Lite 5G.
Read More: Android 12: Here's what's New
MIUI 13 (Android 12) Update
Probable Android 12 Update: Redmi 9T/9 Power, Redmi Note 9 (Global) / Redmi 10X 4G -Redmi Note 9 4G (China), Mi Note 10 Lite.
Certain Android 12 Update: Redmi 10X 5G / 10X Pro, Redmi Note 9 / 9 Pro / 9 Pro Max Redmi Note 9.5G / Note 9T, Redmi Note 9 Pro 5G, Redmi Note 10 / 105 / 10T / 10 5G, Redmi Note 10 Pro / Pro Max, Redmi Note 10 Pro 5G (China), Redmi Note 8 2021, Redmi K30, Redmi K30 SG / 5G Racing / K30i 5G, Redmi K30 Pro / Zoom, Redmi K30 Ultra / K30S Ultra and Redmi K40 Gaming.
POCO F2 Pro, POCO F3 GT, POCO X2 / X3 / X3 NFC / X3 Pro, POCO M2 / M2 Reloaded / M2 Pro, POCO M3 / M3 Pro 5G, POCO C3, Blackshark 3 / 3 Pro / 3s, Blackshark 4 / 4 Pro, Mi Mix Fold, Mi 11 Lite 4G, Mi 10 / Pro / Ultra, Mi 10 Lite 5G / Zoom / Youth, Mi 10i / Mi 10T Lite, Mi 10T / 10T Pro.
Advertisement - Continue reading below
Not Getting Android 12 Update: Mi 9 / 9 SE / 9 Lite, Mi 9T / 9T Pro, Mi CC9 / CC9 Pro, Mi Note 10 / Note 10 Pro Redmi Note 8 / 8T / 8 Pro, Redmi 9 Prime, Redmi K20 / K20 Pro / Premium, Redmi 9 / 9A / 9AT / 9i / 9C.
At the moment MIUI 12.5 based on Android 11 is still rolling out with the Poco X3 Pro users in India just receiving the update as it is gradually rolling to other devices. Rolling out major updates like the Android 12 has always been a messy ordeal with delays and omission of devices from the upgrade altogether.
Note: This is not a confirmed list so you might still get some changes made to it.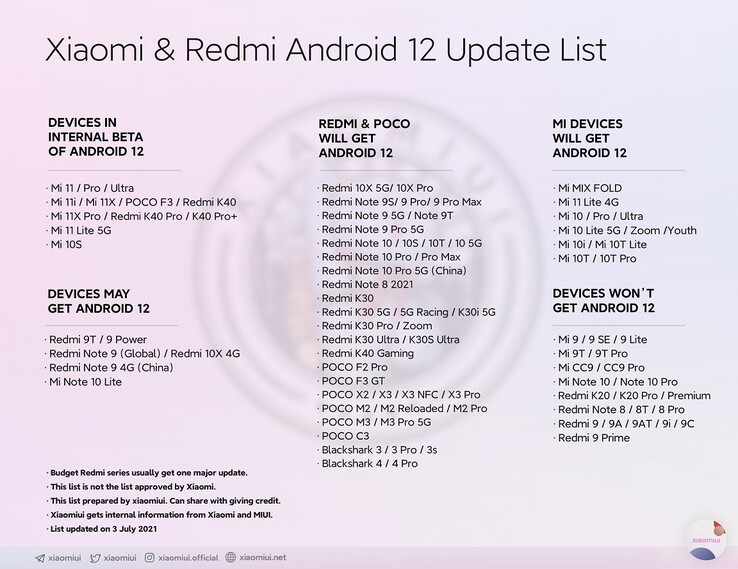 Update: 29/09/22
Xiaomi stable tester recruitment for MIUI 13 based on Android 12 global stable ROM is ongoing. However, you have to be using a Xiaomi Mi 11 Ultra, Mi 11 or Mi 11i.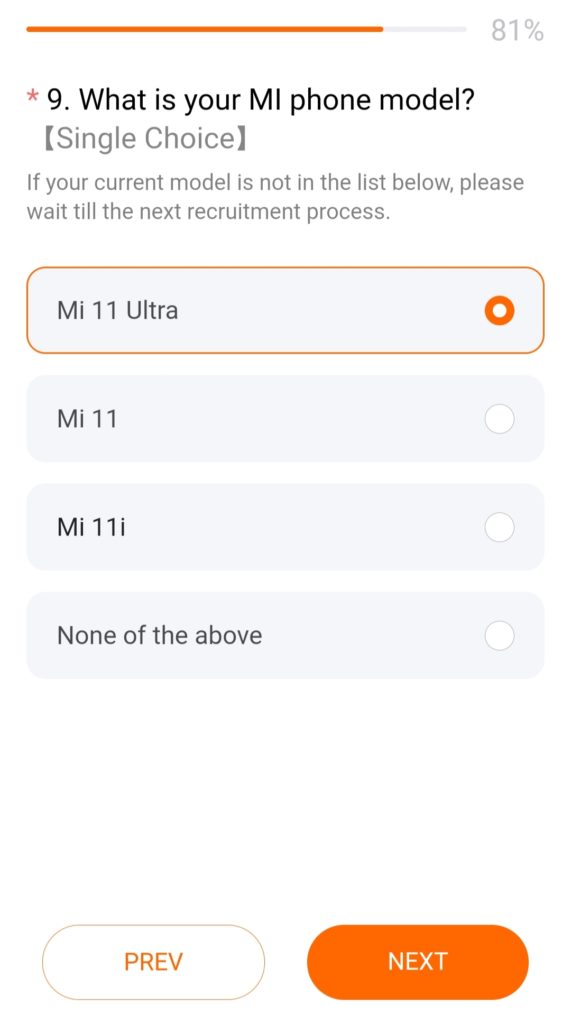 This is on a first come, first serve basis and your application will be reviewed before you can get the Android 12 OTA update. Click here to apply and find out more details.