Being healthy and fit should be one of your top priorities. With Fitness bands, you get a little help in reaching your fitness goals through Technology. Fitness bands are wearable devices that you put on your wrist arm to not only tell time, but also track your body vitals and goals. The most common fitness bands can measure your Heart rate, count Steps, track your sleeping patterns, offer breathing exercises, show app notifications, control music playback among others. Newer fitness bands such as the Mi band 6 can even measure your SpO2 Blood Oxygen saturation.
I have used several fitness bands to keep track of my own personal fitness goals and health. I am an avid runner, I go brisk walking, play football and sometimes I go cycling. So I am always wearing a fitness band or smartwatch with me. There's increasingly a blurry line between fitness bands and smartwatches both in form and function.
Advertisement - Continue reading below
Fitness bands are still smaller and lighter than smartwatches and pack less features than fully-fledged smartwatches such as the Apple Watch or the Fitbit Versa. Fitness bands however, are much cheaper typically ranging from as low as $30 to as much as $200, have longer battery life than smartwatches typically about 14 days.
Before you buy a fitness band
The goal of a fitness band should be to track your activity, keep you fit, motivated and healthy. It should be super easy to set up and use and should feel comfortable to wear. Most fitness bands have a companion app for setting up the device as well as for tweaking the settings and downloading Watch faces.
Also the vendor should be transparent about where they store your personal data. Remember this is your personal health data, not just gifs and memes.
Some vendors offer some kind of premium fitness service which gives you access to fitness content, expert fitness coaches, diet plans among other wellness programs. Apple, Fitbit and Amazon for instance have such subscription monthly plans to go along with their devices.
Almost every fitness band has the following basic features;
App notifications
Alarm, Timer and Stop clock
Weather Widget
Music playback controls
Support for various Watch faces
Heart rate monitoring
Sleep monitoring
Stress monitoring
Support for multiple Fitness modes such as running, walking, cycling, swimming etc.
Are water resistant
At least 7-day battery life
Most fitness bands, specifically the budget ones lack built-in GPS for more accurate measurement of some metrics such as distance. They rely instead on your smartphone GPS when paired via Bluetooth. Another feature not all fitness bands have is Always-on display. This consumes a lot of battery, so most vendors avoid it altogether, relying instead on raising your wrist up to wake the device or tapping on the screen or some button. Lastly SpO2 Blood Oxygen level sensors are becoming an expected feature in fitness bands, but not all have it.
Advertisement - Continue reading below
Alright let's dive into some of our top recommendations for Fitness bands. Please note that the bands in this line follow a rectangular form-factor. We shall reverse a separate post for square-shaped smart watches.
Mi band 6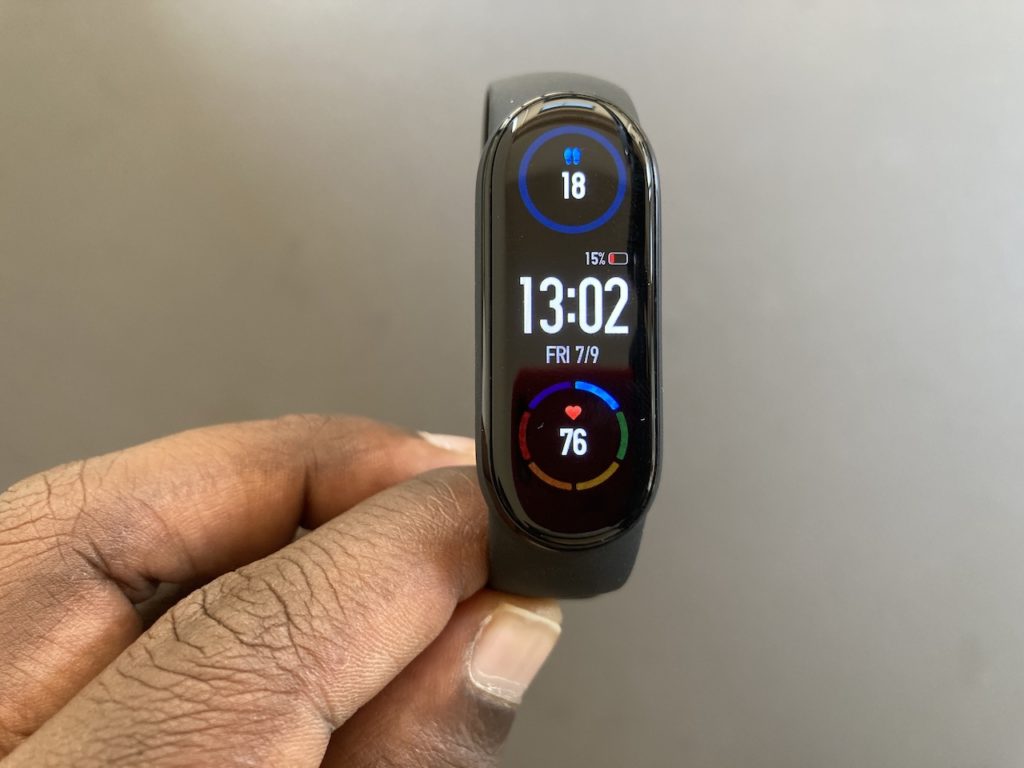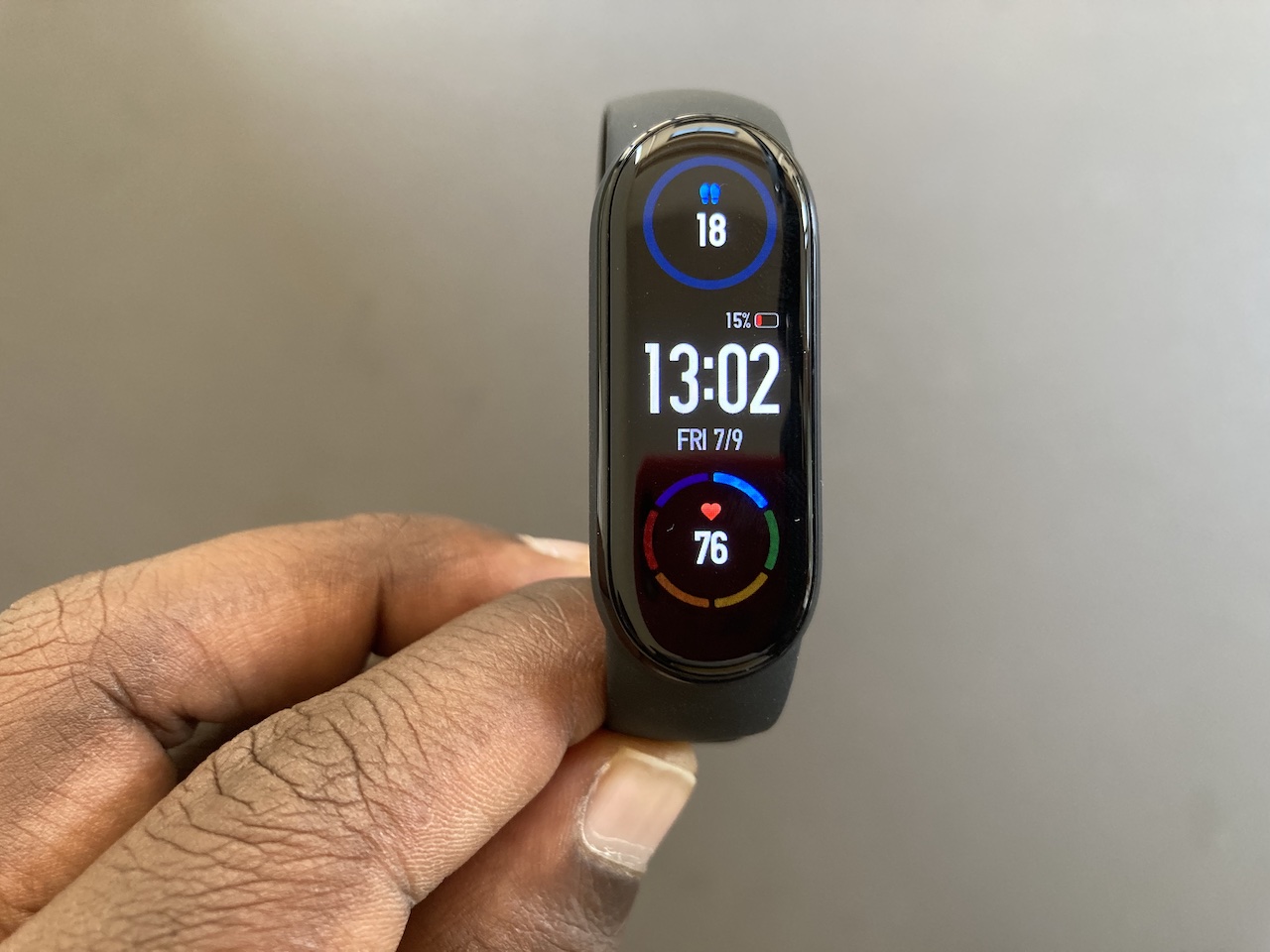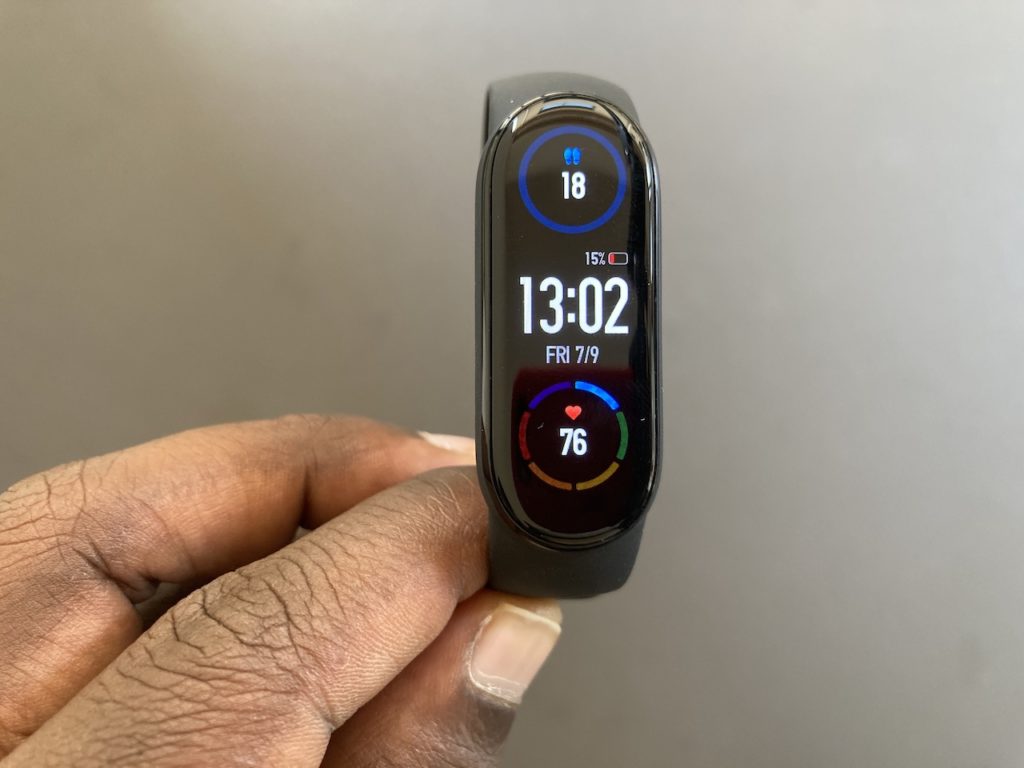 Top on the list is Xiaomi's extremely popular Mi bands. The latest in these series is the Mi band 6 which sports a 1.56" AMOLED display, SpO2 Blood Oxygen monitoring, Heart rate monitoring, sleep tracking, stress monitoring and upto 30 fitness modes. It has a 125 mAh battery that promises 14 days of normal use. The Mi band 6 kills it on price costing just about $30-50 depending on where you buy it from. The band is set up and controlled through the Xiaomi Wear App available on both Android and iOS.
Related post: Mi Band 6 review: A bigger screen and SpO2 monitor makes this Xiaomi's best fitness band yet
Top features;
1.56" AMOLED touchscreen display
SpO2 Blood Oxygen saturation monitor
All-day heart rate monitoring
30 Workout Modes
NFC support (Europe version)
Alexa built-in (Europe version)
14-day battery
50 ATM Water resistance
If you live in Europe, you can get the version that supports Alexa and NFC payments for 54.99 Euros. If you are looking at buying a fitness band for the very first time, then the Mi band 6 is a great recommendation. Get it for $46.4 on Amazon or from Aliexpress for $42.99.
Honor band 6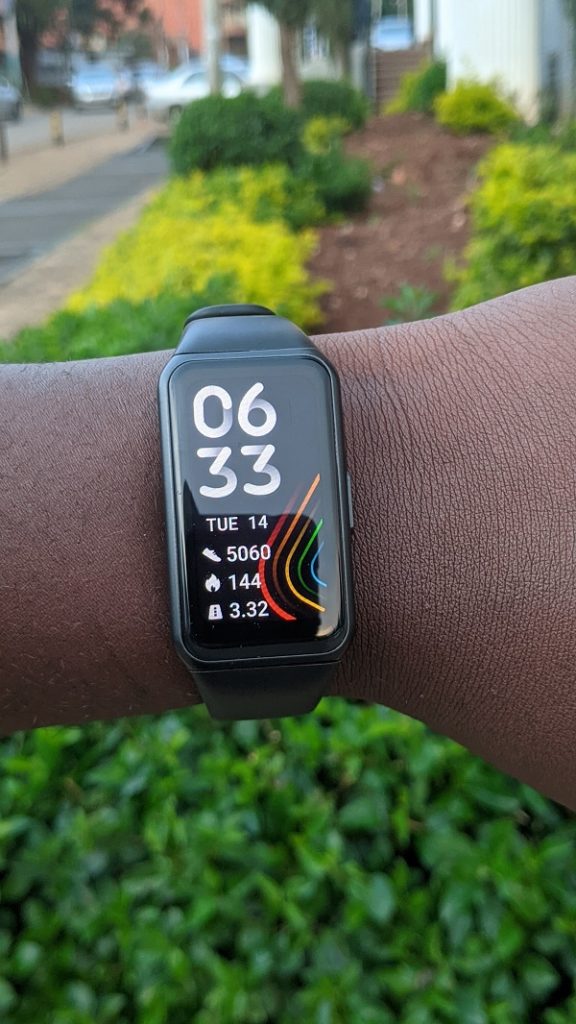 The Honor band 6 borrows some design aesthetics from Xiaomi's Mi band 6, but adds a much bigger display that almost matches the screen size you find on smartwatches. So this makes the Honor band 6 a hybrid Fitness band – smartwatch.
The Honor band 6 sports a 1.47-inch touchscreen AMOLED display, Heart rate and SpO2 blood oxygen sensor, 50 ATM water resistance and 180mAh battery that promises upto 14 days of battery on normal use.
Top features;
Advertisement - Continue reading below
1.47" AMOLED touchscreen display
148% more display area than most fitness trackers
SpO2 Blood Oxygen saturation monitor
All-day heart rate monitoring
10 Professional Workout Modes
14-day battery
50 ATM Water resistance
Read more: Honor Band 6 In-depth Review: Finally a worthy competitor to the Mi Band 6
You'll need the Huawei Health app to set up this band, tweak settings and download Watch faces. The Honor Band 6 is exactly the same as the Huawei Band 6 and is available from amazon.com for $49.99 and on aliexpress for $40.9.
Oppo band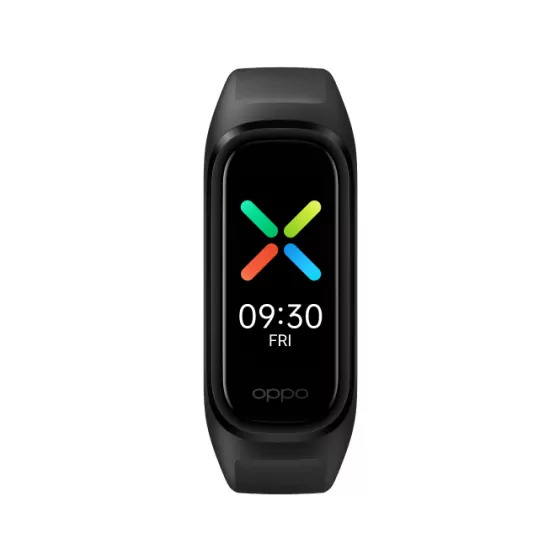 Oppo is already a big Smartphone brand mostly in Asia and Europe and they have a Fitness band too. The Oppo band features a 1.1″ AMOLED display, heart rate and SpO2 blood Oxygen saturation sensor, 5ATM water resistance and 100 mAh battery that takes you about 12 days. You also get 12 workout modes including Outdoor Run, Indoor Run, Fat Burn Run, Outdoor Walk, Outdoor Cycling, Indoor Cycling, Elliptical and more with this band.
Top features include;
1.1" touchscreen display
SpO2 Blood Oxygen saturation monitor
All-day heart rate monitoring
12 Workout Modes
12-day battery
50 ATM Water resistance
The band is set up and controlled using the HeyTap Health app downloaded from Google Play Store. The Oppo band goes for ₹3,999 on Amazon India, and £39.99 on the Oppo UK website.
Realme band 2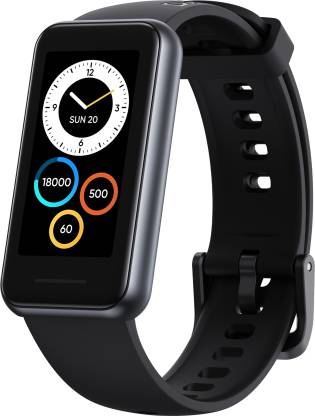 Realme is a sister company to Oppo, both of which are under BBK, a Chinese smartphone maker. Launched in Sept, 2021, the Realme band 2 takes cues from the Honor band 6 with a much bigger 1.4″ touch display with upto 500 nits. It supports both heart rate and Spo2 blood oxygen monitor, 50 ATM water resistance, sleep quality analysis and a 204 mAh 12-day battery life. You also get 50 different Watch faces to choose from, 90 Sports modes, stylish and personalized wrist straps sold separately.
Top features;
1.4" touchscreen display
SpO2 Blood Oxygen saturation monitor
All-day heart rate monitoring
90 Workout Modes
12-day battery
50 ATM Water resistance
The realme Band 2 (Black) goes for ₹ 2,999 on the Realme website or on Flipkart.
Advertisement - Continue reading below
Wyze band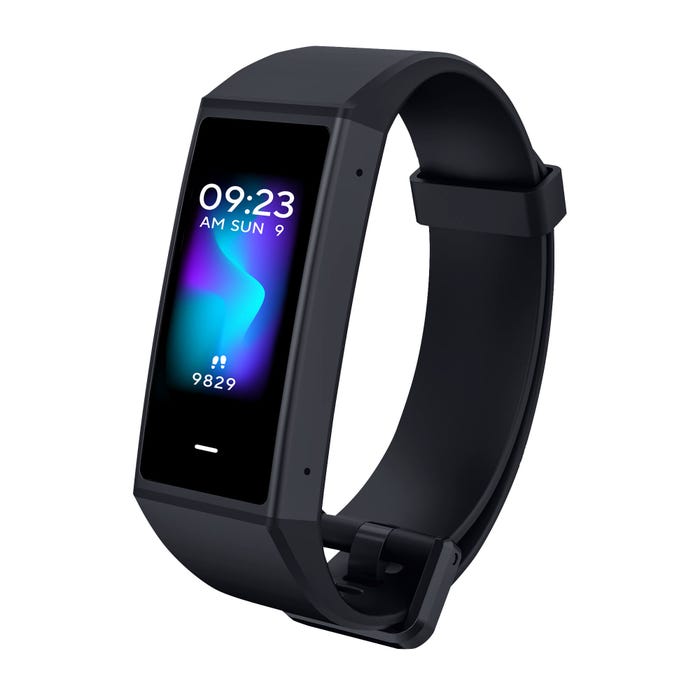 Wyze has a great reputation of producing awesome products on the budget. With the Wyze band, you get a high-resolution, 0.95" AMOLED touch screen, All-day heart rate tracking, 5ATM water-resistance, phone and app notifications, dual-microphone array and Alexa built-in. With Alexa, the Wyze band is more than an activity tracker. You can control Alexa-enabled smart home devices and appliances such as smart bulbs, smart plugs, home security camera, coffee machines and much more. WYZE Band lasts 10-14 days on a single charge with normal use.
Top features;
0.95" AMOLED touchscreen display
Alexa built-in
Dual-microphone array
All-day heart rate monitoring
90 Workout Modes
120mAh 10-day battery
5 ATM Water resistance
You can get it at $29.99 on Amazon or for $24.99 on the Wyze store.
Fitbit charge 5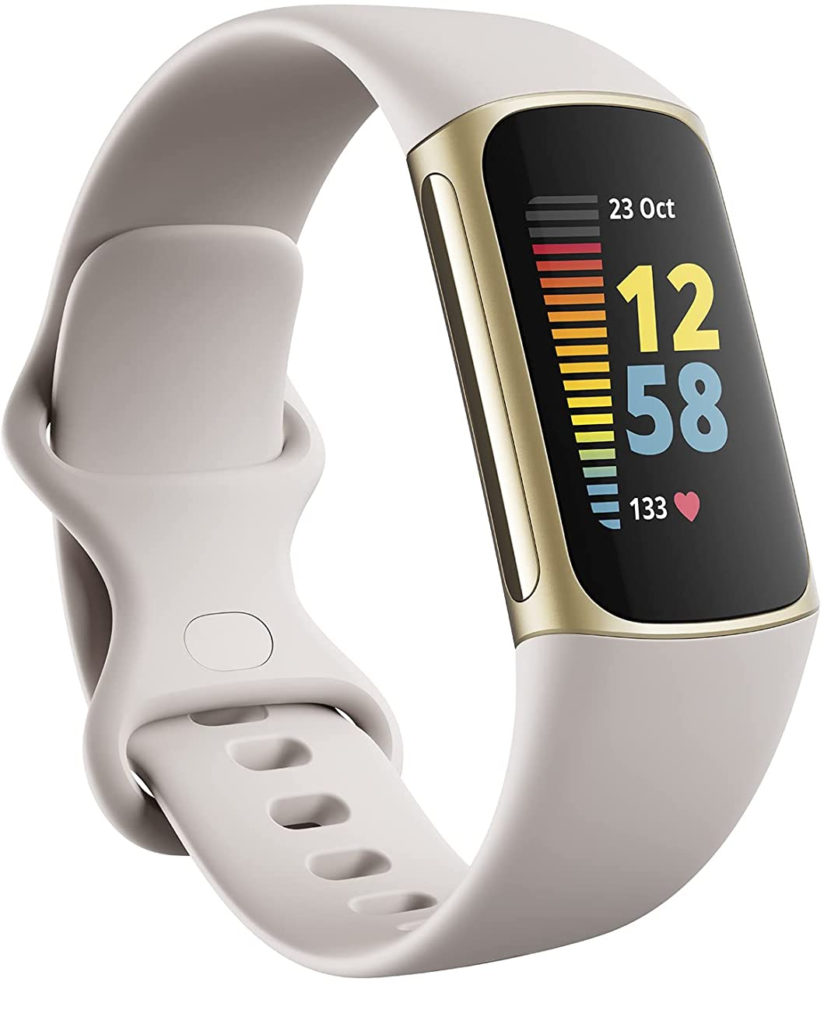 The real champ in fitness bands right now is the Fitbit charge 5 announced in Sept, 2021. Fitbit owned by Google makes one of the best health and fitness Tech. The Charge 5 succeeds the Charge 4 and brings with it a colored display, a built-in GPS which is lacking in almost all other fitness bands on this list.
You also get advanced stress-management tools like the on-wrist EDA sensor, Atrial Fibrillation (AFib) heart rhythm assessments using the on-wrist ECG app, SpO2 blood Oxygen, Sleep monitoring and 6-month Premium membership to Fitbit's fitness service. You also get a Daily readiness score which uses insights from your exercise, sleep and heart rate variability(HRV) to let you know if you're ready for a workout or if you need to rest and recover.
Top features;
AMOLED touchscreen display
Always-on Display
SpO2 Blood Oxygen monitor
Built-in GPS
All-day heart rate monitoring
ECG monitor (coming soon)
7-day battery
50 ATM Water resistance
However, the Charge 5 lacks Alexa or Google Assistant support despite being owned by Google. You also don't get onboard music storage, a feature mostly found in premium Smart watches.
Fitbit Charge 5 goes for $179.95 on Amazon and on the Fitbit website.
Advertisement - Continue reading below
Amazon Halo View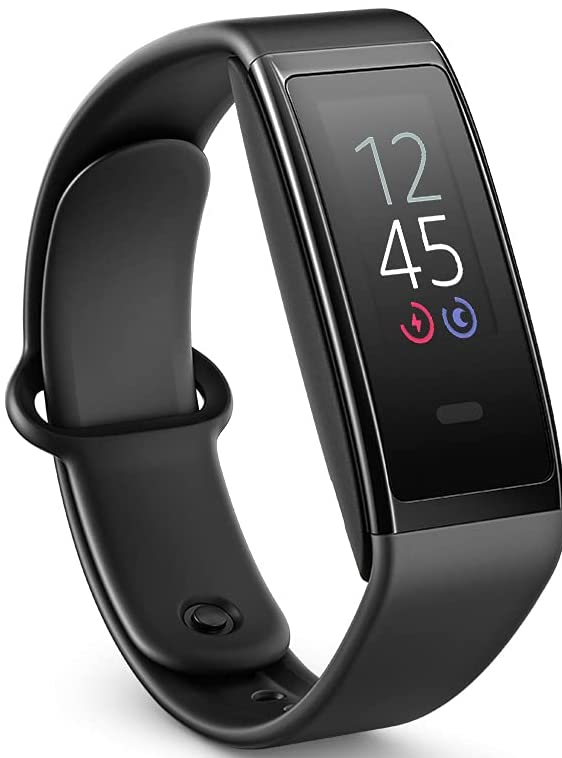 The Halo View is Amazon's newest fitness tracker announced in late 2021. It largely resembles the Fitbit Charge 5. The Halo View band offers AMOLED color display, SpO2 blood oxygen level monitor, a heart rate monitor, 50 ATM water resistance, 7-day battery and sleep scores. With the Amazon Halo app, you can use your smartphone camera to measure your body fat percentage which according to Amazon is a better indicator of health than weight or BMI alone.
Top features;
AMOLED touchscreen display
Always-on Display
SpO2 Blood Oxygen monitor
All-day heart rate monitoring
Body composition
Halo membership (12 months with each purchase)
7-day battery
50 ATM Water resistance
Amazon has a fitness and wellness service similar to Apple Fitness plus or Fitbit's fitness program. Each purchase of this fitness band comes with 12 months of full access to exclusive membership features, workouts, and programs. It'll auto-renews at $3.99/month with tax inclusive.
The Amazon Halo View retails for $79.99 on Amazon.
Alright, those are our best recommendations for fitness bands you can buy today. If you have any suggestions we might have left out, please let us know in the comments below.
Disclosure: This post contains affiliate links to some of the products that we recommend. This however, does not bias our recommendations or dictate our editorial policies.