Continuing our buying guide for Chromebooks, today we are looking at Chromebooks below the $500. This follows our top picks for the ultra-cheap Chromebooks below $200 aimed at first-time and budget-conscious users. With a sub-$500 Chromebook, you are looking at a bigger laptop with a 14 Inch usually Full HD display weighing about 3.2 lbs. Most Chromebooks in this price range are also convertible 2-in-1 laptops that easily switch into tablets. At this price range, you are probably looking to upgrade your existing Chromebook without paying a lot.
Currently, I use the $300 Samsung Galaxy Chromebook Go as my daily driver. I use it to browse the web, read and send emails, create Google Docs documents, watch Youtube, write articles and do basic photo editing. It's lightweight and the battery takes a whole day. For a digital nomad like myself, this Chromebook serves the purpose. For a college student attending lectures online, I would recommend Chromebooks in this price range.
Advertisement - Continue reading below
As usual, Chromebooks are made by a number of vendors including Samsung, Acer, Asus, Lenovo, and HP. They're very standardized laptops thanks to strict requirements from Google. So your choice might boil down to brand loyalty in some cases and Specs differentiation in others. But whatever you choose, Chromebooks are good at some things and not designed for others.
Essentially Chromebooks are great for web-centric workflows such as web browsing, email, watching videos, taking calls, and creating documents. But they fail miserably with CPU-intensive workloads such as video editing, pro photo editing, transcoding, pro coding. So don't bring expectations of a high-power Windows PC or Macbooks to a Chromebook otherwise, you'll be disappointed.
Alright, let's dive into our options now.
Galaxy Chromebook Go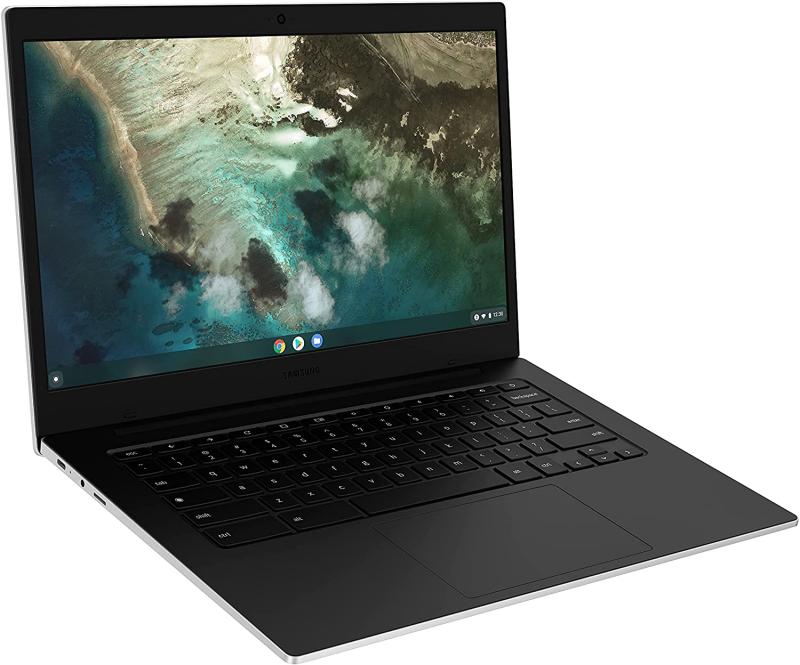 The Galaxy Chromebook Go is the latest attempt by Samsung at budget Chromebooks. This Chromebook succeeds the Chromebook 4 and Chromebook 4+ bring super-fast WiFi 6 connectivity, ultra-thin design weighing just 3.2 pounds, and military toughness. It's powered by an Intel Celeron N4500 processor, 4GB of RAM, and comes with 32/64GB of eMMC storage. What's most disappointing about this Chromebook is its display. For some reason, Samsung decided to go with an HD display instead of a Full HD screen. At $292.32 (normally $300), this Chromebook is still competitively priced, but you can get a Full HD alternative at this price.
---
Read more: Galaxy Chromebook Go review: A lightweight laptop for digital nomads and students
---
Lenovo Chromebook C330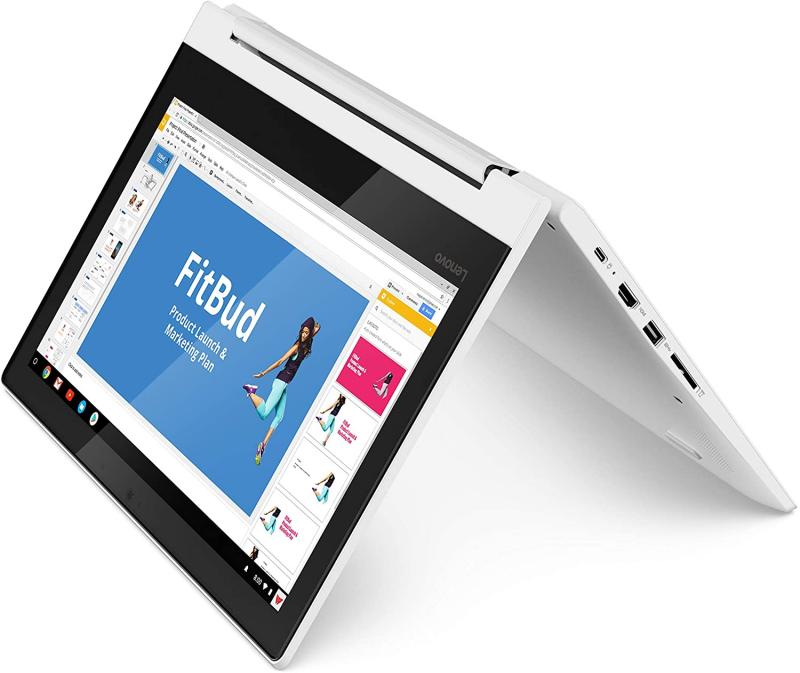 The Chromebook C330 is a 2-in-1 convertible laptop featuring an 11.6 inch HD IPS display. For just $228, this is one of the cheapest laptop/tablet Chromebooks you can get today along with the Acer Chromebook Spin 311. It's powered by a MediaTek MT8173C Processor, 4GB of RAM, and 64GB of eMMC storage and will take you about 10 hours on battery. The drawback for this laptop is its thick bezels, the white plastic shell looks and feels a little cheap and of course resolution. But at this price point, you can't really expect more from this Chromebook.
Advertisement - Continue reading below
Acer Chromebook Spin 311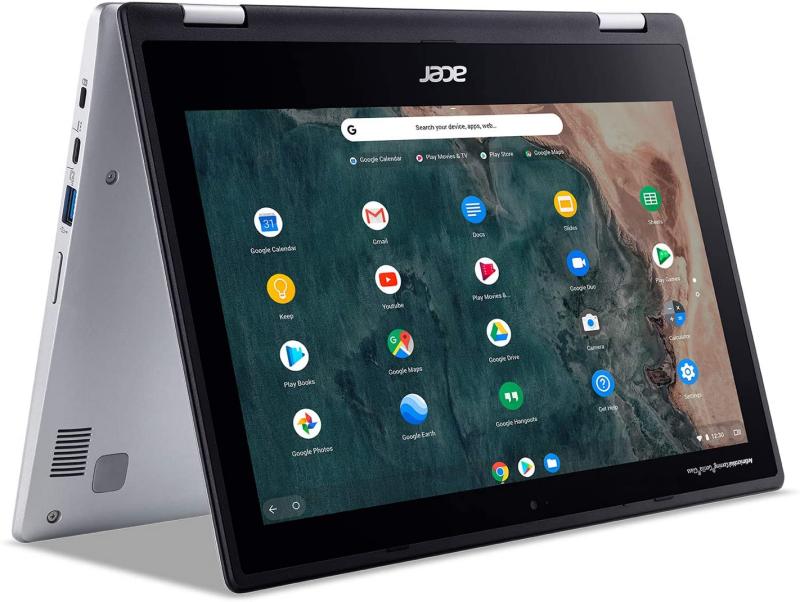 The Acer Chromebook Spin 311(CP311-2H-C679) is the cheapest convertible 2-in-1 Chromebook with a decent processor. At only $234.75, this Chromebook features an 11.6" HD Touch IPS display. So with a flip, it switches from a laptop to a tablet and you can use your fingers or a stylus. It's powered by an Intel Celeron N4020 processor, 4GB of RAM, and comes with 32GB eMMC storage. Acer claims this laptop can take you up to 10 hours of battery.
It has great reviews, so it's really an easy recommendation for students or kids or just as a secondary laptop for watching online content such as Netflix or Youtube.
ASUS Chromebook C423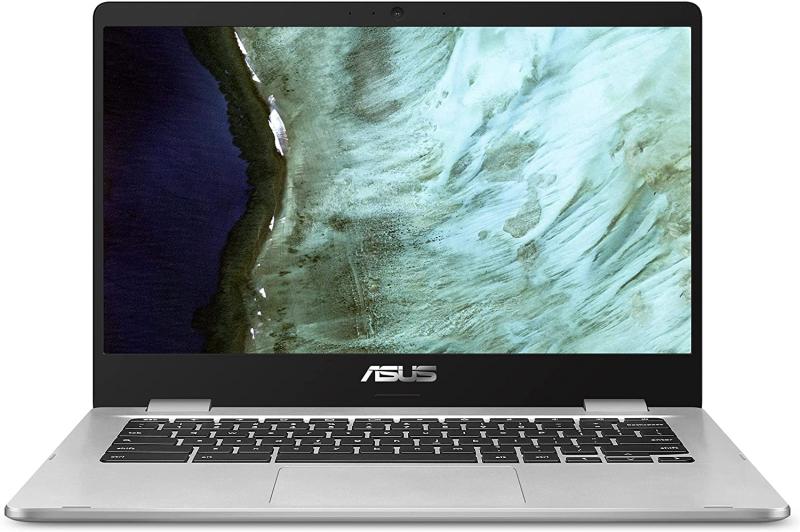 The ASUS Chromebook C423(C423NA-DB42F) is a Full HD anti-glare display laptop powered by an Intel Celeron N3350 processor, 4GB of RAM, and 32 GB of eMMC storage. Asus laptops are usually strong and stylish with great keyboard designs.
This Chromebook continues that tradition with even thinner bezels giving this laptop a 78% screen-to-body ratio and weighing just 2.95 pounds. I personally love Asus laptops, so I might be biased. But given the reviews, this laptop comes as a good recommendation, especially at a $250 (normally $300) price point. You can also get it at a cheaper $219 price.
HP Chromebook 14a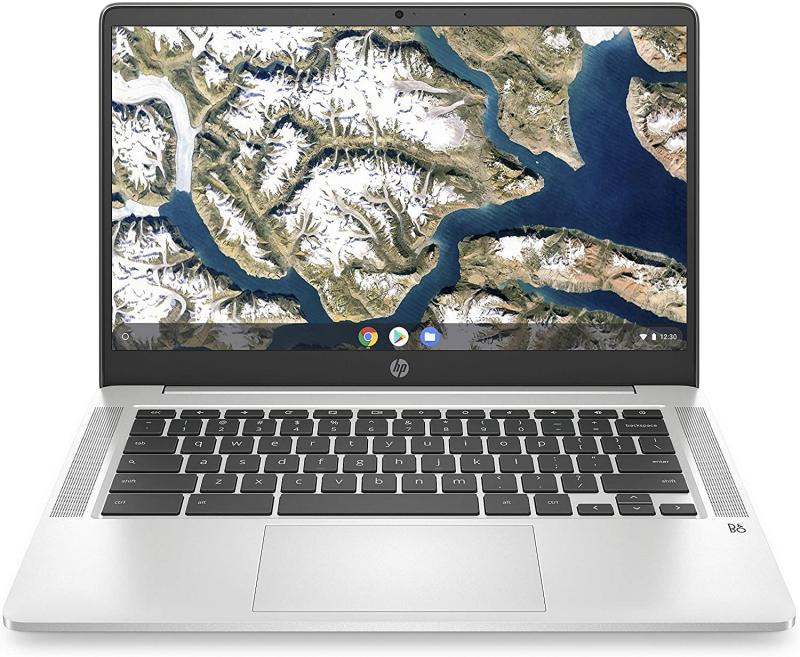 This Chromebook (comes in two models 14a-na0010nr and 14a-na0020nr but I see no difference) is another great recommendation for a budget entry-level Chromebook. It's an HD anti-glare display, so the screen is not as good as a premium laptop. It's powered by an Intel Celeron N4020 which comes with a base frequency of 1.1GHz but can Turbo Boost to 2.8GHz, 4GB of RAM, and 32GB eMMC storage.
HP rates the battery life of this laptop to 14 hours, which is above the usual 10-hour mark you expect with other Chromebooks. This Laptop is supported until June 2026 after which you won't receive security updates. This Chromebook goes for $209 at Newegg, $235 at Amazon, $238 at Best Buy. There's also a $239.99 model (14a-nd0010nr) with an AMD processor instead. If you want the Full HD model but with an Intel Celeron N4000 processor, then you'll have to remit $262.2.
ASUS Chromebook C523
The ASUS Chromebook C523 (C523NA-DH02) is a budget Chromebook with a 15.6 Inch Anti-Glare NanoEdge display. This is a slightly bigger display than most Chromebooks on this list, so if the size is what you're going for, then this is a good candidate. It's powered by an Intel Dual-Core Celeron N3350 Processor, 4GB of RAM, and 32 GB eMMC storage. This Chromebook has mostly good reviews save for the battery. Asus advertises 10 hours, but most users are getting about 6 hours of battery with this laptop. It's currently at $240 on Amazon.
Acer Chromebook 314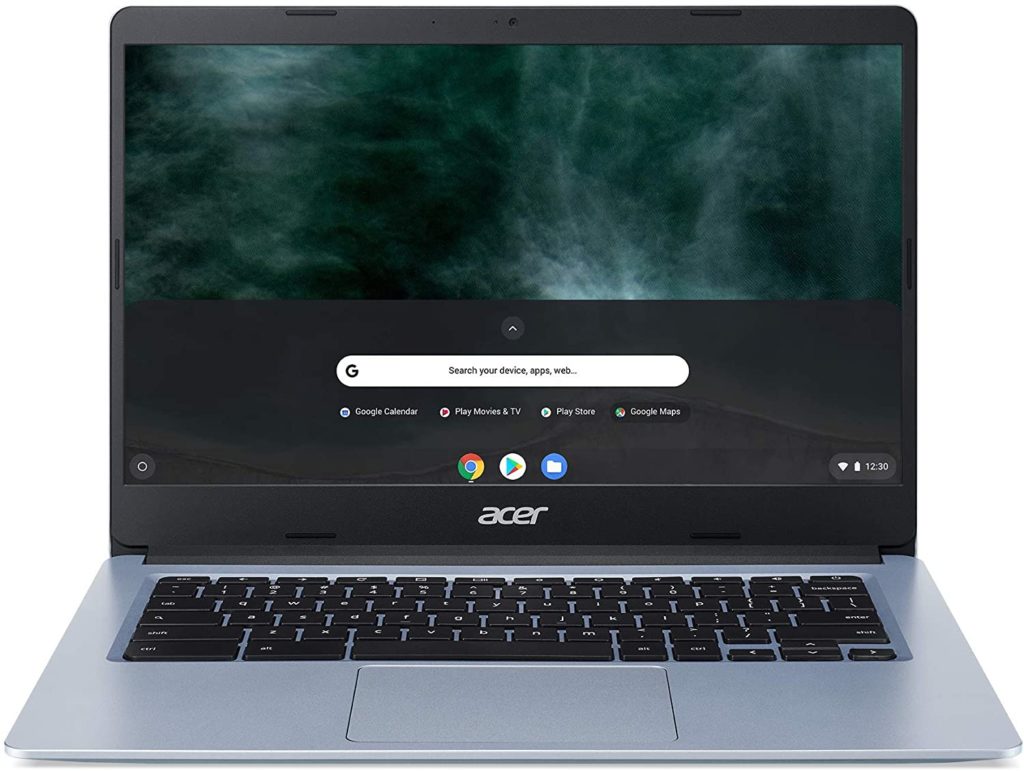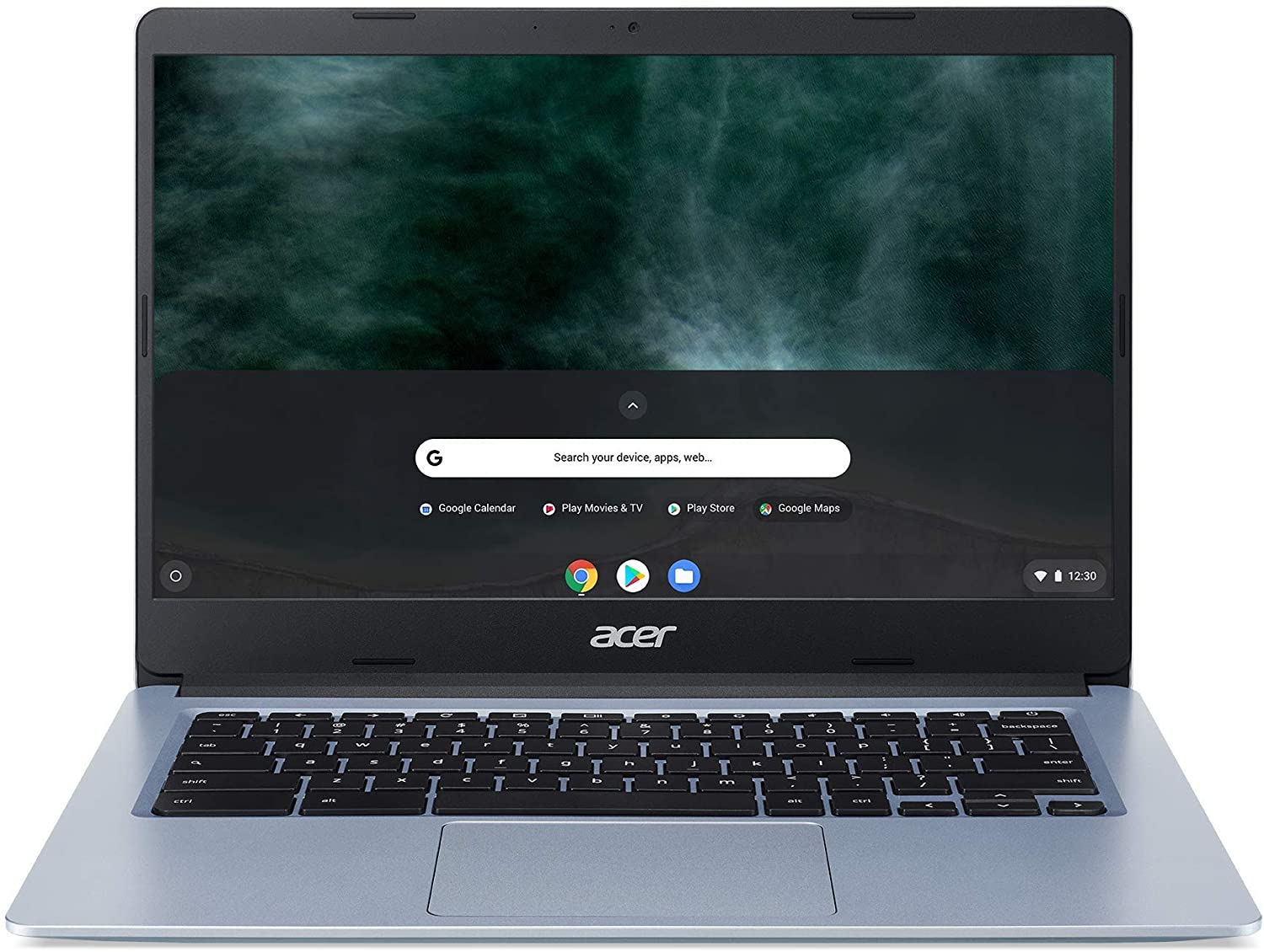 The Acer Chromebook 314 (CB314-1H-C884) features a Full HD (1920x 1080) 14 Inch display. Take note of the model value because Acer has over 8 variations of this laptop most with just an HD display. This laptop is powered by an Intel Celeron N4000 processor, 4GB LPDDR4 Memory, 64GB eMMC, and up to 12. 5-hours of battery.
Advertisement - Continue reading below
In the I/O department, you get two USB-C, two USB A 3.1s, the typical audio jack, and frankly that is about all I ever expect to need on a Chromebook. Overall this laptop has great reviews and it costs $259.53. The bigger brother to this laptop is the Acer Chromebook 315(CB315-3HT-C296) which comes with a larger 15.6" display at $279 or $296.
Samsung Chromebook Plus V2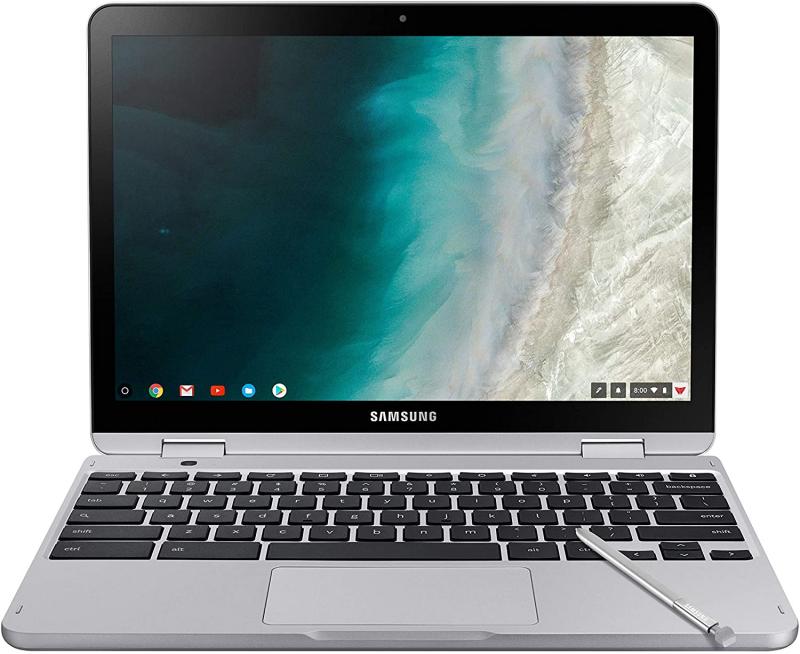 The Samsung Chromebook Plus V2 is a 2-in-1 convertible laptop featuring a 12.2-inch FHD (1920 x 1200) display. This Chromebook is a 2-in-1 convertible laptop that switches between laptop and tablet mode. It comes with a stylus or pen which you can use for all sorts of creative work such as writing, sketching, annotating web pages, and screenshots.
From the reviews, the pen is apparently fantastic and you can have super thin or thick lines with it while drawing with it. Shouldn't come as a surprise since Samsung produces the Galaxy Note smartphone series which comes with a great stylus. In additional specs, It features an Intel Celeron 3965Y processor, 4GB of RAM, and 64GB eMMC storage. It weighs only 2.98 lbs and has 10-hour battery life. This laptop originally retailed for $400 but is now down to just $270 on Amazon or $279 from Walmart.
Lenovo IdeaPad Duet 10.1″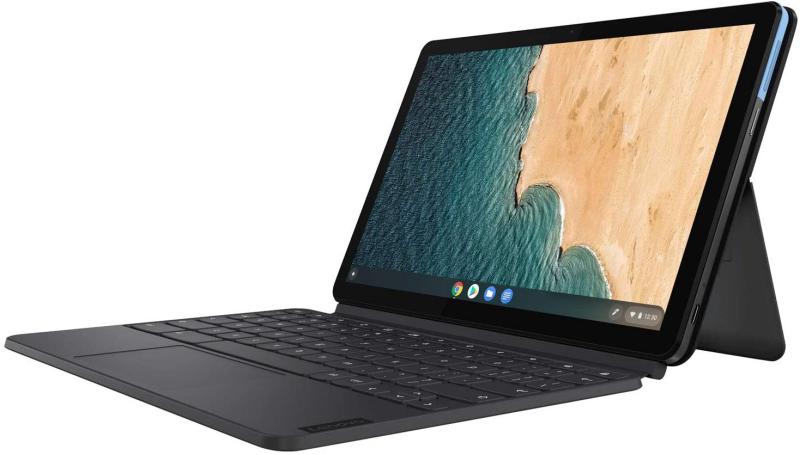 The Lenovo IdeaPad Duet 10.1″ is probably the best Chrome OS tablet for a sub-$500 price point you can buy today. It's a tablet with a nice detachable keyboard and kickstand similar to what you see with most iPad cases or Microsoft Surface books. It has a 10.1 inch Full HD display which is your typical big tablet size, but that's close to the standard 11.6" that most Chromebooks have.
It's powered by a MediaTek Helio P60T processor, has 4GB RAM and 128GB SSD storage. You can get this Chromebook for $277.54 or $256 (typically goes for about $320) on Amazon. You can also get it at about $250 at Best Buy.
Lenovo Chromebook Flex 5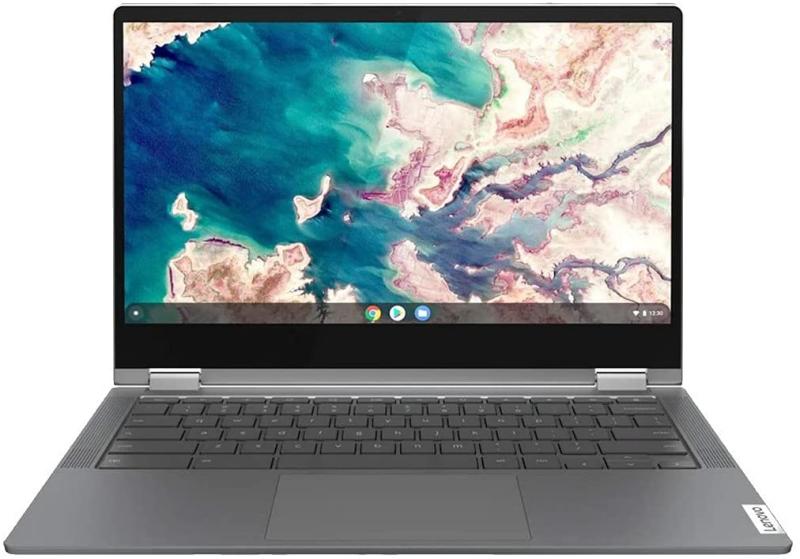 The Lenovo Chromebook Flex 5 is a more powerful 2-in-1 convertible Chromebook with a 13.3 inch Full HD display. The bezels are a lot smaller than most budget Chromebooks. It generally looks sleek and elegant compared to most Chromebooks. It features a 10th Gen Intel Core i3-10110U Processor which is more powerful than the typical Intel Celeron processors most entry-level Chromebooks have. So you can do slightly more intensive gaming with this Chromebook. It comes with 4GB of RAM and 64GB eMMC storage and an all-day battery (10 hours). This Chromebook goes for $326.29 (normally costs about $430).
ASUS Chromebook Flip C433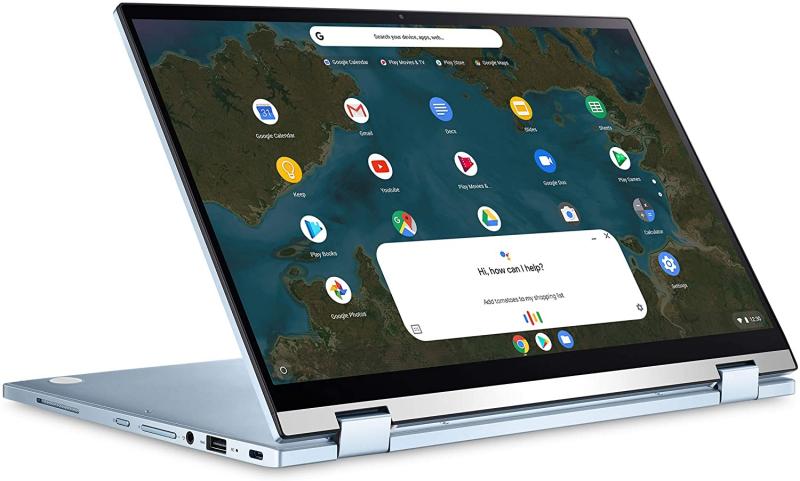 The ASUS Chromebook Flip C433(C433TA-AS384T) is another 2-in-1 convertible laptop featuring a 14 inch Full HD touchscreen display and stylus support. The bezels are very thin, giving it an elegant sleek look. It's powered by an Intel Core m3-8100Y Processor(up to 3.4 GHz), 8GB RAM, 64GB eMMC Storage. The base model costs $430 while the model with an Intel Core i3 10th Gen processor goes for $650.That's twice as much as you would pay for the Lenovo Chromebook Flex 5 which is also powered by Intel Core i3.
HP Chromebook X360 14a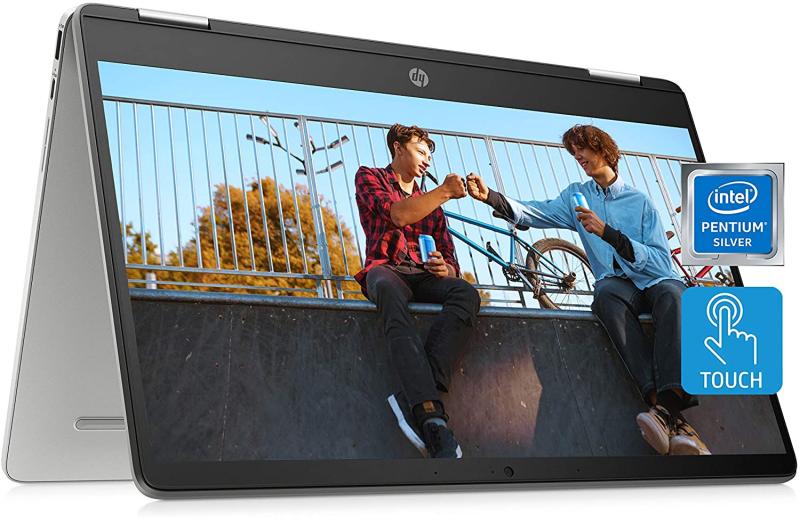 The HP Chromebook x360 14a(14a-ca0022nr) is a 2-in-1 laptop featuring a 14 inch HD touchscreen display. This laptop is a convertible, so you can flip it around and turn it into a tablet. It's powered by an Intel Pentium N5000 processor with a base frequency of 1.1GHz but can Turbo boost to 2.7GHz. This is a lower-end Intel Chip, but with 4 cores, it can still deliver on basic tasks. It has 4GB of RAM and 64GB of eMMC storage. The speakers are great; it comes with HP custom-tuned dual speakers with a sound profile a lot better than most Chromebooks. You get about 10 hours of battery with this Chromebook. You can get it for $340 on Amazon.
Advertisement - Continue reading below
HP Chromebook x360 14c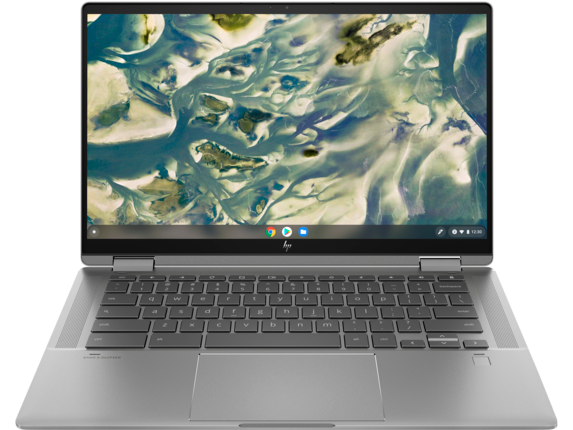 This Chromebook (14c-cc0047nr) features a 14 inch IPS touchscreen Full HD (1920 x 1080) display delivering strong colors and contrast. As the x360 name suggests, you can flip this laptop around into tablet mode thanks to very sturdy hinges. This laptop's keyboard is backlit if that rings a bell. It's powered by a 3GHz Intel Core i3 processor, 8GB of RAM, and 128GB PCIe-NVMe SSD storage. With these beefy specs, this laptop will fly through most tasks designed for Chromebooks and even give you a better gaming experience. This Chromebook also features the latest speedier WiFi 6 standard which is only found in premium models. This laptop goes for $460 on hp.com.