Apple Music has announced that it will raise its subscription price in Kenya from November 6. The new monthly rate will be USD 3.29, a 10% increase from the current USD 2.99. This move follows Google's recent hike in its Google One cloud storage prices.
Apple Music is one of the most popular streaming services with over 2 million subscribers as of June 2021. However, it faces stiff competition from other platforms such as Spotify, YouTube Music and Boomplay.
Advertisement - Continue reading below
---
Related
---
Apple has not given any official reason for the price increase, but some analysts speculate that it is due to the rising costs of licensing music from local and international artists, as well as the fluctuating exchange rate between the Kenyan shilling and the US dollar.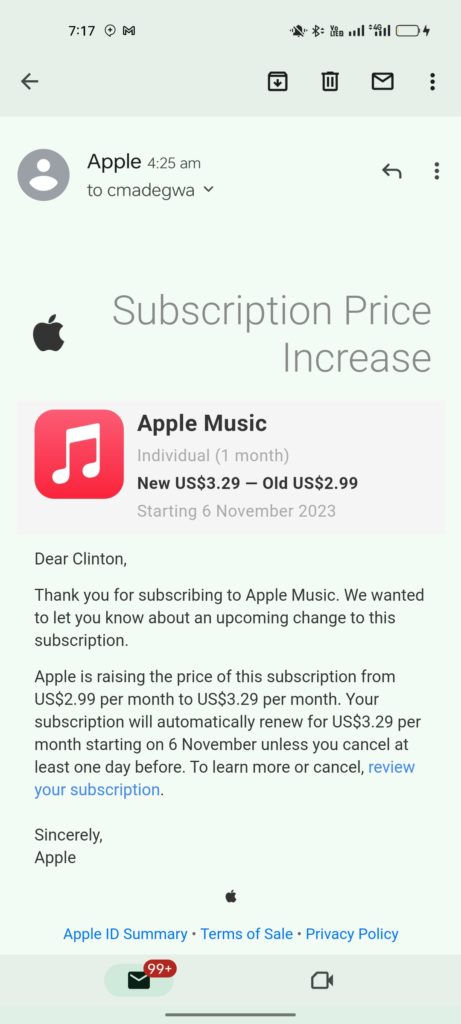 New Apple Music Subscription Prices in Kenya Starting November 2023
In Kenya, Apple offers 3 subscription tiers, a Students' plan, an Individual Plan, and a Family plan that supports up to 6 accounts under one bill.
| | |
| --- | --- |
| Plan | Price |
| Student | USD 1.99 |
| Individual | USD 3.29 |
| Family | USD 5.49 |
| Individual Annual | USD 32 |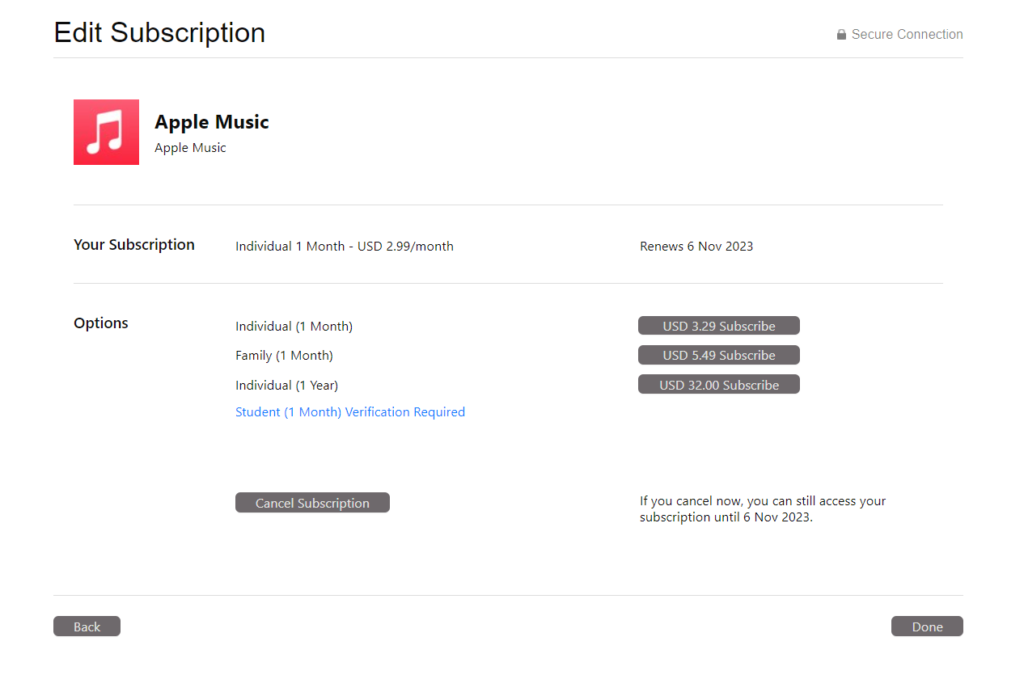 Some users have expressed their dissatisfaction with the decision on social media, saying that they will switch to cheaper alternatives or cancel their subscriptions altogether. Others have defended Apple, saying that the service still offers high-quality music and exclusive content that are worth paying for.
Meanwhile, Netflix, another popular streaming service in Kenya, took a different approach. Earlier this year, Netflix lowered its prices in Kenya by up to 50%, making it more affordable for many users. Netflix also introduced a mobile-only plan that costs only KES 200 per month and allows users to watch unlimited content on their smartphones.
However, Netflix has also been cracking down on password sharing, a common practice among users who want to save money by sharing one account with multiple devices. Netflix has been sending messages to some users, asking them to verify their identity or create their own accounts.
Advertisement - Continue reading below
---
Related:
---
If you are wondering which streaming service is best for you, you can check out my previous post where I compare the features and prices of Apple Music, Spotify, YouTube Music, Boomplay and Netflix in Kenya. You can find the link at the end of this article. I hope you found this information useful and please let me know your thoughts in the comments section below.