Today, with the prevalence of affordable home internet, we find ourselves streaming more and more content, no doubt aided by the abundance of smart devices in the market today from Smart TVs, Smart Speakers, and so on in our homes.
Spotify commands the lion's share in the music streaming segment and with the incorporation of podcasts to the platform, Spotify is making itself even more indispensable and a more robust and genuinely useful platform.
Advertisement - Continue reading below
So you have a Smart TV in your space, Spotify does support most platforms and with that, you can stream your favorite tunes and podcasts on your TV. In this post, we take you through the simple process of doing so. For the purpose of demonstration, I will be guiding you using my Android TV running Android TV 11.
How to Stream Spotify on your Smart TV
Of course, you will need to have a Smart TV connected to the internet. You can learn more about how to set up your Android Smart TV here. You will also need a Spotify account so if you don't have one, you might want to create that. You don't need a Premium account to do this, although it is recommended.
You will also need to be signed in to your Google account on your TV to be able to access the Google Play Store. For Apple TV users, that is the App Store so ensure you're signed in to your Apple ID.
Go to the Google Play Store
Search for and Install Spotify
Open the app once the installation is complete
The login process might be the most confusing step but Spotify does have a solution for this, Spotify Connect.
---
Related:
---
Instead of using the cumbersome on-screen keyboard to type out your Spotify login credentials, if you have Spotify on your phone, have it connect to the same Wi-Fi network and then click on the Spotify Connect icon on your Spotify app and you should see your TV listed.
Advertisement - Continue reading below
Click on the Smart TV and you should be logged in to your TV with your Spotify account.
How to Play Spotify on your Android Smart TV
Should everything work according to plan, you should see your Spotify library on your TV screen. Simply select the song or podcast you'd like to listen to and that's it! Spotify is available on Android TV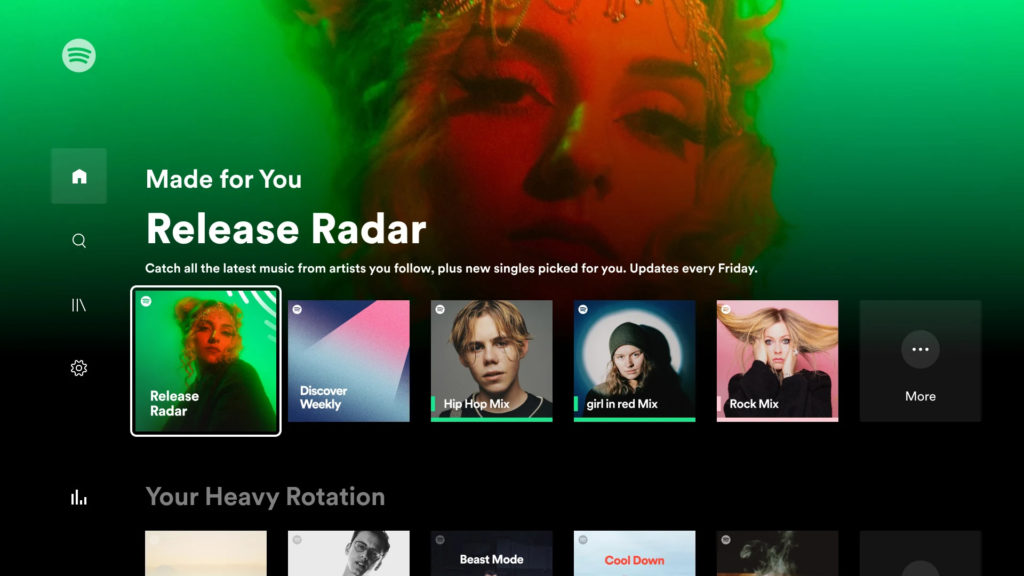 Worth noting is that, even with the free tier of Spotify, you'll be able to access all the content on the platform. However, you might have to deal with ads after every few songs but that is a small price to pay for having Spotify blast your favorite tunes in your house.
How to Play Spotify on your Smart Speaker
Spotify Connect is a fairly powerful tool within the Spotify app and to play music from Spotify onto your Smart speaker, all you need to do is connect the smart speaker to your home Wi-Fi. There are different ways of doing this and you're better off consulting your specific speaker's user manual.
Usually, this involves using a dedicated application that comes with the speaker. Should this fail, you can easily connect to the smart speaker using Bluetooth and while this might limit some of the smart speaker functions, it should allow you to stream Spotify directly onto your speaker.
You can use the Spotify Connect feature we have mentioned earlier to switch the playback device to your heart's content.