The Samsung T7 Touch is the successor of Samsung's super popular T5 external SSD. What's the touch part of the name? Well, you can use the fingerprint reader on the drive to unlock the T7 Touch. But is this battery bank-looking little drive worth its price tag over the still-really-nice T5? A 1TB T7 Touch SSD will set you back about $169.99 while the 1TB T5 goes for $134.99 on amazon.
We really want to tell you about how fast the T7 Touch is but we also want to discuss a lot before we get there. That's because this drive is a lot more than just a speedy little race car. The first thing you'll notice about the Samsung T7 Touch is the square panel right on top of the SSD. It is a fingerprint reader that does not come with the T5.
Advertisement - Continue reading below
The entire exterior of the Samsung T7 Touch is made of aluminum from all angles while the T5 has black plastic on two of its sides. The Samsung T7 Touch is also a little bit longer than the T5. Samsung's T7 Touch is also boring when it comes to color options with just black and silver. The T7 Touch comes with both a USB-C to USB-C cable and a USB-C to USB 3 cable.
---
Also Read: All About The Samsung 970 EVO Plus V-NAND SSD
---
Samsung T7 Touch vs T5 SSD Performance
Anyway, let's start off by looking at sheer performance numbers before we discuss user experience. There are a couple of asterisks around its performance. Samsung claims that the T7 Touch is twice as fast as the T5. When tested, the sequential read and write speeds for the T7 Touch are double that of the T5.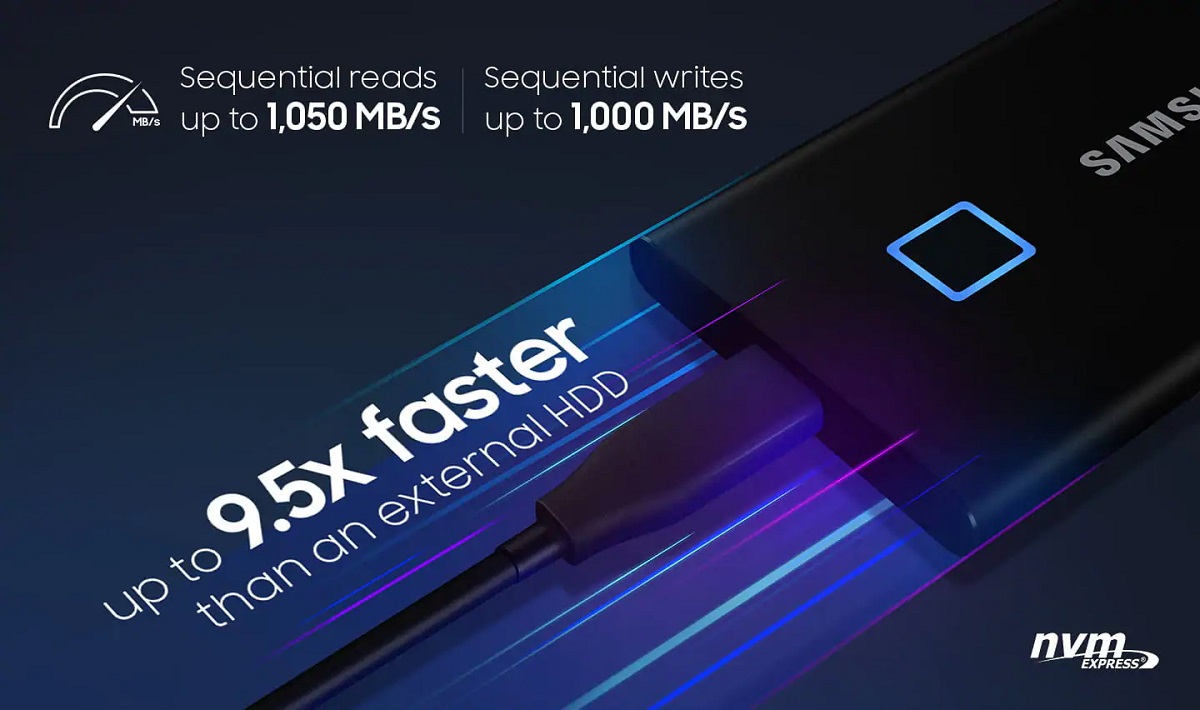 That means for moving a few massive files, the T7 Touch just flies; it's crazy fast. However, both the Samsung T5 and the T7 Touch have the same performance when it comes to random reads and writes. Well, they are much closer than with sequential reads and writes. That means when you're moving large amounts of small files, they'll be similar in performance.
Then, why would anyone look at anything else other than the T7 Touch?
---
Also Read: All about the Samsung 860 EVO SATA III SSD
Advertisement - Continue reading below
---
Caveats to Samsung T7 Touch Performance
Well, you see that's where the asterisk comes in. Sure, it's twice as fast but it's only that fast if you meet certain criteria. Let me explain. The Samsung T7 Touch utilizes a USB 3.2 Gen 2. To expatiate, the T5 has speeds of up to around 550 MB/s.
Because it utilizes a USB 3.2 Gen 2 interface, the T7 Touch can do basically double that. Here is the problem, many older laptops, and even more recent ones don't have the support for USB 3.2 Gen 2. So you have to be careful. Because if your laptop doesn't have that exact specification, it can't make use of that maximum speed.
And whenever you use the USB-C to USB 3 cable, the Samsung T7 Touch will be bottlenecked to USB 3 speeds. But if you have that correct interface you will be able to edit videos straight off of the drive. And you will not experience any stuttering or strange hangs.
---
Also Read: Is your computer slow, you need an SSD
---
The Fingerprint Reader
Now let us talk about the fingerprint reader which is a nice touch — pun intended. You can plug the SSD to your Mac or PC, download the Samsung software then set up a password and a fingerprint. You will also get updates with the app whenever Samsung decides to do that.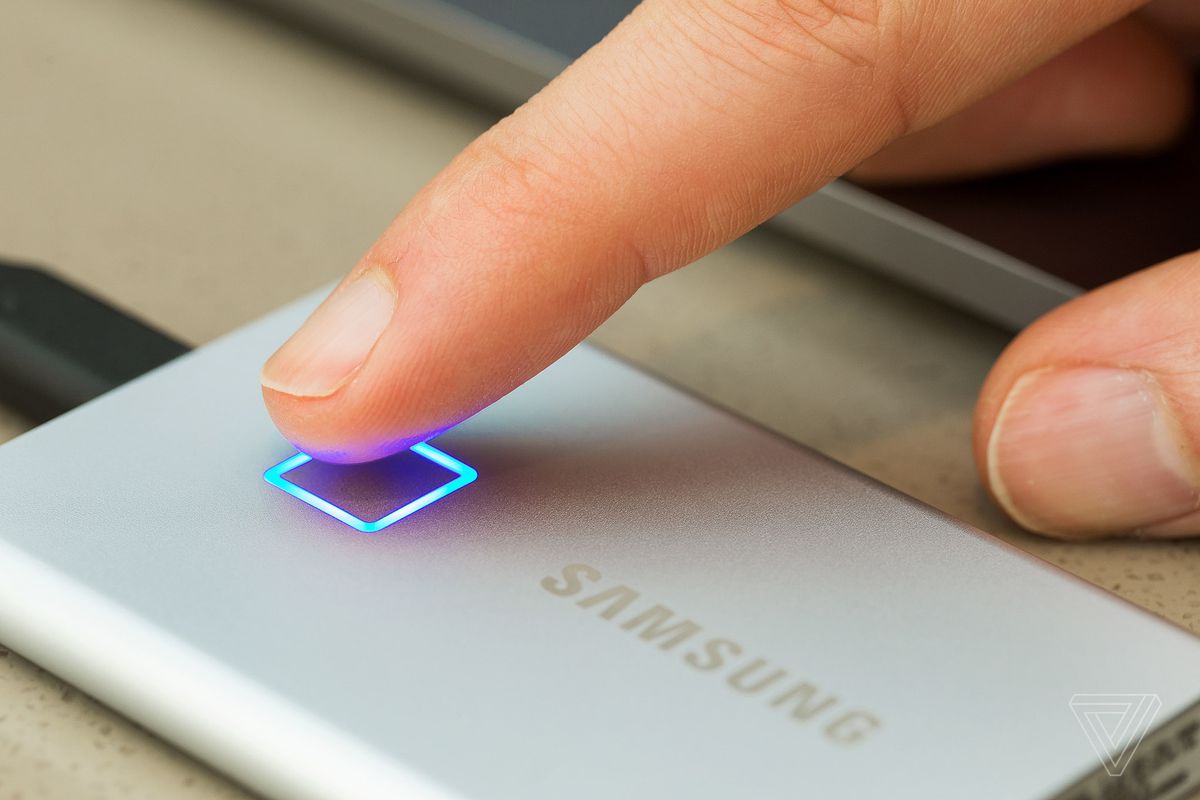 The fingerprint reader on the SSD lights up when plugged in. The light also circles around the fingerprint reader when you're reading or writing files, which looks really cool and futuristic.
---
Also Read: Add more RAM or upgrade to SSD, what's the best way to improve your laptop performance
---
Downside and Target Market
A downside with this app is that if you want to use your T7 Touch with another device, you have to download the app again on the other machines for it to unlock. So who really is this SSD for? It is a drive that is suitable for content creators because it enables them to move large files quickly.
Advertisement - Continue reading below
You can even edit video straight off the drive. It's also a nice backup drive for people with fast internal drives like NVMe SSDs found in some laptops. Like Apple's MacBooks or Microsoft Surface laptops. It's also good for users who need extra security, for those super top-secret plans to take over the world, or something.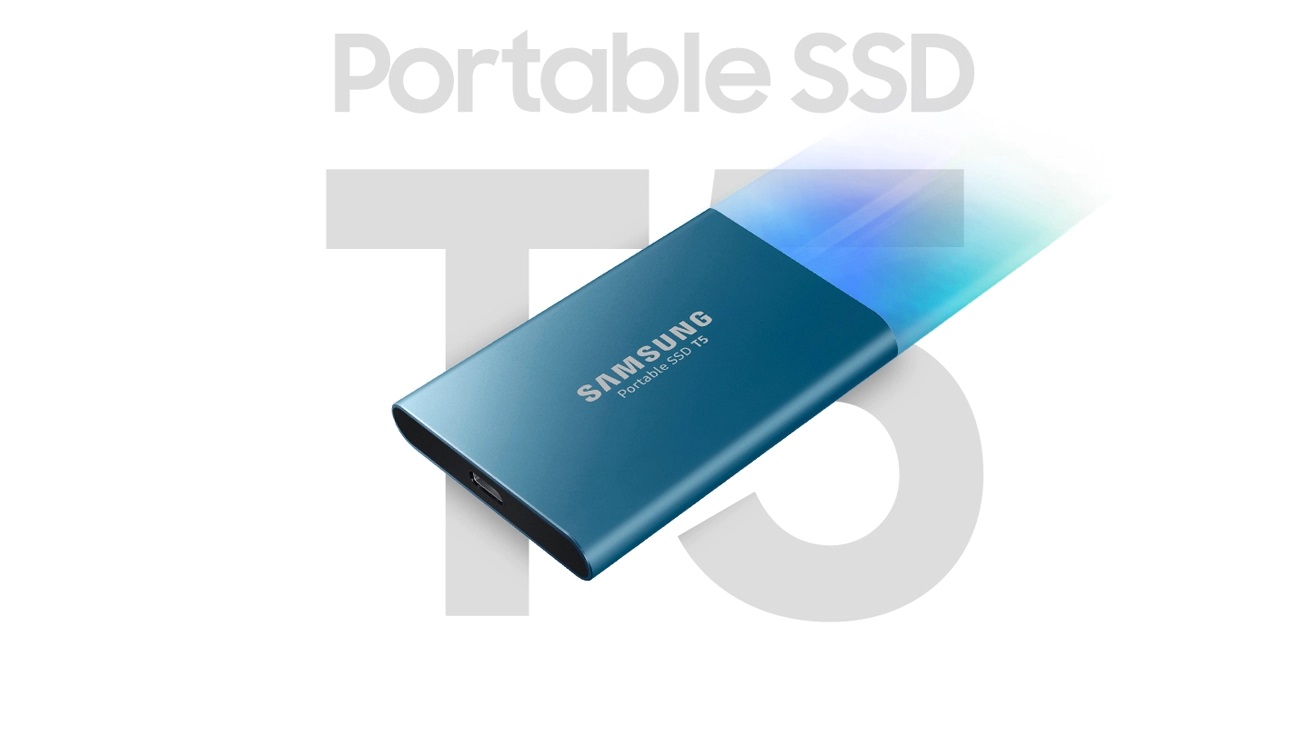 That is just to name a few different things that the T7 Touch could be used for. As for everyone else, the ones who don't need those features, I think the T5 meets their needs just enough. That is until most laptops have USB 3.2 Gen 2 ports.
Samsung T5 and T7 Price differences
The T5 is currently at $134.99 on amazon, $134.99 on Walmart and on B&H. The T7 touch goes for $169.99 on amazon, $159.99 on Walmart and $169.99 on B&H. So wherever you prefer to shop, the prices aren't that different.
Anyway guys, what do you think? Are the extra speed and fingerprint reader worth the cost over the T5? Does your computer have a USB 3.2 Gen 2 port to handle this drive? Are there any better alternatives out there you can think of? Leave all that down the comment section below.
---
Also Read: How to migrate Windows 10 to an SSD drive without Reinstalling
---