Remember Windows phones? Well, Microsoft is re-entering the smartphone market with a few changes to its previous Windows phones. The Surface Duo is a testament to that and Microsoft has designed it in a unique way to differentiate it from other foldable smartphones.
This phone is built mainly as a dual-display smartphone, meaning you can use the two displays for separate functionalities at the same time. Here's what you can expect from Microsoft's first foldable smartphone that will be launched in late 2020.
Advertisement - Continue reading below
Price and Release Date
September 10 is the known date for the official launch of the Microsoft Surface Duo in the US. There is no information regarding the release date of the tablet smartphone in other markets. The device is priced at a whopping $1,399.
Design and Display
As mentioned earlier, this is more of a dual-display tablet as opposed to a fordable smartphone. It has dual 5.6-inch 1,800 x 1,350 OLED displays with a 4:3 aspect ratio that can work separately or as an 8.1-inch single screen —you will have to put up with the bezel in the middle. The screen is 4.8mm thick when spread out and 9.6mm thick when folded with the phone having the ability to fold at 360 degrees. It is made up of Corning Gorilla Glass.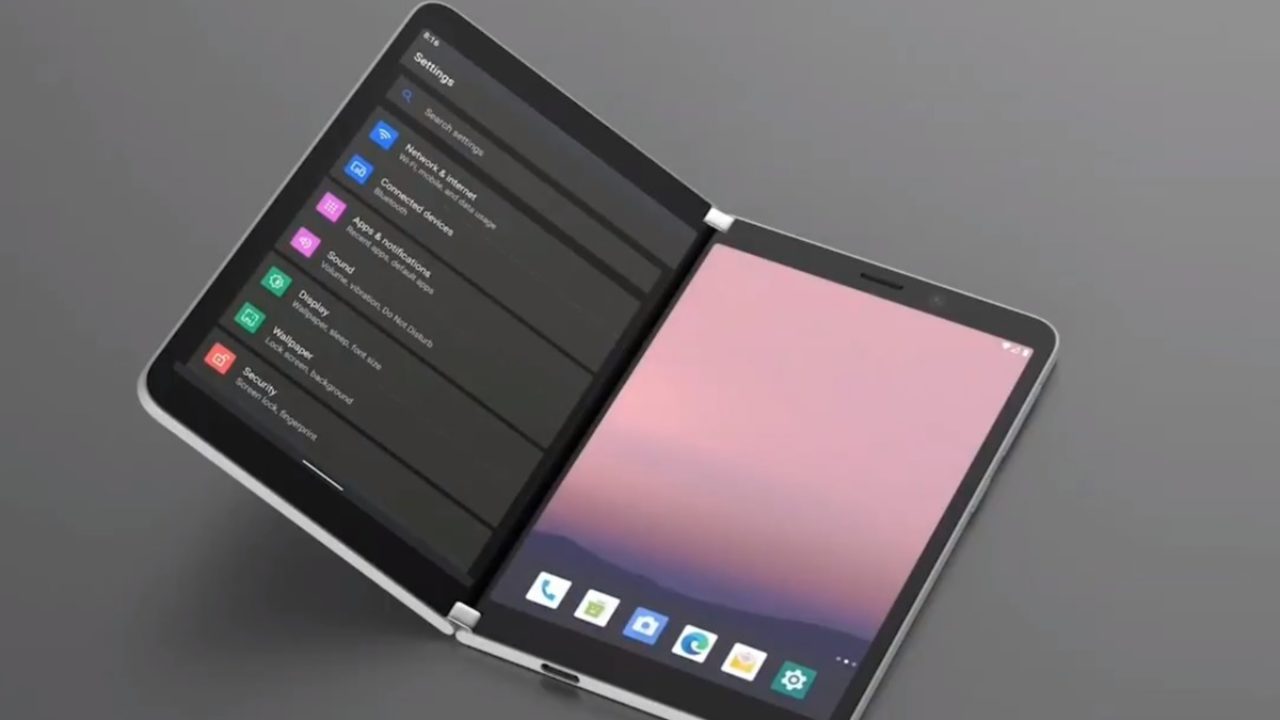 Operating System
Those expecting the return of the Windows phone will be disappointed as the Microsoft Surface Duo will run on the Android operating system. It will come with a 5G-ready Qualcomm Snapdragon 855 chipset, and 6 GB of RAM. Despite being a futuristic device, the Surface Duo doesn't support 5G but there is hope that this will change as 5G becomes more popular. It also lacks NFC and Wi-Fi 6.
---
Related Article: Foldable Smartphones: Futuristic or Just a Gimmick
---
Hardware
The Microsoft Surface Duo comes with a physical SIM slot with charging and data connectivity set to be via USB-C. There are two batteries in the smartphone that give you a total of 3,577mAh, which is a bit inferior for this kind of device and also considering the hefty price involved. It has a fingerprint scanner at the side, just below the power button.
Camera
Tablets are notorious for having inferior cameras but the Surface Duo breaks the status quo. It comes with a single 11 Megapixel camera that supports 4K video shooting, image stabilization, and HDR.
Advertisement - Continue reading below
As we await the launch of the Microsoft Surface Duo, one of its biggest advantages is the dual display that can come in very handy when multi-tasking. For example, you can open up your email on one display and your eBook reader on another display. Being a smartphone with a relatively new concept on the market, it remains to be seen whether app developers will start making apps to take advantage of dual-display phones.
When released, we look forward to seeing how it would perform against the likes Samsung Galaxy Z Fold2, Huawei Mate X, etc.
What are your thoughts on the Microsoft Surface Duo? Is it something you can't wait to buy? Share with us your thoughts in the comments section below.