Any conversation about media streaming devices is incomplete before you talk about Roku. The Roku Streaming Stick+ along with other Roku offerings such as the Roku Express and Roku Premier provides an enviable entertainment experience. As a testament to its unmatched roster of features, the Roku Streaming Stick+ still competes favourably with new releases 3 years down the road.
At just $37 on Amazon, the Roku Streaming Stick+ packs a mean punch with support for 4K, HDR, 1080p and HD viewing, long-range 802.11ac MIMO dual-band wireless, Dolby Audio™ and DTS, and a powerful remote with voice capability.
Advertisement - Continue reading below
This is the part where we extol the Roku Streaming Stick Plus's phenomenal user experience. But as we do not reside in the USA, Canada or the UK, our review paints a rather different picture. Let's dig in.
User interface & channels
To an old-timer like me, the Roku user interface is the bomb. It's simple and super responsive. Perhaps I have just gotten accustomed to it over the years on the Roku TV. Roku settings are thorough and intuitive. You can control most aspects of your device to your specifications from system, network, TV display, audio, privacy and more
However, in the eyes of a first-timer, the channel interface looks dated and in need of a serious update. It's a wild wild west out there. Roku doesn't appear to have much control over the channels which number in their thousands. One channel is simply a cutout headshot of Kevin Bacon. And an outdated Youtube channel tile is superimposed on the updated one; when you click on it, the tile loads twice which is quite weird.
The plethora of streaming channels is extensive, bordering on insane. There's something for everybody from sports, movies & TV, Games, comedy, educational, fitness, food, lifestyle, kids & family, and the list goes on. To their detriment, the thousands of channels are not well catalogued so be ready to wade through a lot of chaff to get to the grain
Also, for some reason, there's no discernible way to search for channels. There's no search function which we have come to take for granted. It would make sense to be able to cut through all those channels to reach the ones you want. You end up installing just a few channels and leaving it at that.
Performance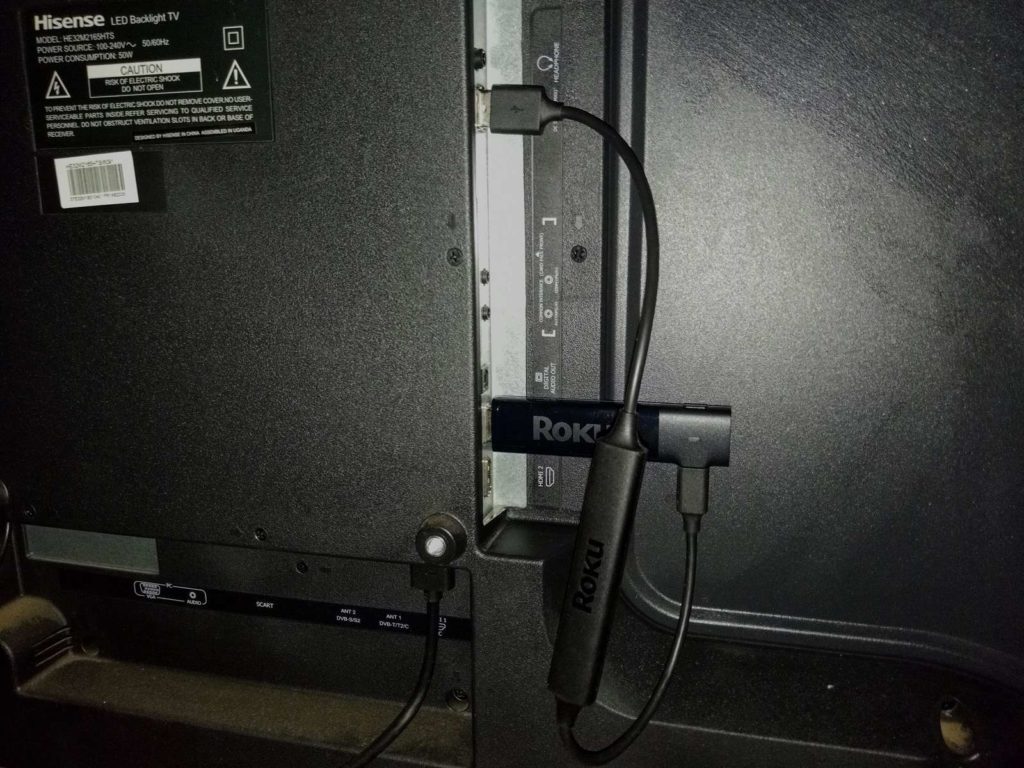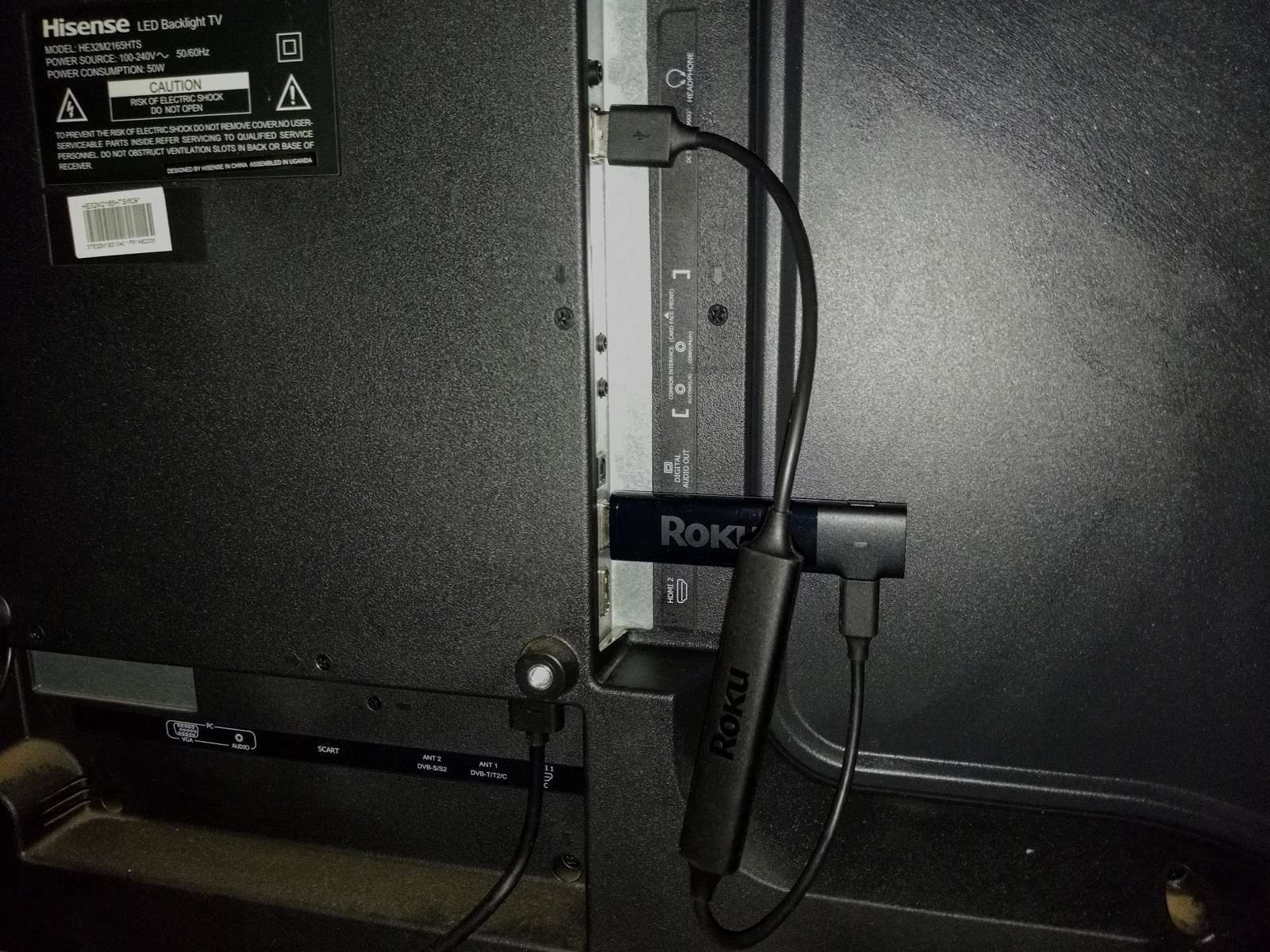 The Roku Streaming Stick+ is a beast. The gas lighter sized streaming device is blistering fast at boot up and navigation too is a breeze. The Roku plays video in 4K Ultra HD, HDR,1080P and 720P and does a great job of it.
Advertisement - Continue reading below
Being a streaming stick, Roku needs 5V~1A power input and consumes less than 3 watts of power. Much as it ships with a power adapter, you can power it from an empty USB slot on your TV.
Distance from the router is a non-issue as well. The Roku has a long-range 802.11ac MIMO dual-band wireless receiver which boosts the wireless range by up to 4 times to reach every nook and cranny. This offsets the absence of an ethernet port which would have provided a more stable internet connection than wireless.
The Roku runs Roku OS, an entirely different operating system from Android. Miracast is the defacto screen mirroring protocol. Given that most smartphones, laptops and TVs support Miracast, you won't often run into any compatibility issues. From having used Chromecast, I will have to say Roku's Miracast is by far a more stable alternative for screen mirroring.
---
Related:
---
Voice remote with TV power & volume buttons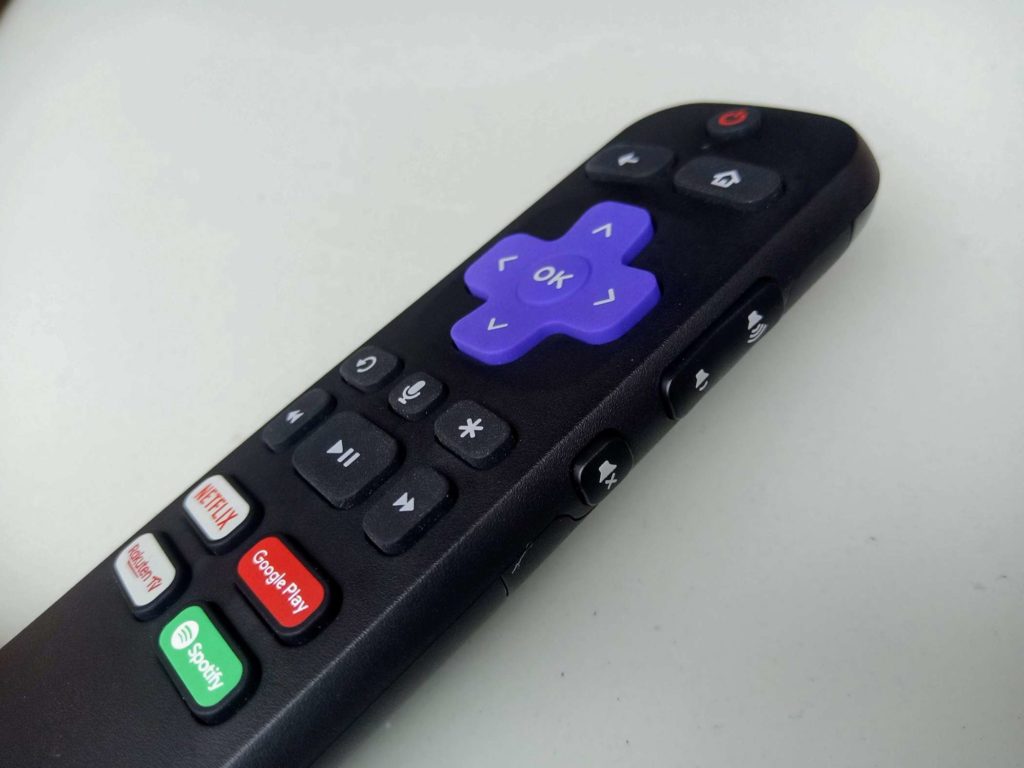 I am in love with the Roku remote. This beauty is a souped-up master remote; one remote to rule them all. It's capable of taking over the functions of your TV remote. The idea that I don't need an armoury of remote controls to command my entertainment experience is liberating.
The Roku remote integrates TV volume with its own to present a united front. You can also mute your TV or power it down/ turn it on with just one remote.
Another feather in the Roku's cap is that the velvety buttons don't return that annoying clicky sound. The super silent buttons make navigation pleasurable and seemingly faster than that clickity sound in some remote controls.
Voice assistant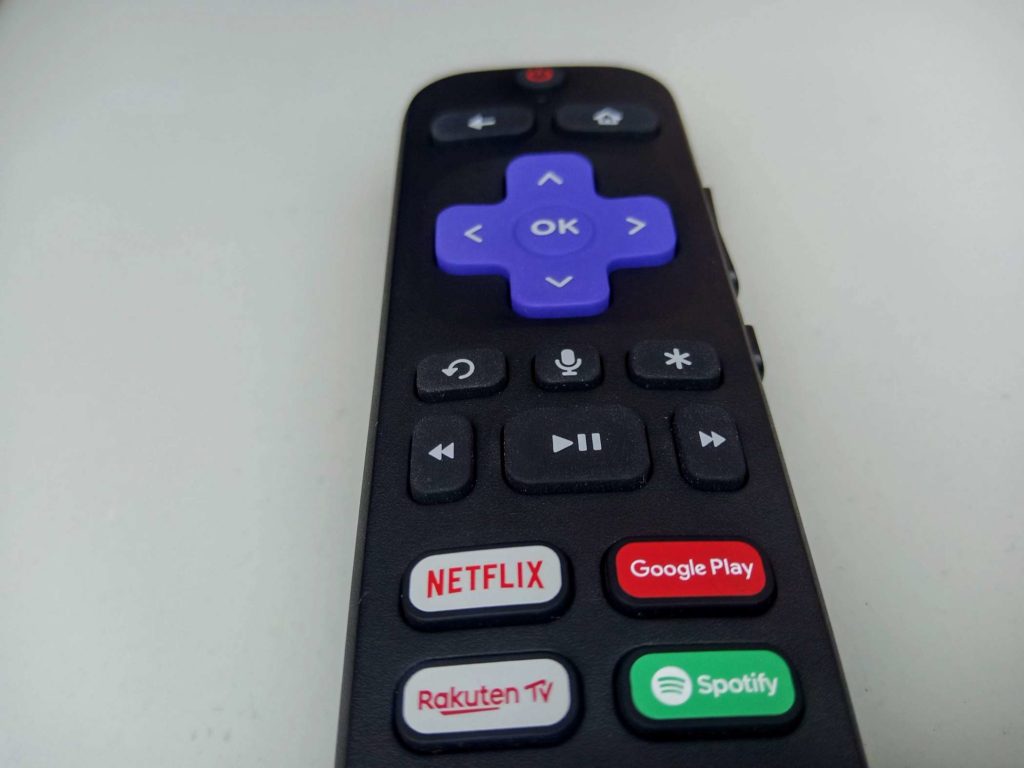 A major disappointment is that Roku discriminates who gets to use its voice assistant. After paying top dollar for the device, one would expect it to work as advertised, right? Wrong! There's no disclaimer anywhere on the website that says that the voice remote controls might not work for a cross-section of users. And yet it's something you might encounter.
Advertisement - Continue reading below
After combing through the forums trying to understand why my voice commands were not being relayed, I found out, to my chagrin, that it's a feature that will only work in the USA, Canada or the UK. Why? I can't say. It's just dumb if you ask me. There's nothing special about voice search after all.
The thing about voice remote controls is that they enhance and elevate your entertainment experience to the extent that you cannot ever see yourself not talking to your TV. The fact that Roku doesn't offer this feature for everybody disqualifies it from being my daily driver.
Downloading the Roku Mobile App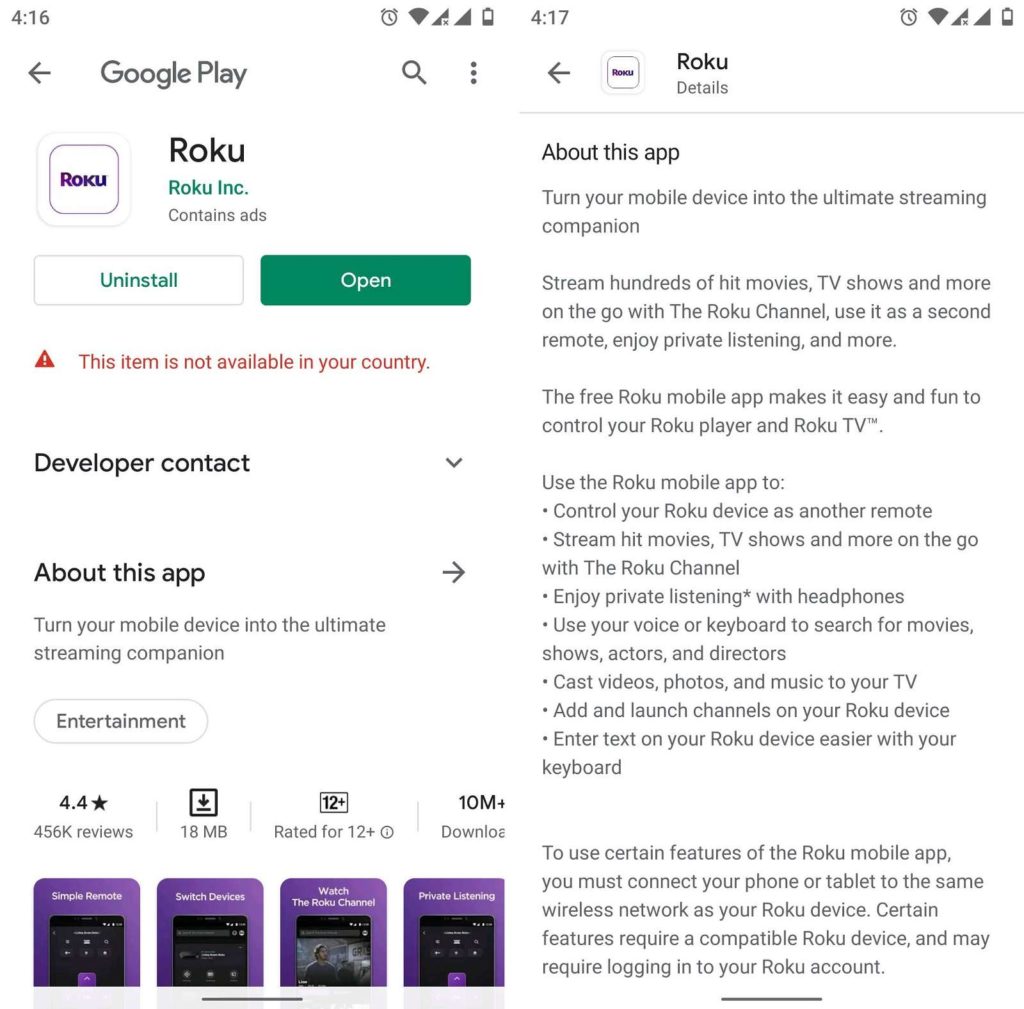 After that snafu with the voice-enabled Roku remote that won't work for everybody, you'd think that would be the end of it. Think again. Another bone I have to pick with Roku is that it geo-blocks access to its mobile app on Android and iOS. If you don't live in the US, Canada or the UK, you won't be able to download it from the official app stores. You're effectively relegated to second-class citizens.
Fortunately, there is a workaround for Android at least. The easiest way to circumnavigate Roku's ridiculous geo-blocking is to download the APK from a trusted source like APKPURE or APK Mirror. It beats me why Roku doesn't play nice though. For a company with global appeal, it sure thinks local.
Roku Mobile app features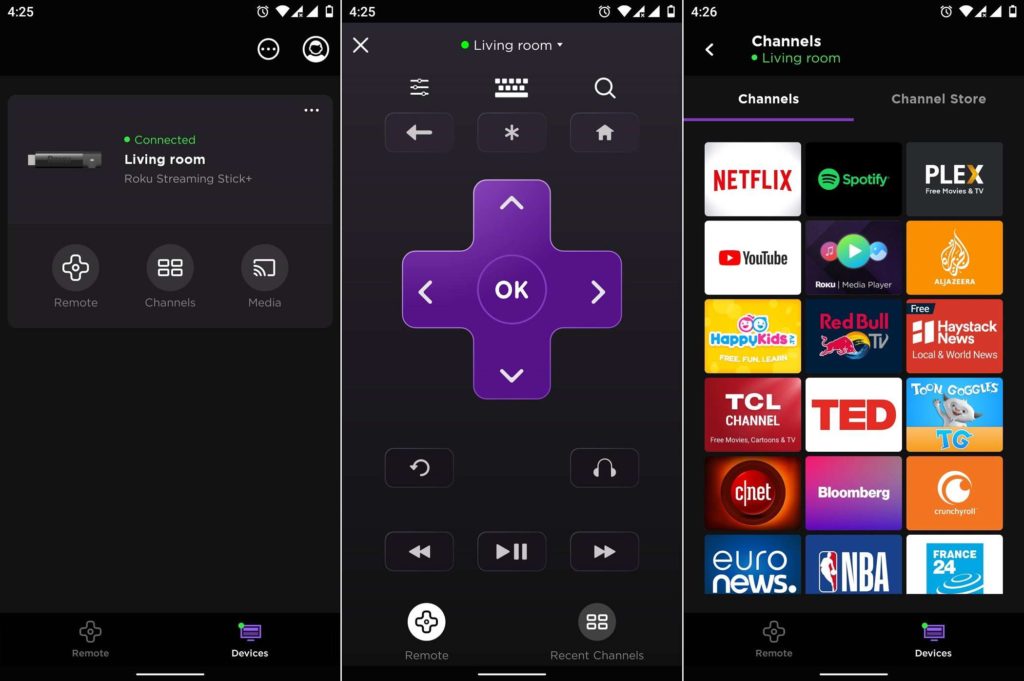 The Roku Mobile app is one of the most powerful ones out there. Its functions are three-pronged. The app operates as a fully-fledged remote control, a channel guide/ channel store and a media cast app for smartphone content.
Side by side, the physical remote and the mobile app are almost identical in functionality. That's divorced from the fact that you cannot control volume with the Roku mobile app. Secondly, much like the Roku remote, the mobile app doesn't offer voice search. On the plus side, you get the option to search for content by typing using your smartphone keyboard.
The best you can do about this is control volume during Private Listening. That's a byword for connecting earphones (wireless or wired) to your smartphone through which the Roku mobile app channels sound from the TV. It's quite nifty regardless, although one wonders why Roku just wouldn't incorporate Bluetooth into the Roku Streaming Stick+
The Bottom Line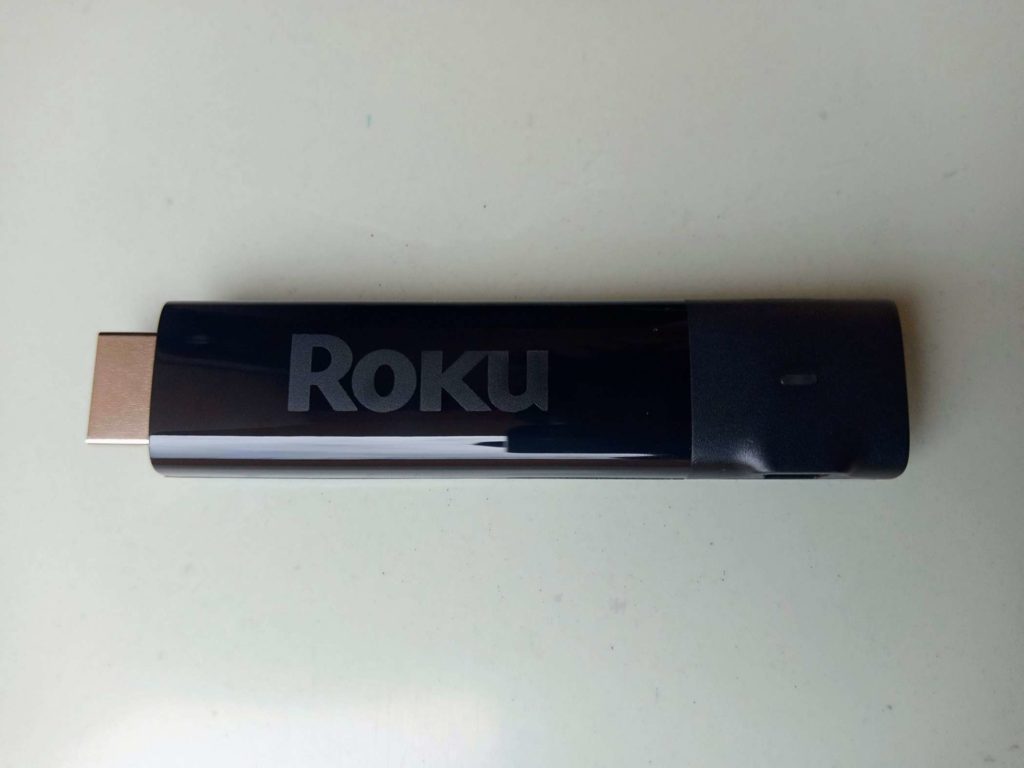 Roku users living on the fringes of Roku's core audience are left out of a lot of cool features and channels. The excellent Roku Channel is MIA, and so it the Featured Free lineup. The voice assistant doesn't work and neither can we download the Roku mobile app from the play store.
Advertisement - Continue reading below
If you can shrug that off, you have yourself one of the most powerful streaming sticks on the market. Coming from using an Android TV box, I appreciated how versatile Miracast is compared to Chromecast.
While Roku supports the major apps, you won't find African channels like DStv and Showmax which are a hit on Android TV. Also, even if you got a hack around (which you won't), Roku doesn't support Chromecast which powers the streaming experience on those apps.
Price and availability
It's hard to believe that the Roku Streaming Stick+ has been in circulation since 2017. Initially $70, it now retails for $49.99 (further slashed to $37 on Amazon). If you live in Kenya, then you can checkout Jumia Kenya which has it in stock for KES 9,999 and for Nigerian residents Jumia Nigeria at ₦ 48,000.