Transsion Holdings which is the parent company that owns Tecno, iTel, and Infinix are also the owners of Oraimo – an accessory maker and exclusive accessory partner to the aforementioned brands. Oraimo has been around since 2013, making in-box accessories for Tecno, iTel and Infinix smartphones.
Until recent years after most mobile phones don't include accessories in their phones anymore except chargers including phones from Transsion brands. That said, Oraimo is now marketed as a standalone accessory brand that it is. Despite being around since 2013, it was not until 2017/2018 you would see Oraimo banners in shops and phone retail outlets around the country. Even copped an Oraimo powerbank in 2018 which was quite good quality-wise.
Advertisement - Continue reading below
Read More: What to Expect From Transsion (TECNO, Infinix, and itel) in 2021
Fast forward to 2020/2021 and you can see a deliberate push both online and offline with much more products than before. There is also the Tecno Hipod H2 earphones from Tecno itself. A major change in the smartphone climate in Nigeria these past few years is the arrival of new globally recognized brands like Oppo, Vivo and Xiaomi. These brands success in bigger markets like India which is similar to that of Nigeria is a testament to how prolific and strategic they are.
Besides, other brands like Samsung and Huawei have been around in the Nigerian smartphone scene for the longest alongside the Transsion brands. Oppo arrived in Nigeria back in 2018, Xiaomi and Vivo joined in 2019, and have all been experiencing steady growth. However, Transsion brands like Tecno, iTel, and Infinix still have more popularity and are the major players. But the question is for how long?
You can check out: A List of All OPPO Smartphones Launched in Nigeria in 2020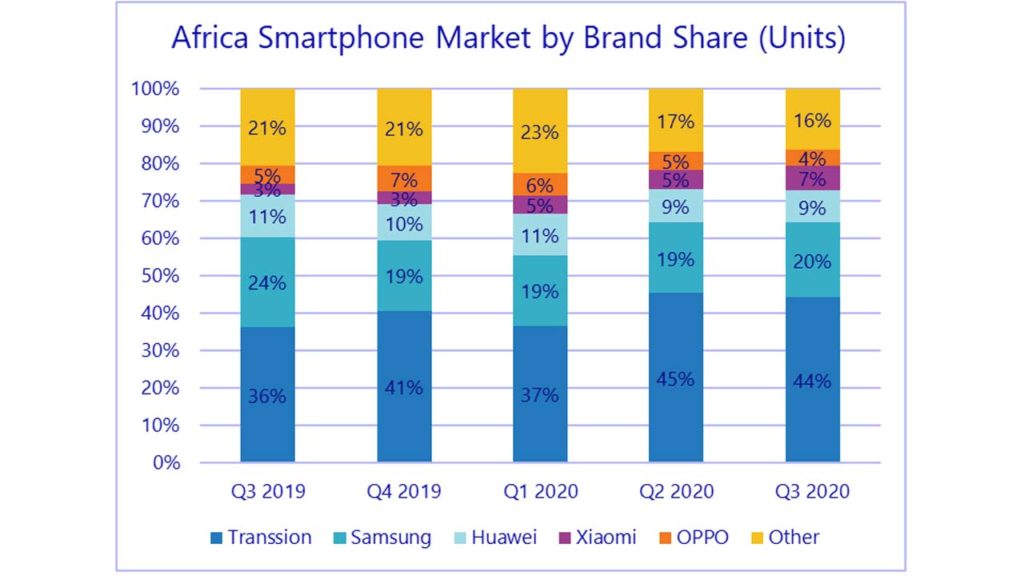 Among the entrants in the smartphone scene, Xiaomi is fast gaining ground in Nigeria coming third behind Transsion brands and Samsung according to International Data Corporation (IDC) in 2020. In Africa, Oppo is third behind Transsion brands, and Samsung in 2020 according to IDC and Xiaomi doubling its market share according to Counterpoint with Nigeria being one of the countries fueling this growth.
SEE: A List of All vivo Smartphones Launched in Nigeria in 2020
Advertisement - Continue reading below
Budget smartphones are the key to the heart of the smartphone market in Nigeria because the average Nigerian wants something affordable. Whether it is low budget smartphones or budget mid-range smartphone, value for money play a huge factor for smartphone brand to penetrate the African market especially Nigeria. Out of the three, Xiaomi is an expert when it comes to offering competitive pricing which has contributed to it success in Nigeria. Its Redmi line of smartphones is especially doing well considering its budget pricing.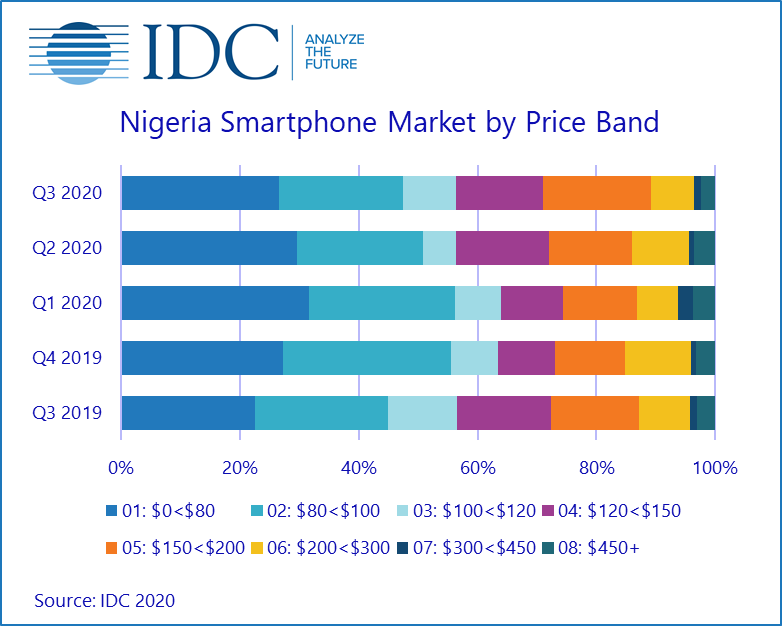 Also, Guangdong Bubugao Electronic Industry Co. Ltd like Transsion holdings is the parent company of Oppo, Vivo and OnePlus which is not in Nigeria. This means that the market share of Oppo, Vivo and even Realme goes to the same company. Although Vivo is yet to takeoff, Oppo is doing numbers not only in Nigeria but in Africa.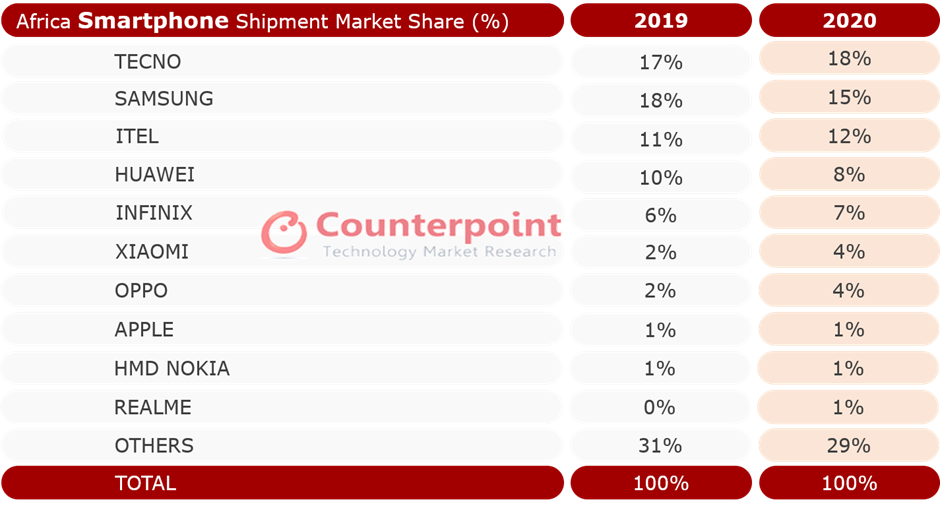 Transsion recognizes this and might be doubling down on its accessory brand as an indication that they want to diversify seeing the heating competition in the smartphone scene. The new players will eat into their market share and it makes sense to intensify effort on Oraimo if I were Transsion.
Oraimo now has a wide range of accessories ranging from Smartwatch, Bluetooth headsets of different types, power banks, Bluetooth speakers, fitness bands and more. Online ads campaign is intensive. You can't go on social media without seeing an ad from Oraimo and Oraimo commercials on the TV.
Xiaomi also makes accessories like the Redmi powerbanks, Redmi Airdots, Mi band, Redmi Watch and more which might be why Transsion is trying to push its Oraimo brand so as to gain enough traction. At the end of the day, I believe the competition will only make for better products and competitive pricing.
Source: IDC & Counterpoint