During the just-concluded Google developer conference, dubbed Google I/O, Google introduced the 'Smart Canvas'. The Smart Canvas feature was designed to unify remote collaborations and streamline them across Google Workspace.
With Smart Canvas, Google Meet has now been integrated directly into the interface of Google Docs. It has also been integrated into Google Sheets and Google Slides. What this means is that you can now present your doc, sheet, or slide directly to an online meeting like Google Meet.
Advertisement - Continue reading below
Related Article: How to Edit Word Documents in Google Docs
Present Google Doc to an Online Meeting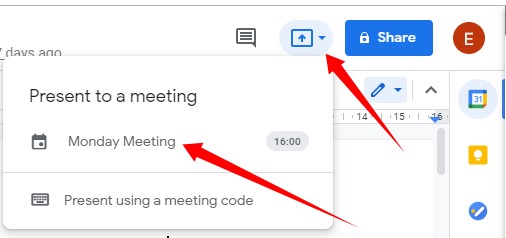 First, open the Google docs document you want to share
To the top-right of your Docs screen (right next to the "Share" icon), you will find the new "Present to a meeting" button. Click on it.
"Present to a meeting" lists scheduled meetings from your Calendar to choose from.
Select the online meeting you want to share your document in, and hit "Present tab to meeting"
A new window will appear for you to choose what you want to share: your current tab, other tabs, or the entire screen.
Once that is done, hit "Share"
Related Article: What is Smart Compose, and How do You Use it in Google Docs?
Conclusion
There are loads of other exciting features that Google have promised to introduce to Docs and they include:
A new smart chips for @-mentions in Docs
Connected checklists in Docs
An option to remove page boundaries in Docs
Emoji reactions in Docs
Smarter meeting notes templates in Docs
A Table templates in Docs
Inclusive language recommendations in Docs
Google Meet integrated directly into the interface of Docs, Sheets, and Slides
The option to create and edit Docs, Sheets, and Slides in Google Chat