NVMe which stands for Non-Volatile Memory Express and AHCI which is an acronym for Advanced Host Controller Interface are both transfer protocol/interface specifications. Both standards can be used with different connectors. However, in computer storage hard drives such as the mechanical hard drive, you will normally find a SATA interface partnered with the AHCI standard.
For SSDs, you may also find the more common SATA interface with the AHCI standard. However other options like PCIe and M.2 combined with NVMe and/or AHCI are also common. So what does all this mean for the future of SSDs? To contextualize the future, we need to understand the past. So lets take an in-depth look at both the AHCI and the NVMe standards.
Advertisement - Continue reading below
---
Also Read:
---
Advanced Host Controller Interface (AHCI)
When AHCI was released in 2004 with the 3GB/s interface, it was very quickly adopted widely. AHCI also enabled SSDs to support Native Command Queuing (NCQ) commands, unlike preceding memory protocols. This NCQ of commands is what makes AHCI as versatile as it is with applications on both mechanical Hard Disk Drives (HDD) and newer Solid State Drives (SSDs). But AHCI was first introduced before SSD became mainstream, hence it was designed with conventional HDDs in mind.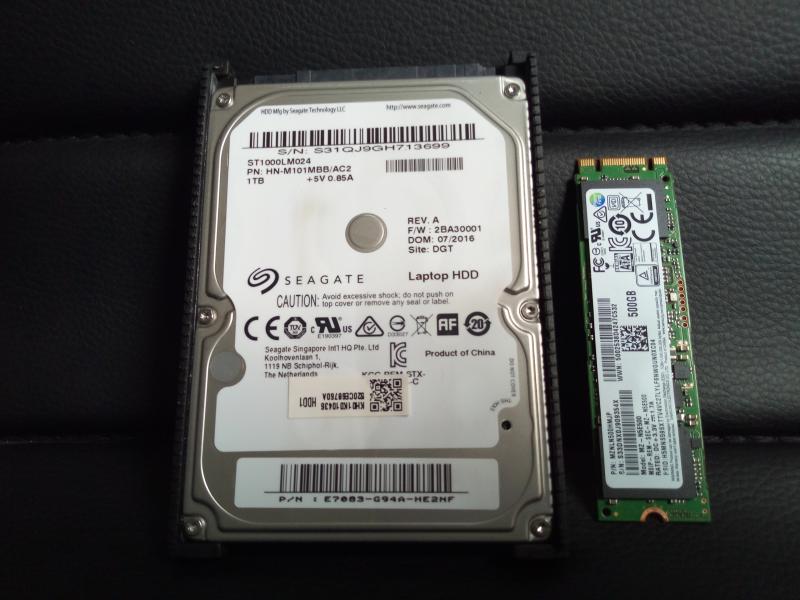 Currently, a vast majority of SSDs in the market use a Serial Advanced Technology Attachment (SATA) connector bus to communicate with a computer. AHCI is basically a technical standard made by Intel to define hardware protocols that allow a SATA storage device to communicate with software. This is important as it offers hardware developers a defined memory structure to follow for data transfer between SATA storage devices and system memory.
---
Also Read:
---
Non-Volatile Memory Express (NVMe)
NVMe can be defined as a standard that defines specifications for data transfer from a non-volatile storage device through a Peripheral Component Interconnect Express (PCIe) bus. NVMe was introduced after SSDs had become widespread and thus designed more specifically with SSDs in mind. During the NVMe development, Intel was intentional in combining it with the PCIe interfaces.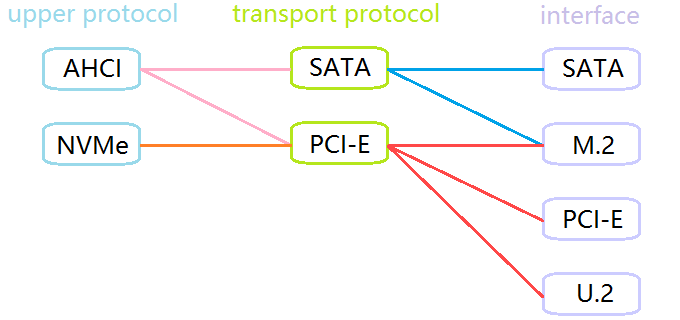 The main benefit of combining NVMe and PCIe is that SSDs users get to enjoy reduced data access latency. For comparison, NVMe SSDs have a latency of about 2.8 µs as compared to AHCI's 6.0 µs. They also have significantly less command queuing latency. This is what makes PCIe NVMe SSDs very good at multitasking.
Advertisement - Continue reading below
---
Also Read:
---
AHCI vs NVMe
The table below highlights the critical differences in how AHCI compares to NVMe. Key to note is that the maximum queue depth shows that NVMe SSDs have very high Input Output Operations per Second (IOPS). This is what translates to low latency. Furthermore, the table also shows the basic structural layer for PCIe interfaces versus SATA. It can also be interpreted to define the roles of AHCI and NVMe protocols in communications between a HOST and an SSD.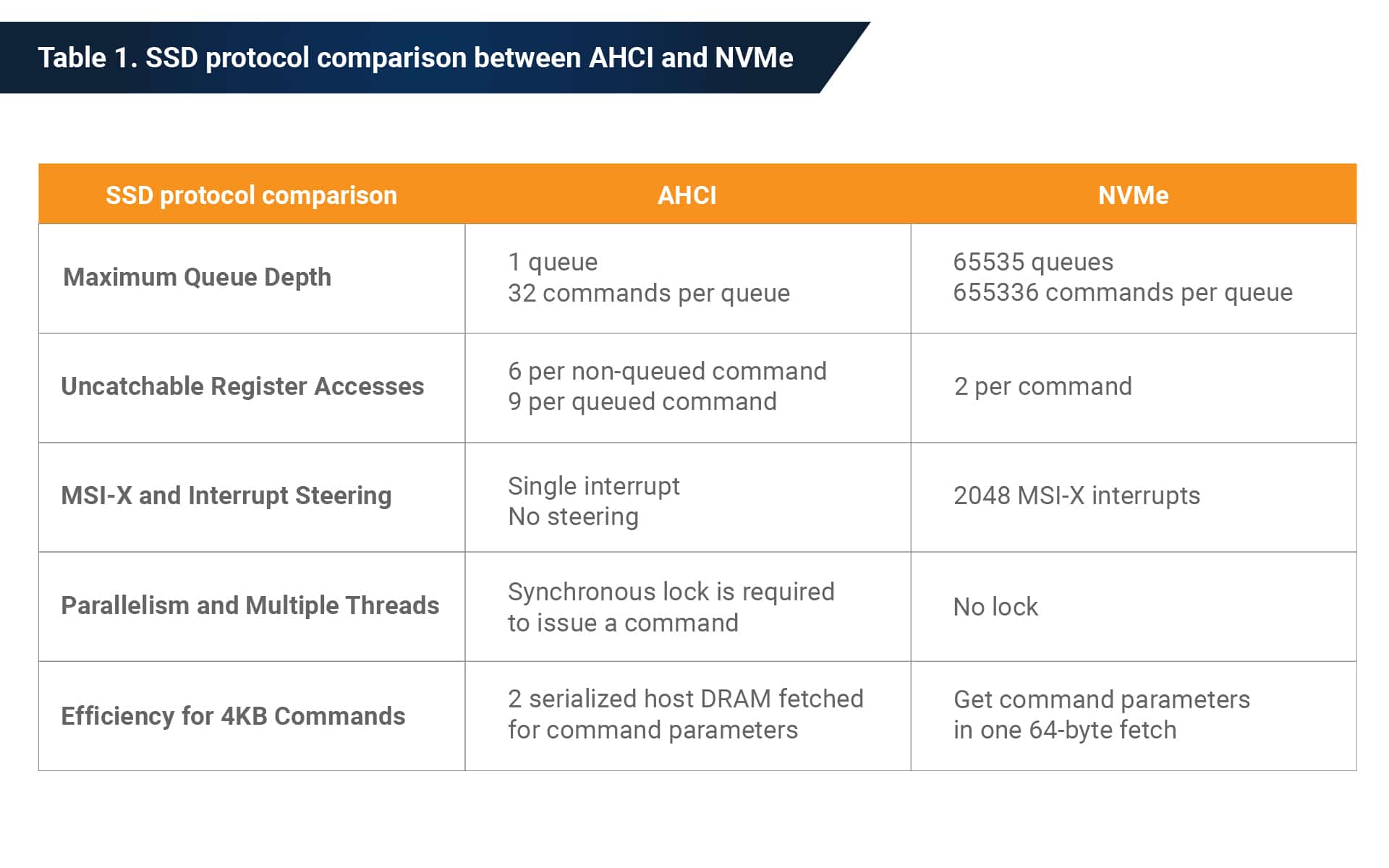 As we mentioned earlier, AHCI was initially designed for HDDs with high data access latency. Now with the ever-growing performance of SSD, the AHCI protocol becomes obsolete and a bottleneck. This AHCI bottleneck in SSD performance is what necessitated the development of NVMe to replace AHCI.
---
Also Read:
---
Conclusion
The rapid development of communication standards between HOST systems and SSDs was facilitated by the evolution of faster NAND flash. For this reason, AHCI could not keep up with the requirement for high-performance SSDs. To propagate faster data transfer, the SSD interface will inevitably move to NVMe paired with PCIe.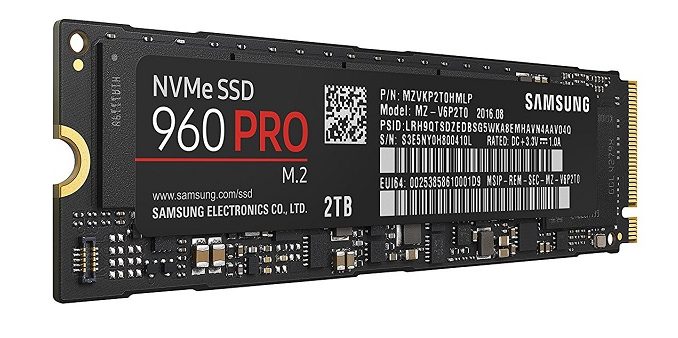 NVMe SSDs beats AHCI SSDs when it comes to power consumption, read-write performance, IOPS, and data access latency. While AHCI SSDs' speeds range between 200MB/s and 550MB/s, NVMe SSDs are capable of up to 3.5GB/s. Though it is clear the NVMe SSDs are superior to AHCI SSDs, they also have much more strict system/motherboard requirements.
---
Also Read:
---
Advertisement - Continue reading below