In today's digitally connected world, financial services have become increasingly accessible through mobile applications and web interfaces. Traditional banking institutions have embraced this shift, offering their customers the convenience of performing transactions and managing their accounts online.
However, when it comes to mobile money services, the landscape is still somewhat limited. One such example is Kenya's renowned mobile money platform, M-PESA, which currently operates solely through mobile apps (mySafaricom app, M-PESA App), SIM toolkit, and USSD.
Advertisement - Continue reading below
It is high time for M-PESA to evolve and embrace a web-based interface, unlocking greater potential and accessibility for millions of users.
---
Related:
---
The ubiquity of smartphones in Kenya has undoubtedly contributed to the success of mobile money services like M-PESA. However, we cannot overlook the fact that not everyone owns a smartphone, and not all users find the existing channels as user-friendly as desired.
A significant portion of the population still relies on feature phones or has limited access to mobile data, making it challenging to use M-PESA through mobile apps, only SIM toolkit.
Furthermore, these platforms (USSD and SIM Toolkit) might not be as intuitive for some users, especially those less familiar with technology or navigating complex menus.
Introducing a web-based M-PESA interface would cater to a broader audience, accommodating users with a wider range of devices, including smartphones, feature phones, tablets, and computers. This move would effectively democratize access to financial services, empowering more Kenyans to participate in the digital economy and fostering financial inclusion.
Advertisement - Continue reading below
Users can have a more wholesome experience
Additionally, a web-based interface would also enhance the user experience for existing M-PESA customers. Many tasks that might feel cumbersome through mobile apps or USSD could be streamlined on a web platform, offering a more comfortable and intuitive interface. Users could enjoy a more comprehensive overview of their transaction history, manage beneficiaries, and access additional services seamlessly. A web-based M-PESA platform would provide users with a unified experience, allowing them to switch between their devices as needed, providing the utmost convenience.
Everyone else has a Web version of their services, even GoK
Kenya has been at the forefront of embracing digital technologies, evident in the success of the eCitizen platform. The eCitizen platform has revolutionized access to government services, consolidating various services into a one-stop-shop digital portal.
This transformation has simplified interactions with the government and set a precedent for other industries to follow suit. Safaricom, the company behind M-PESA, has played a pivotal role in the nation's digital journey. However, it is essential for them to continue being a trailblazer in this digital transformation by adopting a web-based interface for M-PESA.
---
Related:
---
A web-based M-PESA interface aligns with Kenya's vision of becoming a digital-first economy. As more services and businesses transition to the digital realm, it is crucial for mobile money platforms to adapt accordingly. By providing a web interface, M-PESA would be well-positioned to integrate with a broader array of digital services, facilitating seamless payments and transactions for online purchases, utilities, and various other digital interactions.
Banks have set a precedence
Equity Bank, Absa Bank, Kenya Commercial Bank, NCBA Loop. All these local banks offer their customers some form of online banking. Through these online platforms, Kenyans are able to perform many of the services that would have otherwise required them to visit a branch.
---
Related:
---
Of course, Safaricom also does have its Shops spewed across the country but for the most part, many transactions are able to be performed remotely, and this forms the basic premise of M-PESA as a platform. Including a Web-based version of M-PESA could bring the platform to par with the other financial institutions in the country. Moreso bearing in mind that these banks strive to make their services interoperable with M-PESA, to begin with.
Advertisement - Continue reading below
Safaricom Already has an Elaborate Web-based Portal
Not many Kenyans know this but Safaricom has, for years, operated a Selfcare Portal for its subscribers. This platform has gone through a number of iterations over time and today, it feels pretty polished. It allows users to get an overview of their account, change carrier-side settings like call forwarding, get PUK and so on.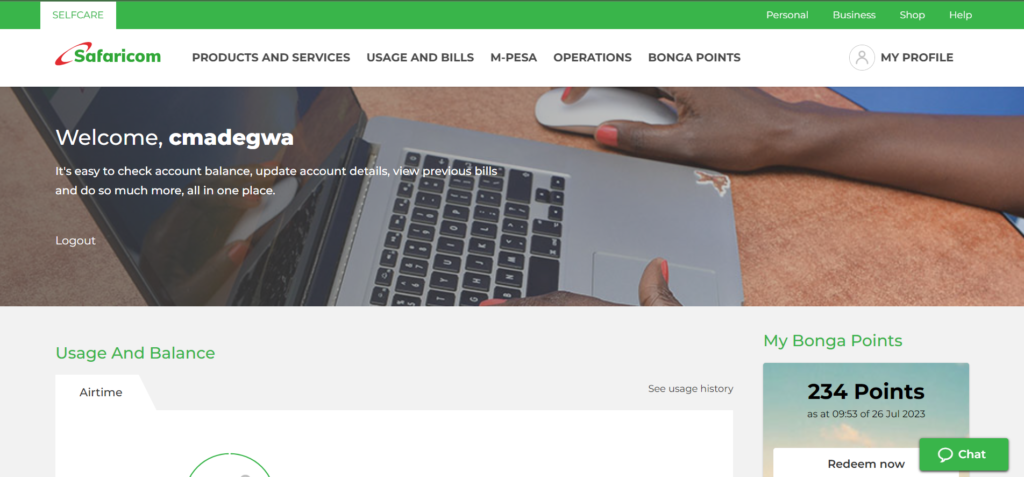 ---
Related:
---
However, the M-PESA section on this platform is barebones, to say the least. Other than a Cost Calculator and options for getting your M-PESA Statement, there really is nothing there.
Safaricom could focus its efforts on this platform and soup up the M-PESA experience, meaning they don't really have to start from scratch.
A Web-based M-PESA would be a Win for Users abroad
For Kenyans abroad, a Web-based M-PESA interface would make payments, remittances, and savings a far less daunting task. It would eliminate the high fees they're subjected to by other cross-border financial services and the security risks associated with using those. A Web-based M-PESA interface would help users abroad overcome these challenges and enjoy the benefits of M-PESA more easily.
A Web-based M-PESA interface would allow users abroad to access their M-PESA accounts from any device with an internet connection, such as a laptop or a tablet. This would increase the convenience and flexibility of using M-PESA for cross-border transactions.
More Customers in Waiting?
If, along with a web-based client, Safaricom finds a way to eliminate the need for a SIM card or a mobile phone, this would make M-PESA a global brand, allowing users abroad to use the M-PESA platform in any country, regardless of the availability of M-PESA agents or partners. Imagine what this would mean for M-PESA. Wouldn't it be taking on the Western Union and Moneygrams of the world?
See, a Web-based M-PESA interface would also reduce the costs and associated with using M-PESA abroad. Users abroad would be able to avoid the high fees charged by intermediaries, such as banks or mobile operators, who facilitate the transfer of funds between M-PESA and other platforms.
Advertisement - Continue reading below
This would enable users abroad to leverage the advantages of M-PESA for their personal and business needs.
---
Related:
---
Another Secure Avenue to Access your Money
Moreover, a web-based M-PESA interface can bolster security and mitigate risks associated with mobile app usage. While mobile apps are typically secure, they are not immune to vulnerabilities. By offering an additional secure channel through web browsers, users would have the option to choose the platform that best aligns with their security preferences.
The potential security benefits of a web-based M-PESA interface extend to businesses and entrepreneurs as well. Currently, merchants who want to receive payments via M-PESA need to implement cumbersome PayBill numbers or use third-party solutions like local Banks. A web interface would make it easier for businesses to integrate M-PESA into their websites or e-commerce platforms directly.
This integration could foster a more robust digital economy, allowing small businesses to thrive and expanding the reach of their products and services.
We do need More
Critics might argue that the existing mobile app and USSD channels are sufficient to cater to the needs of M-PESA users. However, it is crucial to recognize that innovation and progress should never be limited to just "sufficient." Embracing new technologies and expanding access to financial services is not just about fulfilling existing demands but also about unlocking new possibilities and transforming lives.
Conclusion
The time has come for M-PESA to take the next step in its evolution by introducing a web-based interface. By doing so, Safaricom can lead the charge in Kenya's digital transformation and drive financial inclusion to even greater heights.
A web-based M-PESA platform would provide a more inclusive, user-friendly, and secure solution for millions of Kenyans, empowering them to participate fully in the digital economy. As Kenya continues to progress in the digital realm, M-PESA must remain at the forefront, driving innovation and paving the way for a more digitally connected and prosperous nation.
Advertisement - Continue reading below
That said, it is still very commendable for Safaricom to offer its M-PESA users a myriad of ways to access the platform. But they can do a little more.